Portable Electric is working on paving the way for portable and mobile power stations in a collaboration with LeeBoy for the asphalt paving industry.
"We are excited to collaborate with LeeBoy in electrifying the paving industry," said Keith Marett, CEO of Portable Electric. "This collaboration marks the beginning of an exciting journey to redefine how paving is done, focusing on efficiency, innovation, and the ability to meet future demands of the industry."
At ConExpo, LeeBoy unveiled its first commercial-class electric asphalt paver, the prototype 8520C E-Paver. Based on the company's best-selling 11-ton heavy-commercial 8520C, the paver's 125-horsepower Kubota diesel engine was replaced with a General Motors electric drive system.
The company collaborated with GM on the prototype, along with Powertrain Control Solutions, which provided engineering support. Remaining components, such as the hydraulics, the control panels, and the screed, are the same as the comparable diesel model.
Through the partnership, LeeBoy is using Portable Electric's Volstack 30k E-charger to provide an emissions-free onsite charging solution for the 8520C E-Paver or other electrified equipment.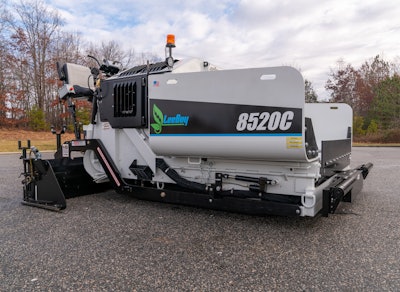 Earlier this year, Portable Electric announced a similar partnership with Volvo Construction Equipment and its line of electric wheel loaders, excavators, and asphalt compactors.
As part of that partnership, Volvo CE's 245 North American dealer locations are offering customers the opportunity to bundle the Voltstack 30k Level 2 e-Charger with the purchase of Volvo electric equipment.
"The Voltstack ecosystem will play a crucial role in ensuring the success of our electric equipment and maximizing uptime on our construction projects," says Chris Broome, senior product manager at LeeBoy. "Today, with the Voltstack Level 2 e-Charger, we have the ability to recharge the paver for 15 minutes at Level 2 and get an extra 19 tonnes of asphalt."
He added that future solutions with Level 3 charging, those same 15 minutes would yield an additional 57 metric tons of asphalt. "That extra production will be game-changing."
The Voltstack 30k charger is capable of boost charging, setting up temporary charging stations, or providing recharging services whenever needed, the company says. The silent, emissions-free power system is equipped with a 30-kW power output and an 80-kWh battery capacity. 
The unit's "Smart Hybrid" feature integrates with traditional gas or diesel generators when its charge is running low, optimizing efficiency, and reducing carbon emissions.