Available now, Kubota Tractor's new SVL97-2 compact track loader has 7,961 pounds of breakout force and a 3.4-foot reach at max height.
With a 3,200-pound rated operating capacity (at 35% tipping load), it replaces the SVL95-2S. It comes standard with two-speed travel, allowing the machine to shift from low gear at 5 mph to high gear at 7.3 mph.
"Kubota's new SVL97-2 sets the bar for our compact track loader line with standard equipped telematics, rearview camera, lockable DEF door and a newly redesigned DEF System," says Patrick Baker, Kubota construction equipment product manager.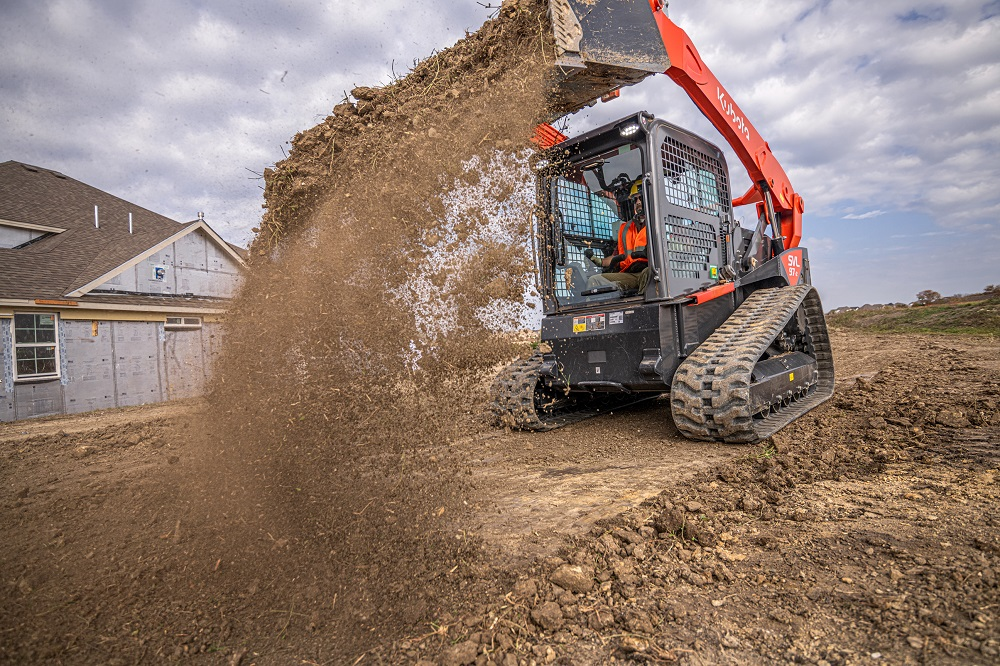 The Kubota SVL97-2 comes standard with telematics and a rear-view camera.Kubota
Powered by a 96-horsepower Kubota engine, the machine's automatic regeneration system burns accumulated particulate matter in the DPF muffler to keep it clean for longer operation. The automatic regeneration can be turned off for situations when you're operating in areas that are near people, animals and flammable materials.
The SVL97-2's new Load Sensing System and improved control valve are designed to provide powerful pushing and driving forces, even for combined attachment operations, Kubota says. Five auxiliary hydraulic flow modes are designed to provide the optimal flow rate each job.
The dial and foot throttle both allow you to match the engine speed to the job. The hand/dial throttle is designed for jobs requiring constant engine speed such as cold planing, trenching or snow blowing. Using the foot throttle, the operator can vary the engine speed for other applications. 
The unit comes standard with telematics and a rear-view camera that can be set to display constantly or only when the machine is in reverse. Kubota says the cab seal has been improved,  reducing the amount of dust, water and debris entering the operating space.
Kubota's vertical lift delivers a reach of 40.7 inches. In addition, the tip of the arm is shaped for a tall hinge pin height of 128.5 inches for easy dumping into trucks, according to the company.
Optional front LED work lights allow safer working conditions during the night or in any low light condition.