Komatsu has expanded its lines of hydraulic breakers for compact to large excavators.
The company is offering G- and H-Series breaker attachments, which are designed for high production in multiple applications. They are compatible with excavators weighing 5.5 to 50 metric tons, from Komatsu's PC78 up to the PC490.
The G-Series features a hybrid design of hydraulic flow and pressure with a nitrogen-filled chamber. The breakers have only two parts for durability and easier maintenance.
The tie-rod design enables the breakers to handle tough rock and concrete jobs. Blank firing protection is standard. A hydraulic cushion at the case of the cylinder reduces metal-to-metal contact. Komatsu equipped the larger breakers in the series with key slot dampers to reduce vibrations to the excavator.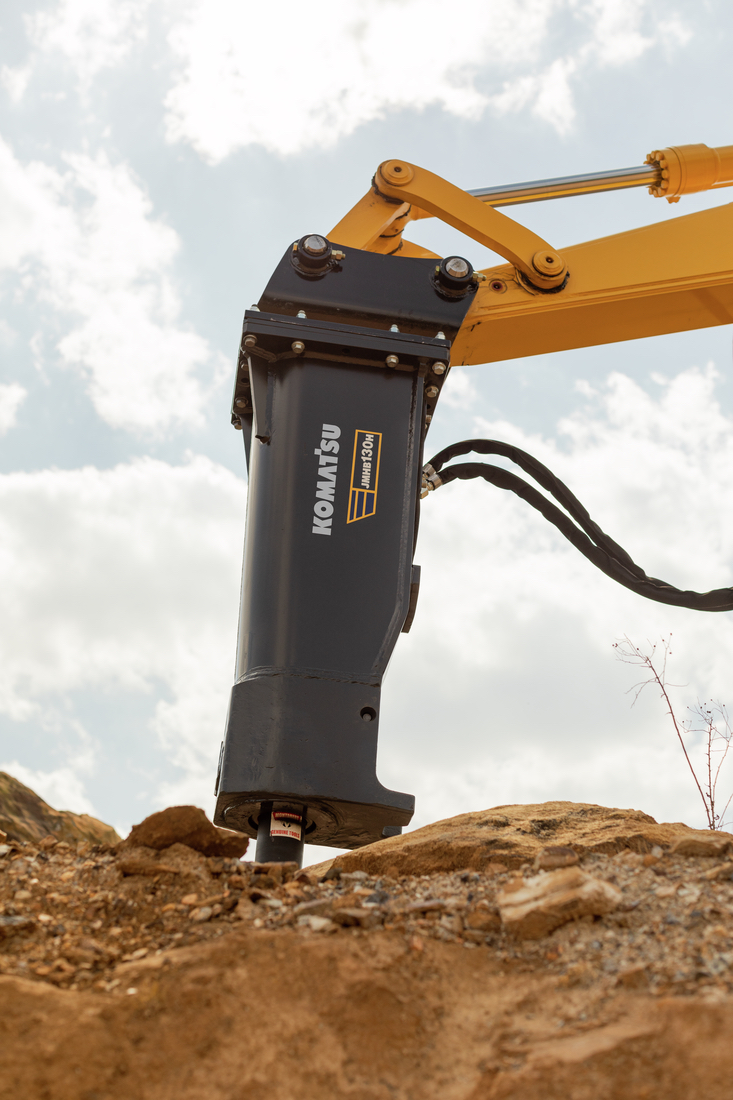 Komatsu's JMHB130H hydraulic breaker is compatible with the company's PC130 and PC138USLC excavators.KomatsuThe H-Series consists of accumulator-type breakers that do not require nitrogen recharge. They also come with blank firing protection. They have sound-dampening housings, and a pressure regulator to prevent overflow. Their dampening system prevents damage to the excavator boom and prevents housing  cracks.
To make the H-Series breakers for compact excavators more powerful, Komatsu uses a single power cell to eliminate tie rods. This provides a better weight-to-power ration, the company says. The breakers also have an automatic lubrication system.
Both G- and H-Series breakers have a one-year warranty.
Here's a spec breakdown of the models in the G-Series: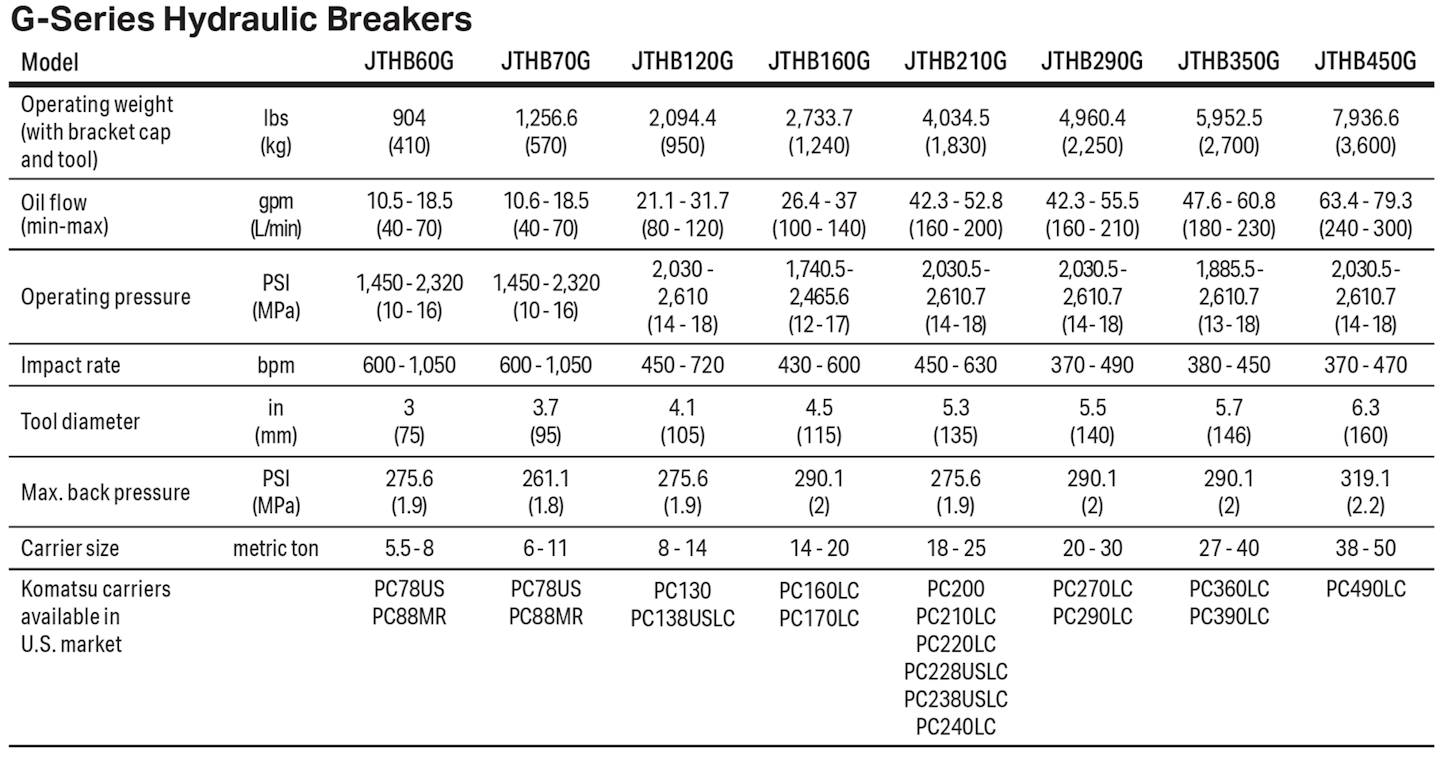 A spec breakdown of the eight models in Komatsu's G-Series breaker lineup.Komatsu
Here's a spec breakdown of the models in the H-Series: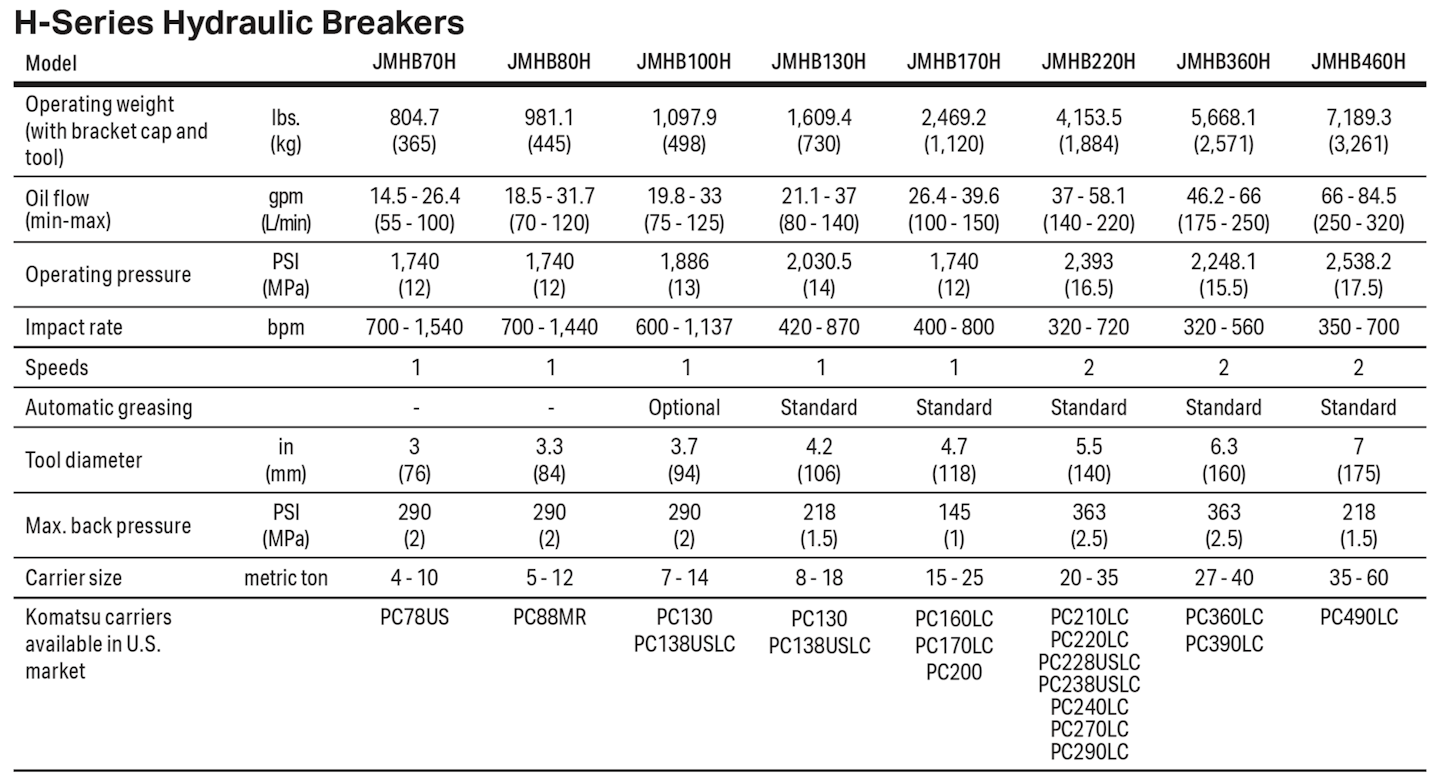 A spec breakdown of the eight models in Komatsu's H-Series of hydraulic breakers.Komatsu