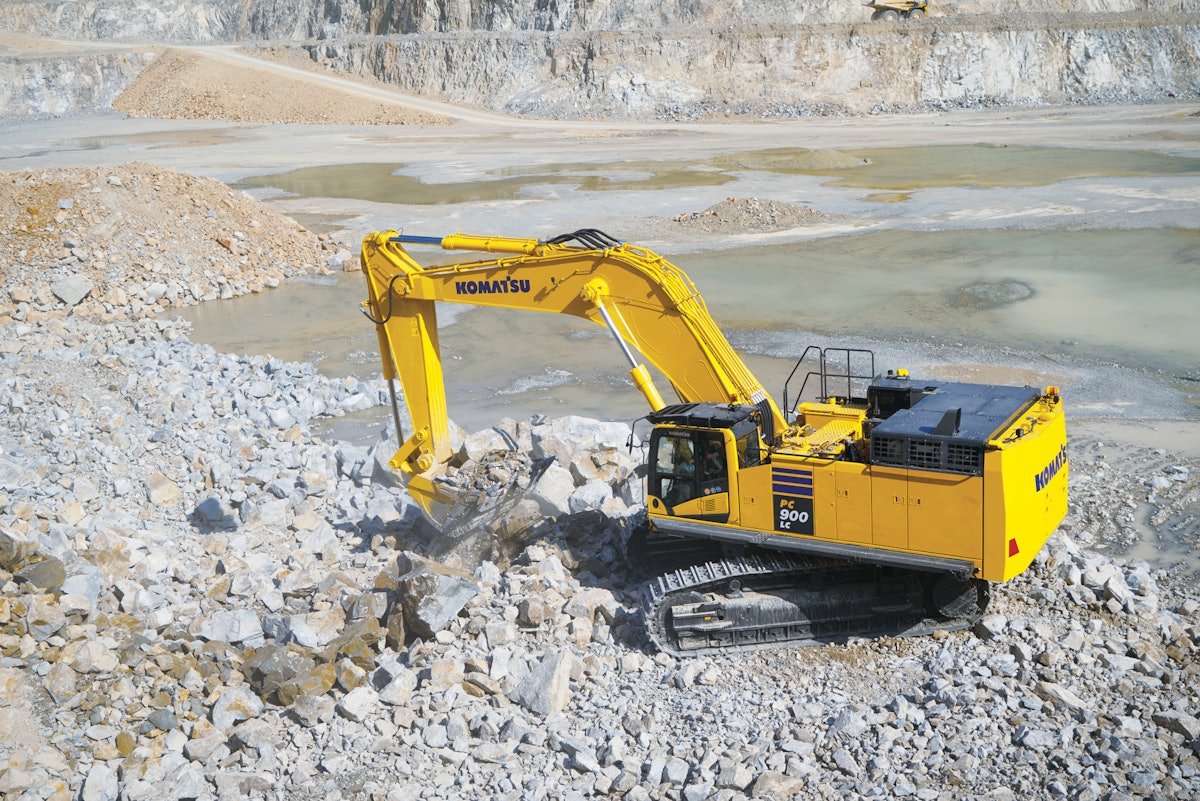 The Komatsu PC900C-11 is a versatile excavator designed for tough jobs that require high performance.
Based on the PC800LC-8, the new model offers major design enhancements compared to its predecessor.
The company says the new machine takes productivity to a new level. Larger and stronger major structures, booms and arms, and a redesigned revolving frame are engineered to increase longevity.
Check out what other OEMS showcased at 2023 ConExpo-Con/Agg on our show page by clicking here.
Komatsu says the PC900LC-11 has increased bucket and lifting capacity, more swing torque, digging forces, and improved engine and hydraulic power compared to the previous model.
The 842-horsepower excavator is said to deliver up to a 40% increase in productivity, 25% more arm crowd force, and 12% more swing torque, making it ideal for heavy construction, demolition, material handling, deep sewer, water, large mass excavation and mining/quarry applications.
A new removable counterweight system helps move the large machine easier, along with a boom configuration to reduce transport height.
Another new benefit is a cross-aisle new service pass-through area that allows easy access to filters, oil level checks, and sample ports without the need for a ladder.
The PC900LC-11 also has performance-enhancing technology to help get operators up to speed and working efficiently.
To help operators improve situational awareness, tools such as the KomVision camera system come standard on the PC900LC-11. KomVision is a 360-degree monitoring system that uses six cameras for a real-time view of the surroundings.
Smart Construction 3D guidance and payload monitoring are other available options.
The PC900LC-11 can be fitted with Komatsu's Smart Construction Retrofit, a guidance kit that gives operators in the field and managers in the office access to both 2D and 3D design and payload data to help drive accuracy, control load volumes and improve operations.
Once a conventional excavator is fitted with Smart Construction Retrofit, operators no longer must set up a laser or bench every time the machine moves. The global navigation satellite system (GNSS) can determine where a machine is on the job site and what the target grade is. The need for additional labor is reduced because the technology collects and delivers information directly to the operator, so fewer people must be working on the ground or in an open trench. 
Easily installed by a local Komatsu distributor, this technology upgrade is designed to improve grading performance and help drive productivity and profitability.