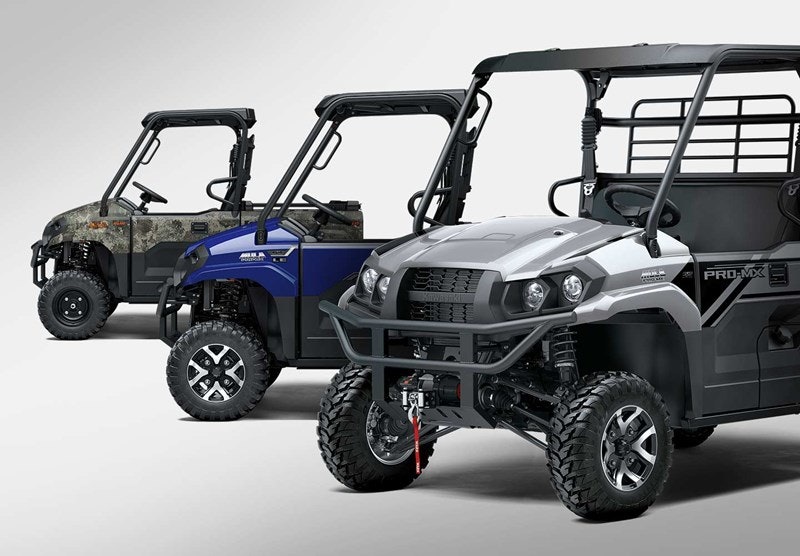 Available in single- or two-row models, Kawasaki says its 2024 Mule Pro lineup of utility vehicles features its "fastest and most powerful" models ever built.
Designed to transport passengers and cargo on the jobsite or trail, the new Mule Pro-MX series come equipped with standard electric power steering and are available in four trim levels: the Mule Pro-MX EPS, Mule Pro-MX LE, Mule Pro-MX EPS CAMO, and Mule Pro-MX SE.
Mule Pro MX
Powered by a 695cc single-cylinder digital fuel injection gasoline engine that delivers 42.7 pound-feet of torque, the Mule Pro MX is designed to comfortably carry two passengers and tow up to 1,500 pounds.
Power from the engine is passed through a Continuously Variable Transmission (CVT) with an electronically selectable 2WD/4WD system. Its dual-mode locking rear differential improves driver control in a variety of conditions.
Mule Pro-MX SE
The Mule Pro-MX SE offers the same features as the Mule Pro-MX LE model and adds a high-quality painted hood, premium color and graphics, electronic power steering, cast aluminum wheels, inner LED headlights, and a sun top. It comes equipped with a 3,000-pound winch with a remote control for safe operation from a distance.
Mule Pro-DXT FE EPS
The diesel-powered Mule Pro-DXT FE EPS Diesel is a Fleet Edition model ideal for any ranch, jobsite, farm or fleet. It features Kawasaki's three- to six-passenger Trans Cab system that quickly converts the vehicle from single-row to double-row seating. It includes a plastic roof, high-visibility orange seat belts, a horn and a universal key. This model is offered in a bright white color scheme, making it easier for customers to personalize the vehicle with their logo.
Each model has a durable chassis provides a smooth ride through the use of independent front and rear suspension with 8.7 inches of travel and ground clearance.  All Mule models are backed by Kawasaki's 3-year limited warranty.
2024 Model Variations
Kawasaki MULE PRO-MX EPS
Colors: Firecracker Red, Timberline Green
MSRP: $13,999
Kawasaki MULE PRO-MX LE
Colors: Deep Blue
MSRP: $14,599
Kawasaki MULE PRO-MX EPS CAMO
Colors: True Timber Strata
MSRP: $14,699
Kawasaki MULE PRO-MX SE
Color: Galaxy Silver
MSRP: $15,399
Kawasaki MULE PRO-DXT FE EPS
Colors: Bright White
MSRP: $18,999