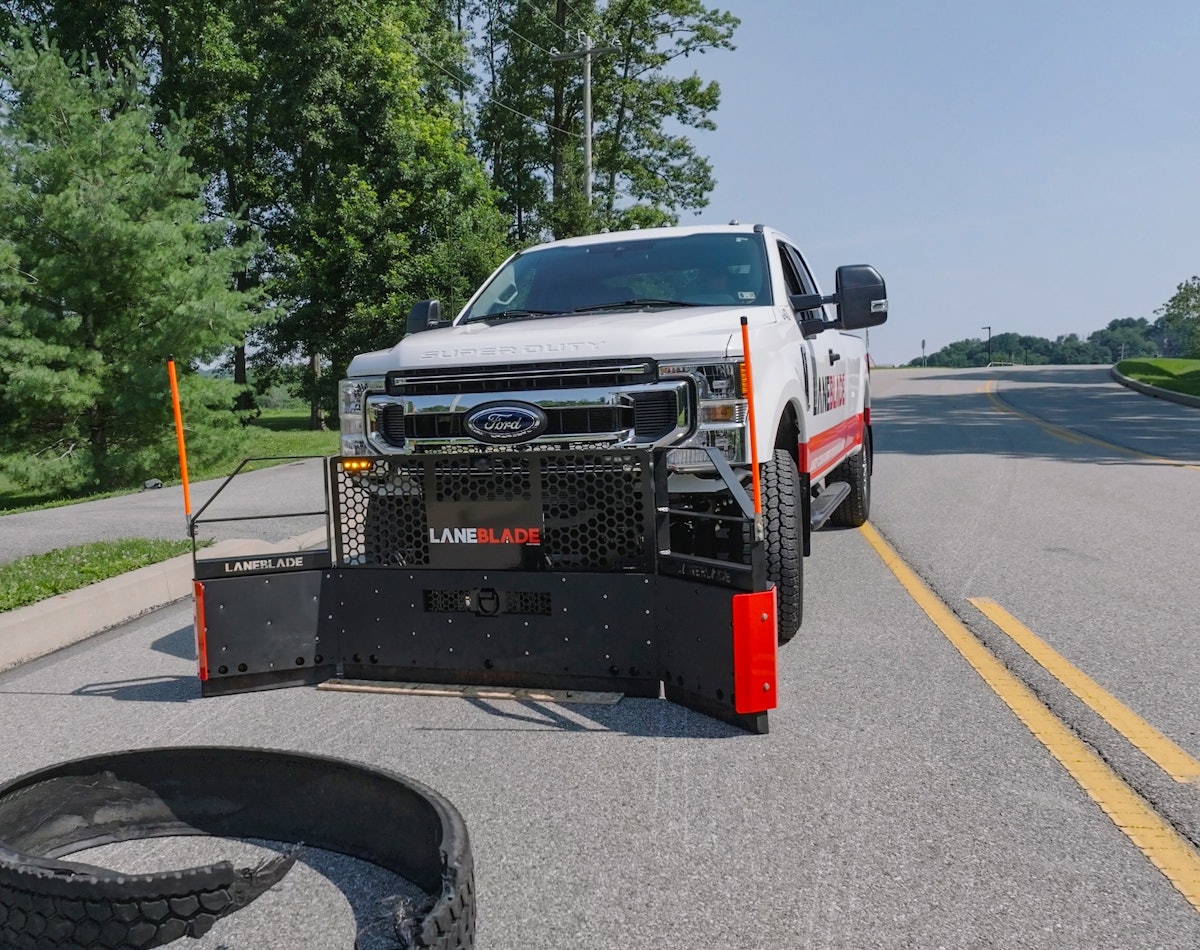 The S.C. Department of Transportation has become the latest state transportation agency to add a new device to its vehicles to help keep its highway workers safer while clearing debris from roadways.
The LaneBlade attaches to the front of a truck for clearing debris quickly and safely from roadways, according to the device's manufacturer, J-Tech. The device enables safety patrols, like SCDOT's State Highway Emergency Program workers, to push debris out of the highway without getting out of their vehicles.
"Workers will no longer need to run or walk into live lanes to pick up and remove debris," the company says.
J-Tech announced the release of the LaneBlade in 2021 and has tested it with AutoBase Corp., a traffic incident management company headquartered in Amityville, New York. It says the LaneBlade has been used by 16 state and province agencies in North America.
The LaneBlade is hydraulically operated and is permanently mounted on the front of a truck. It uses a handheld, dash-mounted control to raise and lower the blade. The wings on the blade move in toward the debris to contain it.
The device is also equipped with a speed limiter set to 20 mph for deploying the blade. The company says that reduces the danger of ricocheting debris into adjacent lanes and improves control of debris. After the blade is deployed, speed can be adjusted to suit the cleanup task. It can also be used to push disabled vehicles out of the road.
An in-cab monitor allows the operator 170-degree views from the 1080p infrared cameras on the center of the moldboard. The camera can also be paired with an optional DVR recording and telematics device for remote viewing, as well as integration with the vehicle's backup camera.
The blade is made of heavy-duty steel with a corrosion-resistant, powder-coated finish. It features a .75-inch rubber contact face with replaceable wear edges. Hydraulic hoses are housed in protective sleeves.
SCDOT is deploying the LaneBlades on its SHEP trucks statewide. "It's going to make the roadway safer for everyone driving," says District 4 SHEP Communications Manager Al Terry.
To watch the LaneBlade in action, check out the J-Tech video below: