Ignite Attachments has launched a new line of heavy-duty snow blades and a new snow pusher for skid steers and compact track loaders.
The new snow blades come in widths of 72, 84, 94 and 108 inches and are designed for commercial use for tackling deep snow. The blades can be positioned 28 degrees left or right.
They feature a reversible hardened steel cutting edge and an adjustable spring-loaded trip blade to protect against snow-covered obstacles. Blade guide markers are standard to increase operator visibility and snow-clearing precision, the company says.
The blades are equipped with Faster Brand couplers and Parker hydraulic lines. They are made of 11-gauge steel and have reinforced frame and attachment points. They run on standard hydraulic flow.
Snow Pusher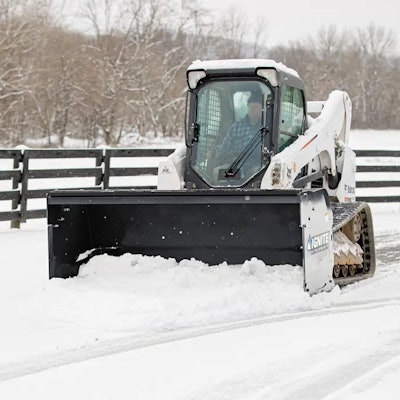 Ignite has also expanded its lineup of snow pushers with a new 10-foot-wide model for skid steers, compact track loaders and compact tractors.
The company says it "turns heavy snow into a lighter lift for the carrier."
It features a replaceable rubber cutting edge and reversible and replaceable skid shoes. The pushers are compatible with skid steers and compact track loaders of 50 to 95 horsepower and compact tractors of 60 to 100 horsepower. Ignite also carries snow pushers in widths of 6, 7 and 8 feet.
Snowblower Chute Option
For tractors, Ignite has introduced an optional hydraulic rotation chute for its line of three-point snowblower implements.
Now, the operator can shift the chute's direction without having to leave the cab. The snowblower and optional chute run off the tractor's rear auxiliary hydraulics. They are compatible with tractors of 15 to 65 horsepower and come in working widths of 50, 60, 66 or 74 inches.