Hyundai Construction Equipment Americas expanded its HX-A series of compact excavators with three new models revealed at ConExpo-Con/Agg 2023.
Powered by Tier 4 Final/European Stage V-compliant engines, the HX35AZ, HX40A and HX48AZ offer lower emissions, increased hydraulic capabilities and improved comfort, the company says.
(You can see more of what OEMs released at ConExpo 2023 on our show page by clicking here.)
The trio fills in a size gap from 3.5 to just under the 5-ton range. 
Resembling what Hyundai calls a "heavy" HX35AZ, the HX40A at 8,300 pounds is technically a new size class for the company. Hyundai says it has received good feedback on the model, with some customers already indicating an intention to trade up from their 3.5-ton models.
The company says the HX48AZ at 10,912 pounds is expected to be a big seller, fitting into a space to better compete against similar size excavators.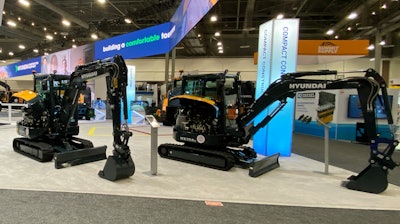 From a size perspective, in most states, either the HX35AZ or HX40A will fit on a pickup trailer and come in around that 10,000-pound mark, depending on the trailer size.
The HX40A and HX48AZ offer standard load-sensing hydraulics, which Hyundai says results in smoother operation and faster response to operator input.
The HX35AZ and HX48AZ incorporate zero tail swing for more efficient operation in confined spaces.
"These machines represent a new generation of compact excavator technology built on decades of engineering and manufacturing excellence," said Adam Ford, product manager, Hyundai Construction Equipment Americas.
Combined, the trio of excavators was recognized with the 2022 Red Dot Design Award for best industrial design. Judges were impressed with the distinct "tiger eye" motif of the rear lights, describing them as "expressing toughness and a pioneering spirit." 
The overall design was further lauded for reducing production costs and simplifying assembly, manufacturing and maintenance; for the rear lighting integrating into the larger cab design; and for expanded visibility from the curved windows.
More comfort
All three models have new larger and more comfortable cabs.
Hyundai says the cabs were expanded as far as they could go to the point of forcing engineers to round the windows to provide even more interior room. Reportedly, attendees at ConExpo exceeding 6 feet 5 inches were seemingly comfortable and had ample headroom when trying out the excavators.
With the increased size of the cab, visibility has also increased due to the expanded curved windows on the rear and extended glass on the entry door and around the cab space. 
In addition, the rigidity of the cab has been increased. Previously, customers reported that if you rattled the cab enough, the window would pull down. Locks have been installed to prevent that from happening, and overall, Hyundai says the cabs are much stronger and more rigid.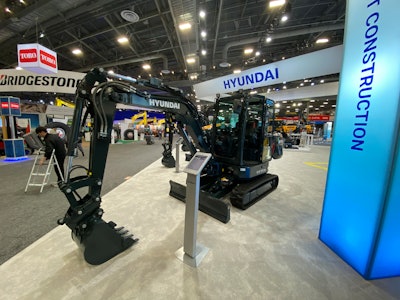 All three models include air conditioning, Bluetooth connectivity and a 5-inch full-color LCD monitor, which provides control of auxiliary hydraulic settings for attachment use. Each has the option of canopy or full cabin.
Hyundai also includes an auto safety lock to prevent the operation of the hydraulic levers. The machine will only start when the lock is engaged.
Safety valves are included on the main boom and blade hydraulic cylinders. An alarm sounds if the machine is started before the seat belt is fastened.
Both the HX40A and HX48AZ have optional rearview cameras. All three models have LED lighting packages that include a light on the boom to assist while digging.
Hyundai says the three compact excavators have a standard thumb mount and optional pin quick coupler, and each comes with a standard blade and the option for an angled blade with a float function in the hydraulics. 
Under the hood
The main hydraulic valve has been relocated to the right side of the machine with a significantly larger access panel. Hyundai says the panels are easily removable for maintenance purposes. Refueling and access to all other engine filters and routine maintenance checkpoints have been made easier with ground-level access.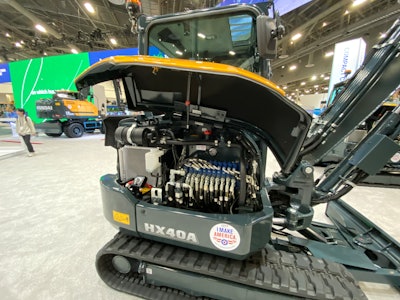 For maintenance, the cabs tilt forward for more service access. The excavators come with five years of free Hi MATE, Hyundai's telematics system, which provides 24/7 tracking and monitoring of engine, hydraulic, electrical and other key components.
Quick Specs
HX35AZ
Engine: 24.8 hp Kubota D1703 
Operating weight: 8,300 lb.
Dig depth: 9 ft. 8 in.
Bucket breakout force: 7,081 lb.
HX40A
Engine: 37.4 hp Yanmar 4TNV88C   
Operating weight: 9,479 lb.
Dig depth: 11 ft. 2 in. 
Bucket breakout force: 9,846 lb.
HX48AZ
Engine: 37.4 hp Yanmar 4TNV88C   
Operating weight: 10,912 lb.
Dig depth: 11 ft 5 in. 
Bucket breakout force: 8,223 lb.