After rebranding its construction equipment from Doosan to Develon, the corporate name of the construction equipment manufacturer has also now been changed – with "Doosan" being dropped.
As of March 27, Hyundai Doosan Infracore takes the corporate name "HD Hyundai Infracore."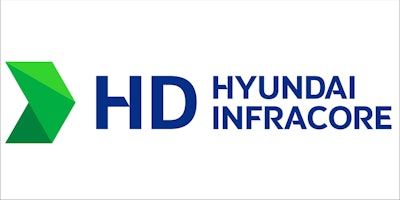 "We will proudly become a global player that represents HD Hyundai with this new name and a new mindset," said Young-cheul Cho, president and CEO of HD Hyundai Infracore. "We will also present innovative products and services that are electrified, eco-friendly and unmanned while listening to the voices of our customers and work on becoming a frontrunner in smart construction solutions."
The announcement of the new name comes a year and a half after Hyundai Hyundai Heavy Industries acquired Doosan Infracore. Earlier this year, it was announced that the Doosan brand name would be replaced by Develon (pronounced de-VEL-on).
More name changes
The corporate name changing at Hyundai has affected three other company names:
Hyundai Construction Equipment's name was changed March 22 to "HD Hyundai Construction Equipment" at the company's shareholders' meeting. This is the Hyundai side of the construction equipment company.
Hyundai Genuine's name was changed March 28 to "HD Hyundai XiteSolution" at that entity's shareholder meeting. This is the holding company for both HD Hyundai Construction Equipment and HD Hyundai Infracore. ("Xite" is the name Doosan launched in 2020 for its XiteCloud  products designed to incrementally commercialize its autonomous equipment technology, some of which was unveiled at ConExpo 2023.)
The parent company for these three entities is HD Hyundai. It was rebranded from Hyundai Heavy Industries in December.
For those following the news since the acquisition, the name changing can be confusing. A graphic below on the HD Hyundai XiteSolution website shows the new corporate hierarchy and naming:

Develon rebrand continues
Since the acquisition, both Hyundai and the former Doosan entities have been set up to operate as separate companies.
Doosan dealerships are currently undergoing a rebranding to Develon, which is expected to be completed by the end of the year in the U.S. ConExpo marked the official rollout of the new brand, with machines at the company's booth carrying the Develon name.
Collaboration and synergies among the Hyundai and Develon brands have been and will continue to increase, corporate leaders have said.
"The change in the corporate name is a result of long and thorough consideration to maximize synergist effects among the three construction equipment businesses along with the need to build a single and united identity after introducing a new name and CI for HD Hyundai late last year," the company said in a news release.
Dropping "Doosan" name
Hyundai and Doosan both have long histories in their home country of South Korea, as well as in the U.S.
Currently, the 50-year-old company now named HD Hyundai is South Korea's largest shipbuilder and also produces energy products along with industrial equipment. Hyundai Construction Equipment was ranked No. 22 in the world for sales in 2021, according to KHL Yellow Table. Its goal with the Doosan acquisition is to rise to No. 5.
The Doosan corporation's roots date back to 1896 in South Korea, and it is also a conglomerate, not only producing construction equipment but also products for thermal, nuclear and wind-power generation, desalination and water treatment facilities, and other industries. Its former subsidiary Doosan Infracore was the 10th-largest construction equipment company in the world in 2021, according to KHL Yellow Table.
The Doosan Group ran into financial trouble and decided to sell its construction equipment segment to pay off debt, which it did in August 2021. After the purchase, Hyundai had until 2024 to continue to use the Doosan name, but company officials decided to move forward with a rebrand sooner.
Both Doosan Infracore North America and Hyundai Construction Equipment have been operating separately as subsidiaries under the Hyundai Genuine holding company, which was created after the Doosan purchase, and is now called HD Hyundai XiteSolution.
The acquisition included the Doosan orange construction line and the Doosan Engine group, but not Bobcat, which Doosan acquired in 2007. The deal also did not include Doosan Portable Power, Doosan Industrial Air, or Doosan Industrial Vehicle.
Corporate Doosan recently dropped the Doosan name from its portable power, air and industrial vehicle brands. It announced this month they would be under the Bobcat brand and trade dress. Some of the newly Bobcat-branded products were displayed at ConExpo 2023.