What goes into calculating the owning and operating costs of a skid steer loader?
We'll look at all the different factors that go into answering that question, but know this will not be a plug-and-play discussion. There are many variables that surround each machine purchase, and the end result can differ significantly from owner to owner. Such variables include machine options, application severity, how long you intend to keep the machine, interest rates and local labor and fuel costs.
In the end, you're basically looking for a solid estimate of your skid steer O&O costs. You can use it to evaluate your anticipated hourly costs over the life of a machine you're interested in buying.
This will also give you a baseline number and help you evaluate whether a certain machine met, exceeded or failed to meet expectations. It will also help you hone your evaluation, especially if unexpected costs cropped up, for the next skid steer you buy.
To give us a baseline for this discussion, we'll be looking at the 74-horsepower Bobcat S66 R-Series skid steer. The 2,400-pound rated- operating-capacity machine weighs 7,154 pounds and has a 17.6-gpm standard and 26.9-gpm high-flow hydraulic system. Joystick controls are optional.
At the time of this writing, a standard, no bells-and-whistles version of the S66 cost around $50,008.74, says Tyler Zima, Bobcat's senior product specialist, loaders. Zima can cite that exact price because Bobcat now lists its retail prices on its website.
The unit sits smack in the center of Bobcat's skid steer lineup, which ranges from the 760-pound rated-operating-capacity S70 to the 3,950-pound ROC S850.  Bobcat is currently converting its skid steers from the M Series to its R series.
The S66 is the only Bobcat skid steer with standard two-speed, prompted by high demand for the feature from customers, Zima says. 
Most customers will equip their unit with one or several available options, which will of course add to the upfront purchase price. To go with a fully outfitted S66, including the Bob-tach attachment system, ride control, heated/air-conditioned cab, selectable joystick controls and several other options can add up to $15,000 on the S66. 
"Most customers are going to put on about $7,000 worth of options," Zima says.
Selectable joystick controls are a popular choice and an upgrade from the standard hand-and-foot controls. "They give operators extra functionality, and you can set how fast the machine reacts to you," Zima says. Using fingertip controls, you can control several machine functions without letting go of the joysticks, and easily swap between ISO and H-Pattern.
The Power Bob-Tach system, which allows users to quickly swap non-hydraulic attachments without leaving the operator's seat, is also high on buyers' lists.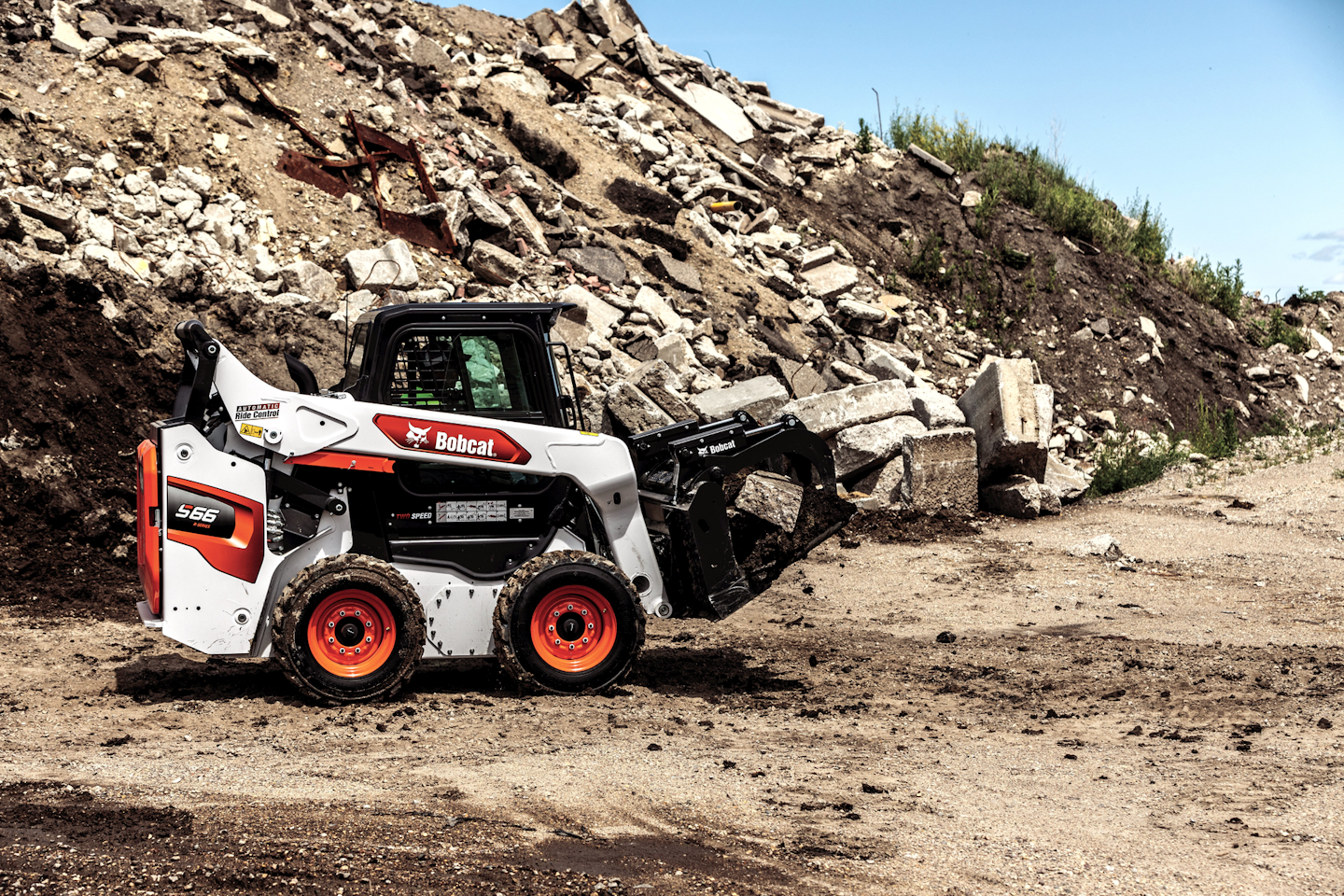 Beyond the typical bucket and forks, popular skid steer attachments include grapples.Doosan Bobcat
New to R-Series skid steers and compact track loaders is Features on Demand. By enabling this option, users can choose to turn on the following whenever they want: high-flow hydraulics, automatic ride control, dual-direction bucket positioning, reversing fan and auto-throttle. "It gives them the flexibility to add each of these features down the road instead of up front," Zima explains. "They can also opt for a 20-hour demo. You're not paying as much as you would if you chose to add them later."
To help you plug in your own numbers, we've added a calculator that you can download here. This calculator is designed to give you a beginning estimate of the O&O costs for the machine you're considering. To do a deeper dive, we recommend you talk with your dealer.
Expected life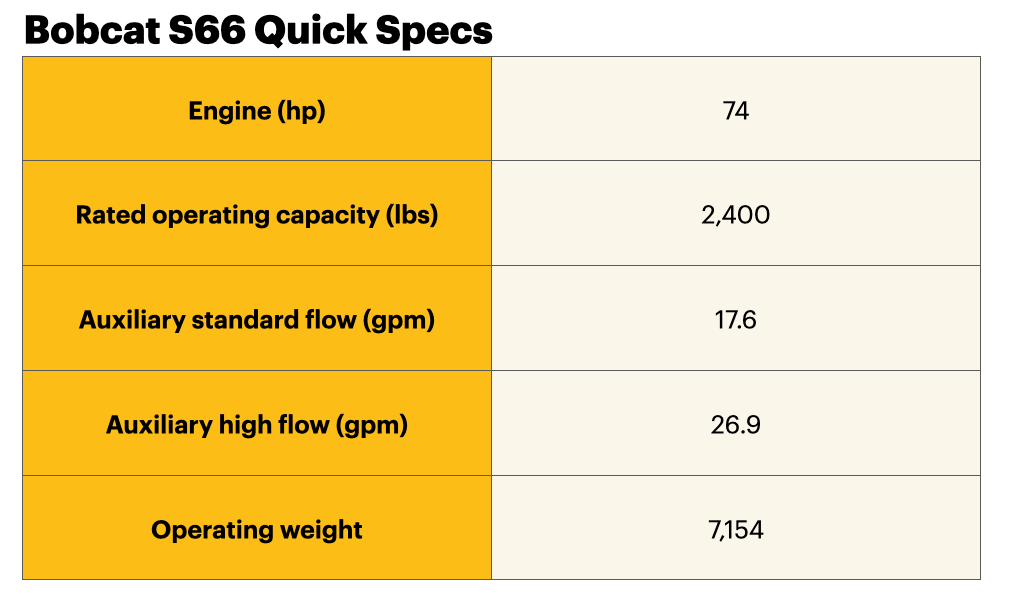 The total number of hours you anticipate owning a machine is a key multiplier, one that you will use to determine your estimated hourly costs throughout your calculations.
This will, of course, depend on your application and use. Some owners ride a machine hard, and the wear and tear will impact the machine's expected life.
High-vibration asphalt and concrete applications, where customers are running breakers or planers, are heavy-duty jobs for skid steers. "You're wearing out your bushings and pins, and your lift arms get a lot of abuse in those types of applications," Zima says. Also on the severe-duty list are forestry and paper recycling applications.
"If you look at our typical construction customer, they are putting on about 800 hours a year," Zima says. Add around 200-plus hours a year for a more severe application. (This includes Bobcat's entire skid steer range, not just the S66.)
Also consider that certain geographical locations can be tough on machines, such as Texas heat, Florida sand or New England rock.
Incoming telematics data, however, places around 80% of Bobcat's customers (which include several non-construction categories such as agriculture and hobby farmers) using skid steers between 100 to 500 hours per year. 
While lighter-use customers can keep machines for five to 10 years, contractors typically trade in their machines at the two- to three-year mark.
Another trade-in consideration is the end of the new-machine warranty. Bobcat's standard warranty is 2,000 hours; an extended warranty goes to 3,000 hours. Many customers opt to use that as a prompt to get the residual value out of the machine.
Residual values vary according to the age and condition of the trade-in. A typical 2,000- to 3,000-hour machine will probably net around 50% of its original value; for a machine that's around the 4,000- to 5,000-hour mark, expect around 40% of its original sales price.
An owner who really babies a machine – and has the records to prove it – can perhaps get as high as 70% of the machine's original price.
Now, Bobcat is offering [detail current financing deal]. Of course, rates change with market conditions, but financing rates for any machine you're considering can be easily found either via the dealer or on that brand's website.
We're also going to assume that you're financing a new machine, instead of using a lease or a rental purchase option. Both of those avenues will add different factors to the equation and are best discussed with your dealer.
You'll also need to input your local taxes and insurance costs into your owning costs. Be sure to use our cost calculator to calculate all of your costs.
Residual value
Before we move on to operating costs, we have another number to add to the owning side of the equation: how much of the original price you paid you can expect at trade-in or resale. This will be subtracted from your overall owning costs.
You'll need to factor in two things you already know: how many hours you will put on the machine and how severe your applications will be. The more hours on a machine and the harder it's run will have an impact on its resale value.
The opposite is also true; lower-hour machines working in less demanding conditions typically fetch higher resale prices.
It's also good to know how the brand you're considering fares in the resale market. Auction and resale prices have many variables, including manufacturer, machine model, hours and machine condition.
There's another important factor, one that you won't be able to put into this equation. When it comes time for resale, keep your eye on what the machine is fetching in the rolling 90-day retail and auction markets. Timing is sometimes everything; your dealer should be able to give valuable insight as this time approaches.
Past experience and maintenance reputation can also factor into this equation. If you've purchased and traded-in or sold a similar-sized skid steer before, how much of the original price did you receive at resale? A reputation for keeping your machines in tip-top shape also could put money in your pocket at resale.
Calculating owning costs
Now it's time to do some math. Using our cost calculator, add up the cost of the basic machine and any add-ons, such as attachments, extended warrantees, service agreements, additional machine features, technology, etc. Then add in your total financing costs, insurance and taxes.
Now you'll get an idea of how important your residual value – the amount you expect to get at resale – is in this calculation. Subtract your residual value from your operating cost total. The result is your expected owning cost for the machine under consideration. To get your owning cost per hour, divide this total by the number of hours you expect to keep the machine.
Keep that number to the side for now.
Operating costs
Now let's look at the operating cost side of the equation, or what it will take to successfully maintain and operate a machine until it's time to dispose of it.
Two constants in any machine operating cost calculation will be labor and fuel.
Labor costs are a critical part of this. You'll already have a good handle on those: how much an operator costs in your area in terms of pay and benefits. Per-hour technician costs also need to be factored in, whether you have an in-house person or rely on your dealer.
Another thing to consider: larger skid steers will have engines above 74 horsepower and will require diesel exhaust fluid as part of their emissions reduction system. So we've included a line for DEF in our cost calculator.
The cost of diesel, now on the rise, will be another number. Again, you should have a good cost basis for this since it's something you deal with on a regular basis.
Your maintenance schedule – oil and filter changes and other preventive maintenance items – is spelled out in your operator's manual. For example, the recommended engine oil change interval on the S66 is now 750 hours; Bobcat eliminated the 50-hour oil change on its previous M-Series skid steers.
Bobcat says R-Series engine and hydraulic oil change intervals have increased because of component, system, filter and oil improvements. Fuel filters now have sensors that will notify the operator when they need to be changed.
At the time of this writing, Bobcat said operating an S66 under average use conditions will cost $9.11 per hour. Typical maintenance costs (excluding labor) include:
Average once-a-year oil change (including filter) will cost $75-$80.
R-Series hydraulic oil and filters are changed at 1,000 hours or every 12 months, costing $115-$120 per change.
Fuel filters are around $75 to $80 and pre-filters, changed at 1,000 hours, are around $20.
Budget $150 per year for grease.
"I can't stress enough that doing the daily and scheduled maintenance is critical because that's going to lead to a longer life on the machine," Zima says. That also, of course, plays into the residual value at trade-in or sale.
Buckets should last the first life of the machine, or up to 3,000 hours. If your applications are more severe, you may need to replace the cutting edge, which will run $250 to $300. If you use teeth, their replacement typically is around the same amount.
Other attachments such as planers and forestry heads require daily maintenance and replacement of wear teeth and parts. If you're going to own more specialized attachments, have a good idea of the associated costs to maintain them.
A set of four Bobcat heavy-duty tires will cost about $1,250. Users typically get 500 to 800 hours per tire set.
Fuel costs also need to be factored in.
"There shouldn't be a lot of repair costs in the first 3,000 hours," Zima says. Engine, drivetrain and lift arms are designed to last 5,000 hours and out before replacement. As mentioned previously, certain applications such as demolition may put more wear on a machine.
If you're buying a used machine with about 4,000 hours, however, you'll need to start factoring in some component replacements. Your dealer will have a good handle on replacements and repairs likely to occur and how much they will cost.
You may also opt to hand over all of your PM costs on a new machine to your dealer, using a customer service agreement. "You then know throughout the life of the machine what your maintenance-related operating costs will be," Zima says.
Telematics hand up
Today's telematics give you a pulse on what's happing with the machine, giving you alerts to items such as excessive idling that can impact your residual value when it comes time for disposal. Most compact machine OEMs now have standard telematics and offer a free subscription to a certain level of information for a set time.
Bobcat, for example, offers skid-steer buyers a free telematics "health and security basics" three-year subscription, one that goes with the machine if it's sold or traded before the subscription is up.
Customers also can buy additional telematics packages. Bobcat says most customers tie telematics subscriptions to the warranty period.
Final calculations
Add up your anticipated owning costs, including labor, fuel, repair and PM costs, the number of tire replacements, lubricants, wear parts and consumables. (Again, be sure to check out our cost calculator.) Divide this total by the number of hours you expect to own the machine to get a cost per hour.
Add the owning cost per hour that you calculated earlier with the operating cost per hour. This will be your total O&O cost per hour.