More than 30 new cordless tools are set to be added to Hilti North America's portfolio of Nuron battery-powered tools for the commercial construction industry in 2023.
Customers at World of Concrete 2023 in Las Vegas were able to get hands-on with more than a dozen of the new tools including the DSH 700-22 rear-handle cordless cut-off saw, the NCV 10-22 ultimate concrete vibrator, the NCV 4-22 pencil concrete vibrator, and the SB 6-22 wide-mouth cordless band saw.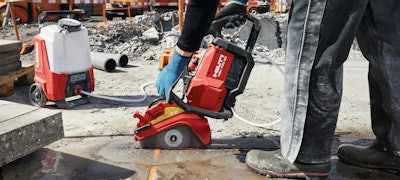 "Transitioning from gas or corded to the Nuron all-on-one cordless platform with Hilti reduces tool crib complexity, without compromising on performance," said Mike McGowan, region head and CEO of Hilti North America. "And Nuron continues to enable businesses to make informed decisions using real-time jobsite data obtained from its cloud-connected, intelligent cordless tools and batteries."
According to Hilti, the DSH 700-22 nearly eliminates the need for gas-powered cut-off saws on the job. 
Also, the NCV 10-22 improves the safety of concrete placement applications by removing the fuel and fumes associated with traditional gas-powered backpack concrete vibrators, the company says. And the NCV 4-22 helps enable operators to vibrate the concrete in the hardest-to-reach parts of the concrete pour with its narrow head while retaining more than enough power to finish the job. 
Lastly, the SB 6-22's wide-mouth band saw has a deep cutting capacity of 5 inches and a two-handed cutting experience for safety. 
Hilti's diamond and carbide blades and drill bits are designed specifically for Hilti Nuron cordless tools to increase system performance or extend the life of the tool accessories.
According to Hilti, Nuron tools help improve productivity with versatile 22V Li-ion batteries delivering optimum power-to-weight ratio for most drilling, driving and cutting jobs. With upgraded durability, Nuron provides a built-in battery health tester, sealed electronics, shock absorbers and reinforced housing.