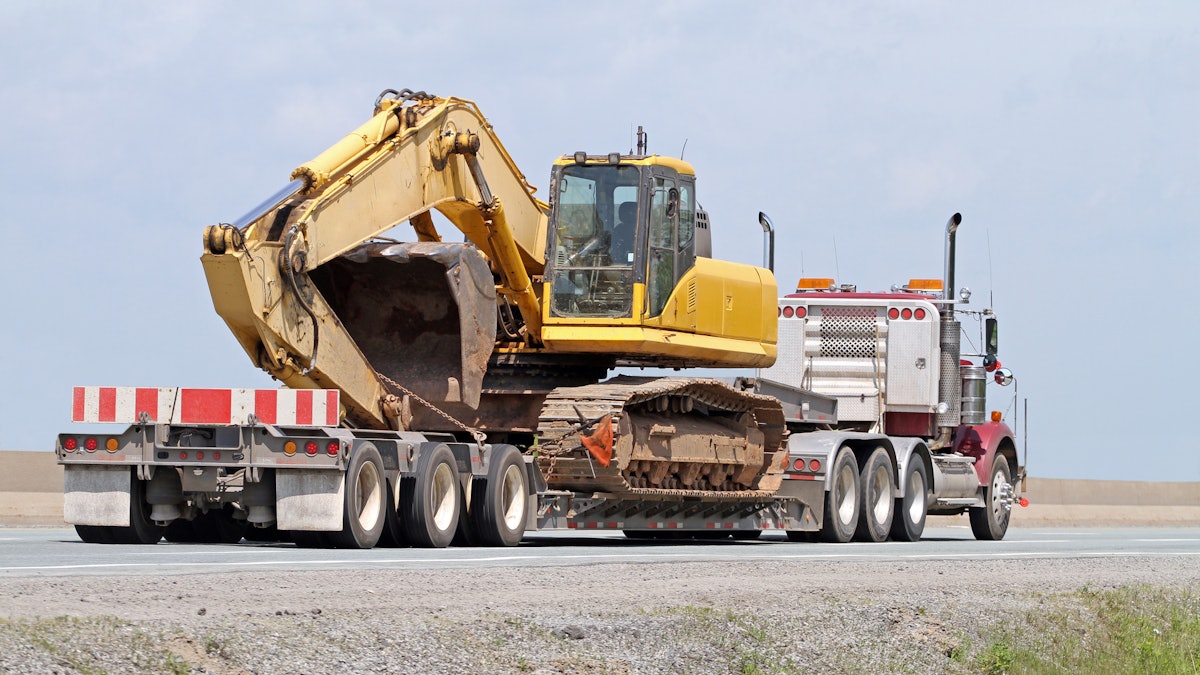 Editor's Note: This story was updated on June 6, 2023, with additional best practices for transporting heavy equipment, as well as inspection tips.
Moving heavy equipment, such as excavators, skid steers or bulldozers, safely is no small task. We've all seen or read stories when things did not go as planned — with disastrous results. Keeping the hauled equipment in place mitigates the risk during accidents, sudden stops, and high-speed turning maneuvers.
During the International Roadcheck in 2022, a three-day national inspection blitz of commercial vehicles, improper or inadequate cargo securement accounted for nearly 11% of all vehicle out-of-service violations.
Past International Roadcheck data also routinely found cargo securement violations in the top five vehicle out-of-service violations.
Inspectors have a host of descriptions that they can attach to these common cargo securement violations, which include:
392.9A2: Failing To Secure Vehicle Equipment
393.100A: Failing To Load/Equip Vehicle To Prevent Load Shifting/Falling
393.100B: Leaking/Spilling/Blowing/Falling Cargo
393.110B: Insufficient Tiedowns; Without Headerboard/Blocking
392.9A Failing to Secure Load
393.104F3: Loose/Unfastened Tiedown
393.130: No/Improper Heavy Vehicle/Machine Securement
393.104B: Damaged Securement System/Tiedowns
392.9A1: Failing To Secure Cargo/§§ 393.100-393.136
392.9: Driver Load Secure
Vehicles placed out of service during the roadside inspection impede revenue and productivity flow.
There are best practices to assist in the reduction of violations and to mitigate risk. But if in doubt, check the regulations found in §393.130 on the securement of heavy vehicles, equipment and machinery weighing 10,000 pounds or more, or the Canadian securement standards.
Heavy Equipment Load Securement Best Practices
Before loading
Verify that the transport vehicle's gross vehicle weight rating and/or gross combination weight rating will not be exceeded.
Determine if permits for oversize or overwidth movements will be required. These loads may also require warning flags, lights and oversize load or wide load banners.
Are there any loading guidelines that need to be followed for the equipment, such as the use of locking pins, brakes, a particular transmission gear, outriggers, or deck wideners?
Determine where the equipment will be placed on the transport vehicle to balance the weight distribution and to secure the equipment properly.
Inspect the equipment's securement points for wear and damage.
If there will be low friction between the equipment and the transport vehicle (such as metal crawler tracks on a metal deck), determine if friction devices are necessary.
If the equipment to be hauled has rubber tires, verify the tire pressure. Low pressure may result in the loosening of the tiedowns.
Remove any excessive aggregate, dirt, debris, or other substances that may fall or reduce friction during transit.
During loading
Do not operate or load equipment that you do not know how to operate, or operate safely.
When possible, place the equipment against a vehicle structure to help prevent forward movement – unless the weight distribution or securement considerations will not allow.
Be cautious when attaching securement devices over brake or hydraulic hoses or cylinders to avoid damage to those components.
Use edge protection to prevent damage to the tiedowns or to the equipment.
Whenever possible, use the equipment manufacturer's designated attachment points and follow the manufacturer's securement recommendations.
Each tiedown must be affixed as close as possible to the front and rear of the vehicle, or mounting points on the vehicle that have been specifically designed for that purpose.
Do not use any attachment point that is of questionable strength or suitability.
Chain is the preferred tiedown for heavy equipment and machinery. Make sure no links are stretched or have nicks in them.
Use direct tiedowns whenever possible, but keep in mind that direct tiedowns require the use of more tiedowns than when using indirect.
Use chocks, cradles, wedges, or other means placed against the wheels to prevent rolling of wheeled vehicles. These devices need their own securement.
After loading
Lower all accessory equipment and other movable parts such as hydraulic shovels, booms, plows, crane arms, etc., and secure them to the transport vehicle using tiedowns. Accessories equipped with locking pins or similar devices which prevent movement in any direction do not have to be secured with additional securement devices.
Hydraulics alone are not enough to secure accessory equipment.
If the equipment being transported has an articulation point, pivot, or hinge within its construction, lock or restrain the vehicle or equipment to prevent any articulation while in transit.
Accessories and other items that are not attached to the equipment must be secured to the transport vehicle following the general rules for cargo securement.
Confirm the actual height and width of the vehicle.
Complete all required enroute securement inspections.
Minimum tiedown requirements
If the loaded vehicle has crawler tracks or wheels, at least four tiedowns need to be used to prevent movement side-to-side, forward, rearward, and vertically.
An indirect tiedown routed through an anchor point and attached to both sides of the trailer is counted as a single tiedown.
A chain can be used as two tiedowns if properly attached to two anchor points using two binders, with slack in the middle of the chain, so that a break in the middle would not affect either tiedown.
The sum of the working load limits of the tiedowns must equal at least 50% of the weight of the cargo. If unsure of the cargo's weight, additional tiedowns may be needed.
Attach tiedowns either:

As close as possible to the front and rear of the equipment, or
At the mounting points on the equipment designed for that purpose.
Stop and check the load securement 50 miles into the trip and every three hours or 150 miles after. Bumpy roads, acceleration and deceleration can cause loads to shift and tiedowns to become loose.
Following good and compliant securement processes will "keep things in place" not only while moving equipment from place to place, but also during an accident or other extreme maneuver.
Cargo Securement Inspection
During Roadcheck, inspectors will primarily conduct the Level I inspection, which is a comprehensive 37-step inspection of the vehicle and the driver's operating credentials.
As part of the cargo securement inspection, inspectors will check the following:
Ensure spare tires, loads, cargo, tools and dunnage are secured and prevented from falling, blowing, spilling or leaking from the vehicle, or rolling or shifting in transit.
Verify there are enough tiedowns for the weight and length of the equipment being transported.
Check for faulty securement devices, such as loose, torn, damaged, bent, or knotted tiedowns.
Inspect anchor points and structures for damage.
Confirm commodity-specific cargo securement regulations are being followed.
In 2022, the top five states where securement violations made up the highest percentages of the state's total issued violations were: 1) Oregon,  2) Washington, 3) Tennessee, 4) Wyoming, and 5) North Carolina.
The 2023 International Roadcheck took place May 16 -18, with an emphasis on cargo securement and anti-lock braking systems. Results from the inspections will be released later this year.