Editor's Note: This is Part Five of an eight-part series on the evolution of construction equipment and the diesel fuel alternatives manufacturers are introducing, including hybrid machines, electric and battery-powered equipment, and hydrogen combustion and hydrogen fuel cell technology. You can read Part One in the series by clicking here. Part Two. Part Three. Part Four. 
Progress towards net-zero carbon emissions took a big leap forward when Sunbelt Rentals announced recently that it would be making the new all-electric Bobcat CTL available to its customers.
Rental has always been a good try-before-you-buy resource for contractors, so we decided to ask the company's experts, Brent Coffey, director – product line management and Brad Coverdale, vice president – fleet and product support, what this means for Sunbelt and the industry overall. Here's what they had to say.
EW: How serious is Sunbelt Rentals' interest in low carbon and eventually net zero technology for construction equipment?  Are you in an exploratory or learning phase, or is there a stated corporate plan to reach a certain carbon footprint by a certain date? If a plan is in effect, can you share the details and timing?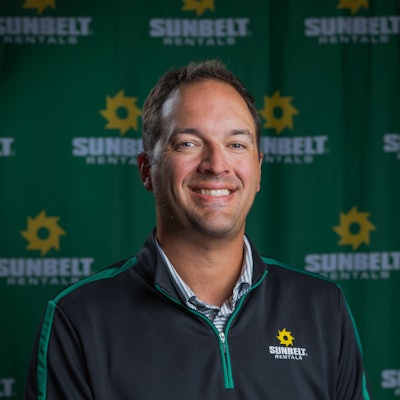 Brent: We've been on a path of investing in electric and hybrid equipment for quite a while, but Sunbelt Rentals is still always in an exploratory phase. As fast as technology is changing, we are constantly learning. Plus, we are focused on educating our customers on how to better use the equipment to meet their needs. We also work with suppliers and OEMs, like Bobcat, to develop and test electric solutions that bring value to our customers.
Brad:  As part of our current business plan, Sunbelt Rentals is committed to leading with ESG. That includes aggressively investing in electric products to speed the availability and adoption of this equipment throughout the industry. We want to ensure our customers have access to solutions that help reduce their carbon footprint. We also have a corporate initiative to reduce our own carbon intensity by 35 percent by 2030.
EW: The big news this fall was Sunbelt's partnership with Bobcat and its all-electric compact track loader. No doubt you've done a lot of testing. What have you found out about this technology and what advantages would a customer enjoy by choosing this machine over a conventional diesel-powered CTL? Will Sunbelt provide recharging infrastructure for this machine, or is the assumption that contractors will do this on their own?
Brent: With the partnership with Bobcat, Sunbelt Rentals can open customers up to different applications, such as indoor use and use in noise-sensitive environments. The Bobcat T7X compact track loader is 100% electric and offers maximum power, so customers are going to gain efficiencies compared to diesel machines. They can charge the equipment on a standard EV charger or plug it into a 240 outlet, or Sunbelt Rentals can support charging needs with one of our energy storage systems (ESS).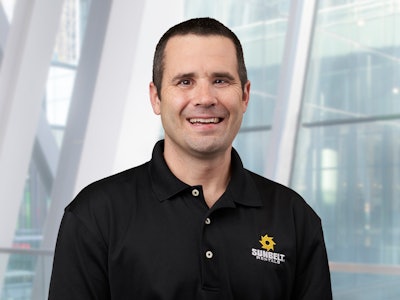 Brad: The reduction in noise is a big advantage to the Bobcat T7X. The overall operator experience is much improved, not just in terms of allowing for better jobsite communication, but also because there's less vibration. Customers get some comfort benefits and experience less fatigue during operation. Adding to that, its performance is just as robust as an ICE machine, if not more.
[Related: A Closer Look at the World's First All-Electric CTL: Bobcat's T7X]
EW: What do contractors need to know before they rent these types of machines from Sunbelt? Will the rental rates be higher on battery-electric systems and if so, how can contractors make this work from a cost standpoint?
Brent: For contractors renting all-electric equipment like the Bobcat T7X, there needs to be a shift in mindset compared to managing a combustion machine. They need to take advantage of opportunities to charge the equipment, whether it's during breaks or when it's not in use. But from an operational perspective, it's just like a traditional compact track loader. There's not a lot of acclimatization that would make it difficult to operate or slow down productivity.
Brad: Some of the all-electric machines may drive a premium rental rate but considering the full cost of ownership of the machine on the job site, renting minimizes or eliminates the cost premium for the customer. Also, the rental rate is offset by removing the need for refueling, which is significant considering current gas and diesel prices. Sunbelt Rentals' investment in this equipment also gives customers the opportunity to test leading-edge technology.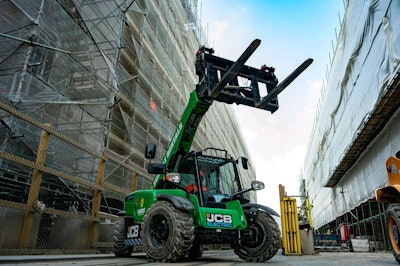 EW: Has Sunbelt offered diesel-electric hybrid machines or other types of low-carbon solutions in the past, and if so, what was learned from that experience?
Brent: We've learned that it is often easier for customers to transition from equipment with internal combustion engines to a hybrid machine than to a fully electric one. There's less of a learning curve. And in some instances, hybrid equipment is the best solution for an application versus trying to electrify it.
Brad:  Sunbelt Rentals has been investing in hybrid solutions in our fleet for many years. We've found them to be very productive and often more efficient than standard internal combustion engine machines, mainly due to the application performance and reduced idling time. We offer hybrid mobile elevated work platforms (MEWPs), excavation equipment, on-road vehicles, light towers and more. Over the years, we've learned ownership practices that allow us to be comfortable with increased investment in these innovations and technologies. That ultimately benefits our customers, since we can put the equipment into practice in the best possible way and get the results they're looking for.
EW: Can rental companies become a bridge to the low-carbon future for contractors, by easing them into this transition, a kind of try-before-you-buy source of expertise and education?
Brad: We see electric equipment rental as the bridge to support customers toward a low-carbon future. Along the way, it should be considered an important pathway for the adoption and creation of low-carbon job sites.