Ford is expanding the Tremor family of trucks. Initially launched on Super Duty and Ranger, the Tremor off-road package will soon be available on the 2021 F-150 as well. We've got the details on this beefy equipment package in the video below.
---
---
Ford already had a pretty jam-packed slate of features with its new 2021 F-150 lineup:
The lineup claimed the best-in-class towing crown for this model year thanks to a 14,000-lb rating on the 3.5L EcoBoost V6 models.
Ford overhauled both the interior and exterior of these trucks while continuing to add technology features like hands-free driving.
Plus, they introduced the first ever hybrid F-150 with the powerful new 430-hp PowerBoost engine.
But Ford had one more surprise up its sleeve for 2021: the F-150 Tremor.
As we've discussed in previous reports on the Super Duty Tremor and the Ranger Tremor, this is an off-road focused package with some serious equipment upgrades. But up until now it seemed unlikely that the Tremor would appear on the F-150. 
With the package initially launching on the Super Duty lineup in 2019 and then appearing on the Ranger in 2020, it always seemed like this package was created for those customers who wanted something close to the F-150 Raptor in terms of capability, but don't want an F-150-sized truck. (Not to mention the potential that this package could cannibalize Raptor sales.)
But with the success of the package on Super Duty and Ranger it appears that Ford has identified a healthy niche of customers right there in the middle irrespective of size class. Those who want more capability than the FX4 package, but who also are squarely outside of the Raptor's price range.
But what are you getting for the extra cash?
Equipment
2021 Ford F-150 Tremor
For starters, the package is only available on 2021 Ford F-150s in the 4-door SuperCrew configuration with a 5.5-foot box. Opting for the package also means you'll have to be OK with Ford's 3.5-liter EcoBoost V6 mated to a 10-speed transmission.
Four wheel drive is standard and Ford has even given the F-150 Tremor some unique exterior styling with a more aggressive profile and a unique grille featuring a blacked-out Ford oval and an orange bar running through the middle. Ford calls that particular shade of orange "Active Orange" and says it's the signature color of the Tremor package. Active Orange highlights also appear on the two front recovery hooks.
Now, the differences between the Tremor and FX4 packages start with the suspension. While the FX4 package adds monotube shocks, the Tremor package adds Tremor-specific monotube shocks at the front and twin tube shocks at the rear. These shocks are tuned to give a comfortable ride both on- and off-road with softer damping at low speeds with additional damping and control when off-road.
2021 Ford F-150 Tremor
The package also adds 33-inch General Grabber all-terrain tires mounted on matte-finish 18-inch wheels. In addition to adding to the truck's overall ground clearance, these Grabber tires also add about 1 inch of width to the F-150's stance.
Underneath you'll find a Raptor-style bash plate for protection of front end components.
2021 Ford F-150 Tremor
A locking rear differential is standard equipment and the F-150 Tremor has an approach angle of 27.6 degrees, a breakover angle of 21.2 degrees and a departure angle of 24.3 degrees. The package adds 1.5 inches of total travel in the rear and 1 inch of total travel in the front.
Ford notes that later in the model year they'll be adding the option of a limited-slip front. Plus, if you opt for the Tremor high series, you'll get a dual mode torque-on-demand transfer case similar to what's found in the Raptor. That case merges the functionality of all-wheel-drive and four-wheel drive cases to handle whatever off-road terrain you throw at it.
But beyond the price tag and amount of equipment the other important aspect of the Tremor package is that Ford is really hoping to maintain the practicality of the truck with it.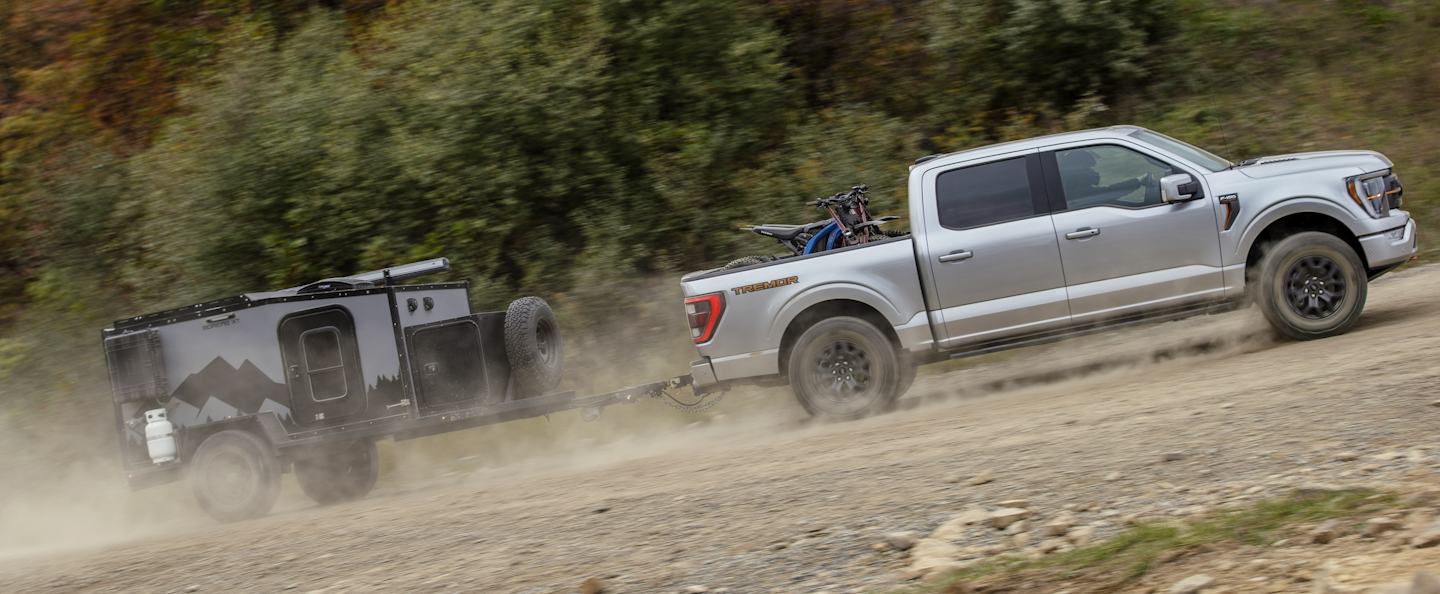 2021 Ford F-150 Tremor
In other words, yes it's a serious off-roader, but not at the expense of towing and hauling. Well, at the complete expense of those specs anyway.
Payload is rated at 1,885 pounds while max towing on the F-150 Tremor is 10,990. Those are capable if not eye-popping numbers. Both of those numbers are closer to the least amount of capability you can get on an F-150. For reference, the max payload available on other F-150 configurations with the 3.5L EcoBoost is 3,325 pounds while max towing is now 14,000 pounds.
Another cool aspect of the F-150 Tremor is that you'll be able to outfit it with Ford's new Pro Power Onboard. This is essentially a 2 kilowatt generator integrated into the bed of the truck—enough power for tools, an air compressor or even an electric chainsaw. 
Off-road inspired tech features include an available 360-degree camera package, selectable drive modes including a rock crawl mode, optional trail turn assist, standard hill descent control and optional Trail Control cruise control. 
You'll also be able to opt for Ford's Trail One-Pedal drive which allows you to modulate both the brake and throttle through the accelerator pedal—push down to accelerate and release to brake. This one pedal operation makes traversing extreme off-road terrain much easier since you're not having to switch between pedals to make small adjustments.
Ford hasn't yet said how much the F-150 Tremor will cost, but it will be available starting Summer 2021.