Ford is recalling the color preference of their iconic founder Henry Ford with a new matte black F-150 Lightning Platinum Black edition.
"The Ford F-150 Lightning team heard you, Henry," Ford states in a press release offering details on the all-electric pickup including a hefty price tag bordering on six figures.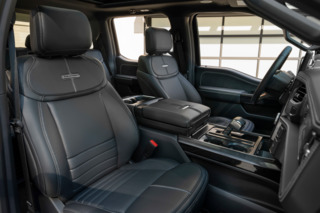 Not so sure Henry would have been keen on that given his reputation and monumental success for having produced affordable cars for the masses including the incredibly successful Model T.
At any rate, times have changed and so has the color black. The F-150 Lightning Platinum Black offers a combination of monochromatic black and Agate Black gloss features. And here's an interesting twist…this is the company's first-ever matte-wrapped production truck.
"Ford is no stranger to limited-edition vehicles – and the F-150 Lightning Platinum Black is taking our award-winning electric truck to new levels of stealth and style," said Ford's director of EV truck programs Dave Pericak. "This is the perfect choice for those customers looking to make a statement."
In a humorous tribute to Henry Ford, the company that bears his name released a popular quote attributed to the auto magnate in the 1920s when the Model T was king.
"Any customer can have a car painted any color that he wants so long as it's black," Ford wrote in his autobiography My Life and Work.
The F-150 Lightning Platinum Black has a targeted EPA-estimated range of 300 miles with standard extended-range battery. Production is set to begin in 2024 and will be limited to 2,000 trucks. Starting MSRP is $97,995.
Unique matte black and Agate Black gloss features of Lightning Platinum Black include:
·     22-inch matte black wheels and lug nuts
·      Black Ford Oval badging
·      Power-deployable running boards with Agate Black gloss accent
·      Soft-shell black tonneau cover 
·      A distinctive smoked signature light bar
·      Reflective black-on-black Lightning badge that appears to glow when lights flash over it at night
·      An Agate Black gloss roof that blends in with the glass to create a smooth surface, making the non-reflective matte black exterior stand out even more, and Agate Black door handles to help protect this high-touch area from smudging. 
Additional touches include:
·      "Lightning" graphics on roof glass above passenger seating
·      Luxe black premium Nirvana leather seating surfaces
·      Aluminum plate in both frunk and in driver door jamb with limited edition numbering
The Platinum Black also features enhanced technology. Available Ford BlueCruise hands-free highway driving – specifically version 1.2 – features Lane Change Assist, which allows the driver to change lanes hands-free by tapping the turn signal once the path is clear, and In-Lane Repositioning to help to keep the vehicle in its lane while subtly shifting position away from vehicles in adjacent lanes.  Updated BlueCruise graphics in the digital cluster visually show the driver when an assisted hands-free lane change is occurring and when the vehicle is adjusting in-lane such as shifting away from large semi-trucks.
Also available is an optimized towing setup experience, in which the truck is smart enough to recognize a connected trailer and automatically switches to tow haul drive mode. Once the trailer is disconnected, the truck will revert to the previous drive mode. Walk Away Locking allows the customer to lock the vehicle with a passive key or authorized phone via Phone As A Key.
Future capabilities can be unlocked through software updates to help enhance the ownership experience. Pro Power Onboard now works while the truck is switched off; plus, it features an updated visual appearance so customers can better understand the truck's power levels.
The F-150 Lightning is midway through its second year of production at the Rouge Electric Vehicle Center. Following a recent plant expansion to help the company scale production, Ford is on track to triple F-150 Lightning production by fall. This will allow Ford to build up to 150,000 EV trucks annually.