FMI says total engineering and construction spending in the U.S. will be up 5% for 2023, ending at about $1.9 trillion.
Continued record growth in manufacturing, combined with gains in various nonresidential and nonbuilding segments, is expected to uphold industry spending in 2023, according to FMI's 2023 North American Engineering and Construction Outlook.
Last year, FMI altered some of its base assumptions to include the likelihood of a recession. While delayed based on economic conditions in recent quarters, the FMI forecast still indicates some upcoming economic contraction late this year or in early 2024. The length of its anticipated recession depends on policy response, although historically, the impact on the construction industry tends to linger.
Looking ahead to the next three years, FMI projects double-digit growth in most construction segments including multifamily residential, highway and streets, sewage and waste disposal, water supply and conservation and development.
Only religious and communication segments are expected to remain at the inflationary rate of 0 to 4%.
Conversely, the report indicates that residential, particularly single-family residential construction, will continue to decline through 2026.
Overall, a reasonable outlook for 2023 and into the future from a certain point of view.
However, FMI partner Jay Bowman encourages contractors to put a different perspective on some of the numbers.
"What I mean by that is putting the numbers that we're seeing in the forecast in perspective to where we've been more recently," he said. 
Removing the impact of inflation, according to the information assembled by FMI, he says 2023 through 2027 represent five of the 12 highest construction spending years since 1965.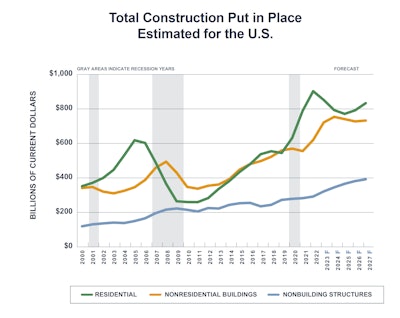 In other words, from Bowman's point of view, down is not necessarily dead.
For example, the report states that single-family home construction is entering the second year of a double-digit decline that will conclude with total spending in the segment being $800 billion in 2026.
While that total is a reduction from recent years, Bowman notes that it also is a 47% increase from the $550 billion reported pre-pandemic in 2019.
Within non-residential building construction, FMI projects 2024 to be up 5% and then contracting in 2025 and 2026, essentially wiping out all the gains.
Comparatively, transportation construction is forecast to be up a total of 20% over the next 3 years.
To further provide some perspective, Bowman suggests looking at manufacturing.
FMI is projecting manufacturing to be down 13% over the next three years, following two years of nearly 50% growth.
The growth is led by the computer/electronics segment and 18 new chipmaking facilities that broke ground between 2021 and 2023. 
In addition, backed by federal policy support, many manufacturers across many segments are racing to address market demands which include electric vehicles, energy technologies, semiconductors, and more.
"By 2026, although manufacturing construction may fall in the $180 billion range, that's 60% more than what we saw in 2022 and 120% more than what we saw in 2021," Bowman said. "It's all about perspective."
Growth is further forecasted in the nonbuilding or heavy civil sectors of construction.
According to FMI, highway and street construction spending is forecast to continue to strengthen through the end of 2023, aided by stabilizing input prices, new/recent grant awards, and an increasing number of projects breaking ground.
The forecast is for continued growth through 2026 and general stability in 2027 as a growing number of infrastructure megaprojects are anticipated to break ground over the next several years.
In other areas of nonbuilding construction such as a sewer and waste disposal, water supply and power, investments are expected to continue to rise as residential, commercial, institutional, and industrial construction demands increase.