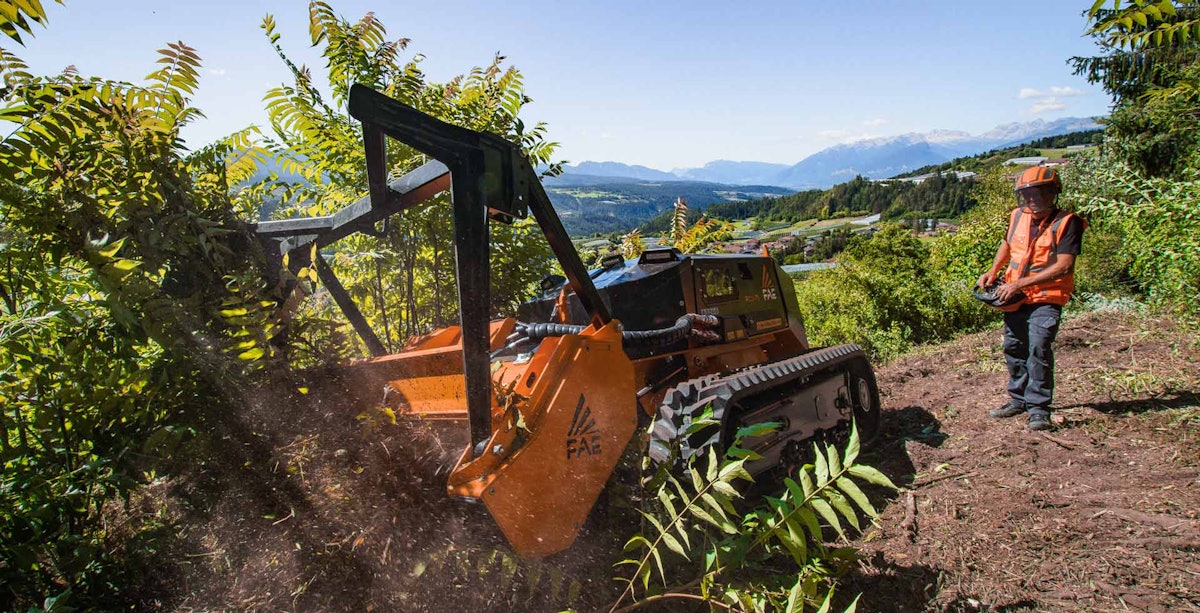 FAE USA will showcase its most extensive equipment selection ever at the 2023 ConExpo-Con/Agg, North America's largest construction trade show. In total, 17 machines will be on display, including seven new products from the tracked carrier and attachment manufacturer.  
FAE will place special emphasis on its remote-controlled track carriers for mulching applications.
The company's new RCU-75 remote-controlled tracked carrier can mulch vegetation up to 6 inches in diameter while climbing slopes up to 55 degrees. Powered by the 74-horsepower Kohler Common Rail electronic fuel injection engine, the RCU-75 is suited for working in hilly wooded areas, near railroad tracks, power lines, gas and oil pipelines, gardens, roadsides, highways, canals, rivers and lakes. It can be paired with FAE's BL2/RCU mulcher.
The new RCU-55 also will be on display. A 56-horsepower Kohler Common Rail electronic fuel injection engine powers the unit. It features all the technology built into the larger RCU-75 model but in a smaller package.
 A new mulching head will also make its debut at the show.
Other products to be showcased include:
PT-175 and the PT-300 tracked vehicles
SFM multitasks head for tractors
DML/SSL and UML/SSL/SONIC skid steer mulchers
BL1/EX, BL3/EX, BL5/EX and UMM/EX/HP mulchers for excavators
MTM multitasks head for tractors
RPL/SSL, RPM/SSL, RWM/SSL road planers for skid steers
STC/SSL stone crusher for skid steers
For those unable to attend in person, FAE will broadcast live on its Facebook page at 11 a.m. and 3 p.m. on Tuesday, March 14, Thursday, March 16, and Friday, March 17.