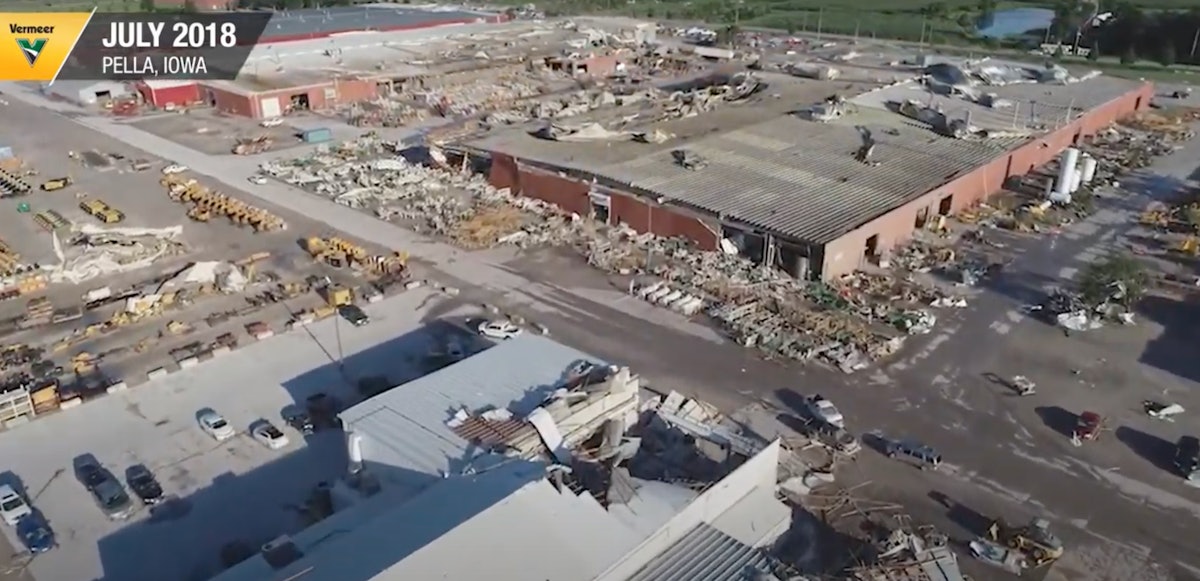 A former director of construction at equipment manufacturer Vermeer has been sentenced to 20 months in federal prison for his involvement in a kickback scheme that occurred while the company was rebuilding after heavy tornado damage.
The 2018 EF3 tornado destroyed manufacturing plants at Vermeer's Pella, Iowa, campus. In 2019, Vermeer hired Roger Paul Bradford to oversee the company's construction projects, including the construction of an Eco-Center to replace the one destroyed in the tornado.
Bradford then schemed with Viorel Draghia, owner of Draghia Painting & Contracting, whom he had known during his time working in Northern Virginia before being hired by Vermeer.
After Bradford got the job, he would email Draghia confidential construction-related information about the projects, and the two would work on bids for those projects, according to Draghia's plea agreement. Vermeer and its general contractor were unaware of the scheme, according to court records.
In exchange for winning the contracts, Draghia paid kickbacks to Bradford in cash and with his company's checks, the plea agreement says. In July 2019, Draghia won a contract for masonry work on the Eco-Center and also won work on additional projects between July and October 2019. The documents, bids and invoices for payment were sent via email, court records say.
Bradford's indictment document said he would also intercede with the general contractor on behalf of Draghia, and in one instance, he emailed to the contractor: "I feel confident that this is the Vendor we want to do the block work as they can meet the schedule and quality."
Bradford's plea agreement, filed September 23, 2022, in U.S. District Court in the Southern District of Iowa, says Draghia entered a bid of $829,590 for the masonry work. The general contractor said it had received previous bids of $573,527 and $641,437.
Bradford argued with the general contractor that the lower bids were "unrealistic," and that Draghia "would get it done timely because he had the necessary manpower, and that Draghia did quality work." This was not true, because Draghia did not have laborers and intended to "re-subcontract" the work to another company, the agreement says.
Bradford negotiated with the general contractor to bring the contract down to $790,000, but afterward the amount "was immediately revised upward to $800,555." Draghia then contracted with a masonry company in Iowa to do the work for $572,409, just below the original lowest bid. Draghia also paid kickbacks to Bradford for winning the contract and for other work at Vermeer.
The contractor and Vermeer would have not allowed the scheme if they had known, according to court records. Vermeer fired Bradford on October 29, 2019, and alerted the FBI after its own internal investigation.
After being questioned by the FBI on June 25, 2020, Bradford and Draghia met at a Starbucks in Northern Virginia later that same day. The meeting was covertly recorded by the FBI. During that conversation, Bradford urged Draghia not to "flip" against him.
"As long as we stick together, we will be OK," Bradford told Draghia.
"…The only way they can tie it back is if you and I flip. And neither one of us are going to do that to each other."
He also told Draghia not to talk to the FBI. "You don't want to talk to the FBI. No one that has ever talked to the FBI has done any good."
He said they should tell their lawyers that the kickback payments "were consulting payments so their stories were consistent."
The plea agreement includes this excerpt of the exchange at the Starbucks:
Defendant told Draghia to "look me in the eye" followed by the following exchange:
Defendant: "Can I trust you?"
Draghia: "Yes"
Defendant: "Do you really love me as a brother?"
Draghia: "Yes, sir."
Defendant: "Promise?"
Draghia: "Promise."
Defendant: "Forever?"
Draghia: "OK."
Draghia reached a plea agreement May 16, 2022, for one count of conspiracy to commit wire fraud. He has not yet been sentenced.
On May 4, 2023, Bradford was sentenced to 20 months to be served at FCI Petersburg, a low- to medium-security prison in Prince George County, Virginia, for one count of conspiracy to commit wire fraud, to which he pleaded guilty May 18, 2022. After his prison term, he is ordered to serve three years of supervised probation and perform 25 hours of volunteer community service.
He must also pay $23,000 in restitution to Vermeer. This was an amount paid by Bradford to Draghia as a "gratuity" for the work performed by Draghia's company at Vermeer, according to a letter April 28 from Bradford's lawyer, Guy R. Cook, to the presentencing probation officer.