Most equipment rental companies anticipate 2023 to continue the strength shown in 2022, amid the market volatility.
According to the American Rental Association (ARA), the U.S. equipment rental revenue surpassed pre-pandemic highs in 2022, with a 13.5% year-over-year increase totaling $56.1 billion. This compared to an 11% growth in 2022, which ended at $55.8 billion.
Despite these consistent double-digit increases, projections are for equipment rental revenue to slow over the next few years with single-digit percentage increases.
In December 2022, ARA had projected an increase of 3.4% in 2023 to nearly $57.7 billion. In its review of Q1, the increase has risen to approximately 5.3% for the year.
"In speaking with rental companies across the United States and Canada, despite some unprecedented headwinds, their businesses are strong," said Tom Doyle, ARA vice president of program development. "It's generally a great time to be in rental."
The projected slowdown has seemingly not dampened positivity among companies within the rental industry.
According to the EquipmentWatch Q1 rental report, overall rental rates have stabilized, with modest increases offsetting any market corrections that happened in 2022. 
"Demand is high, rental customers are, for the most part, busy. There's a lot of work in the books, and federally funded infrastructure projects are getting going," said Michael Roth of the Rental Equipment Register.
According to EquipmentWatch's analysis of the first quarter, the rate stability in Q4 2022 led to increases in daily rental rates in Q1 2023, especially for some of the more popular equipment types. 
The report states that the biggest increase in average daily rental rates was for rough-terrain telehandlers, which saw increases in both Q4 and now Q1 2023. As of Q1 2023, the average daily rental rate for those machines is approximately $674.
Similarly, compact excavators saw average rental rates climb 3.98% over two quarters. As with other machines, according to the report, after a market correction in mid-2022, rates for compact excavators have generally stabilized.

Increases were shown in daily rates for four-wheel-drive articulated wheel loaders, single-drum vibratory compactors, and electric self-propelled scissor lifts.
Average weekly rates increased for hydraulic crawler excavators, standard dozers, four-wheel-drive articulated wheel loaders, telehandlers, and single-drum vibratory compactors. 
Conversely, compact track loaders saw the largest weekly rate drop of 4.04%, followed closely by the skid steer loaders, which dropped by 3.68%.
EquipmentWatch analysts suggested that the market stability established in Q3 and Q4 2022 has continued for most types of small and medium-sized equipment, with only modest to slight decreases in skid steer loaders and CTLs.
Also, I.C. pneumatic tire lift trucks decreased nominally, while the only nominal gain in average weekly rates came from electric self-propelled scissor lifts.
The report states that rates for medium to large equipment also saw modest increases across the board, with excavators and telehandlers seeing the largest increase from $2,441 to $2,501 and $1,634 to $1,725, respectively. 
The biggest year-over-year increase came from single-drum vibratory compactors whose rates increased from $1,505 this time last year to $1,838 this year.
Overall, rates were stable with slight increases happening for four-wheel-drive articulated wheel loaders and standard dozers.
ARA's annual construction equipment survey released in January suggested similar optimism, with fleet growth projected in all 30 product groups.
Rental companies in North America that responded are estimating a 58% increase in new equipment purchases. Of those respondents, 79% said their orders included mobile elevating work platforms (MEWPs) and 59% said their orders included earthmoving equipment.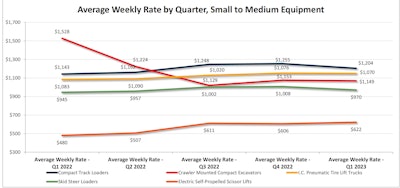 ARA's Q1 report also stated that growth is expected to slow in general tool rental revenue in 2023, due in part to weakness in the construction markets, particularly residential.
For that segment, ARA reported year-over-year growth in 2022 of 6.5% and a revised projected growth of 2.8% for 2023, compared to the original 4% forecast in December 2022.
"The outlook for equipment rental continues to be positive. With significant funding for infrastructure coming in 2023, the demand for equipment will continue to grow," says John McClelland, ARA vice president for government affairs and chief economist. "In addition, more funding is coming from the Inflation Reduction Act as we begin to build out the electricity infrastructure for both vehicles and equipment." 
Demand generated by federal policy and investments will continue to affect the rental industry, from the Infrastructure Investment and Jobs Acts to the tax policy of the Tax Cuts and Jobs Act. 
ARA said there is an estimated $185 billion available for new projects.
To date, manufacturing, commercial, healthcare, and public infrastructure-related construction spending are up more than 10% from February 2020. Conversely, lodging, office, educational and power segments have continued to decline.
Since January 2022, manufacturing-related construction spending jumped by 53.6%, with the CHIPS Act being one of the major reasons for the spike.
In addition, the Dodge Construction Network reported that civil construction starts will reach $281 billion in 2023.
Some states have already seen surges in highway and bridge construction in 2022, including North and South Carolina, Georgia, and Texas accounting for the uptick in rental rates in those regions. As more projects get underway, spending will impact some areas more than others.
EquipmentWatch is owned by Randall Reilly, parent of Equipment World.