Two high-profile emergency bridge projects are among the 12 finalists for America's Transportation Awards.
The rapid reopening of the Sanibel Island Causeway in Florida following Hurricane Ian and replacing the Fern Hollow Bridge in Pittsburgh after it collapsed with five vehicles on it made the cutoff list for the 2023 awards sponsored by the American Association of State Highway and Transportation Officials.
Projects in Texas, Utah, South Dakota, Maine, Vermont, Georgia, North Carolina, Illinois, Kentucky and Iowa also advanced to the final round.
"These projects selected for our Top 12 list shine a spotlight on our most innovative and impactful projects in this year's competition," says AASHTO Executive Director Jim Tymon.
Road Projects Make the List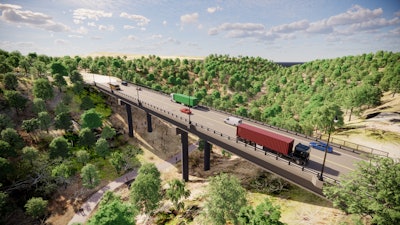 Here's a rundown of the road projects that are finalists:
Florida Department of Transportation's Hurricane Ian Sanibel Island Emergency Access – The storm in September 2022 severed the only bridge between Sanibel and Captiva islands and mainland Lee County in five places. A $64 million emergency rebuild restored traffic for the residents within three weeks.
Pennsylvania Department of Transportation's Emergency Fern Hollow Bridge Replacement Project – The snow-covered bridge collapsed in the early morning of January 28, 2022, with a transit bus and four other passenger vehicles on the deck. An innovative design-build process was used to build a new bridge within 11 months – two to four years faster than through traditional means. The new $25.3 million bridge also features bike and pedestrian paths.
Kentucky Transportation Cabinet's Mayfield Tornado Response – Another emergency response effort to make the list pays homage to the Kentucky Transportation Cabinet District 1 for its quickly reopening all streets in the town of Mayfield in one day after a tornado touched down December 10, 2021, causing widespread destruction.  
Illinois Department of Transportation's Jane Byrne Interchange – One of the most congested highway freight bottlenecks in the nation got an $800 million reconstruction that rebuilt four bridges over the interchange with wider sidewalks and bike lanes. It also turned a poplar street into an expansive walkway and rehabilitated the Chicago Transit Authority's Blue Line commuter rail station.
South Dakota Department of Transportation's U.S. Highway 83 Corridor Improvements and Reconstruction – This $112 million project expanded the capacity of U.S. Highway 83, a vital freight corridor that carries up to 2,800 vehicles per day, and added two new pedestrian paths.
Maine Department of Transportation's Veranda Street Bridge Replacement – The $20.8 million project replaced the 60-year-old Veranda Street Bridge using Self-Propelled Modular Transporters to move the replacement bridge into place. By using this new technology for the first time in Maine, the old bridge was demolished and the new one was constructed with only a single weekend closure of the interstate.
Other Finalists
Texas Department of Transportation's Mobility35 Initiative to Address Homelessness (IAH) Program – Improving a section of I-35 in Austin meant removing elevated structures that homeless people used for shelter. To address that issue, the $780,000 Mobility35 IAH program developed a coalition led by TxDOT that helped more than 130 people transition to permanent housing. 
North Carolina Department of Transportation's Flood Warning System – In response to Hurricane Florence's devastation in 2018, NCDOT implemented a flood warning system to alert staff and emergency management personnel when floodwaters could impact roads and other transportation infrastructure.
Georgia Department of Transportation's Historic 5th Street Pedestrian Bridge Rehabilitation Project – This $9 million project transformed the outdated 5th Street Bridge over the Savannah River in Augusta into a pedestrian crossing.
Vermont Agency of Transportation's Lamoille Valley Rail Trail – The $24.5 million 93-mile multi-modal recreational Lamoille Valley Rail Trail is the longest rail trail in New England for walkers, bikers, equestrians, snowmobilers, cross-country skiers.
Iowa Department of Transportation's Adult Changing Facilities in Iowa Rest Areas – This $1 million project installed six adult changing tables at interstate rest areas in 2022.
Utah Department of Transportation and Utah Transit Authority Partner to Improve Mobility for Local Community – This $21.5 million project to build the new Frontrunner train station at Vineyard City provides a major hub for pedestrian and bicycle trail connections within Utah County and as far north as Salt Lake County.
What's Next?
The finalists now vie for the Grand Prize and the People's Choice Award, both of which come with a $10,000 cash award for a charity or transportation-related scholarship of the winners' choice.
The Grand Prize recipient will be selected by an independent panel of judges, while the People's Choice Award will be given to the project that garners the highest number of online votes from the general public, weighted by state population. AASHTO will unveil the winners of these prizes at its annual meeting on November 15 in Indianapolis.
Online voting has begun at americastransportationawards.org and continues through 11:59 p.m. ET November 14. Individuals can cast no more than one vote per day per project.
Along with AASHTO, the awards are sponsored by AAA and the U.S. Chamber of Commerce. The projects are sorted into three categories: Quality of Life/Community Development, Operations Excellence, and Best Use of Technology & Innovation.