Two new digger derricks were introduced by Elliot Equipment Company at Utility Expo 2023, including the company's largest ever.
With a 26,000-pound lifting capacity, the D47 digger derrick is viable for a wide range of lifting and material handling tasks.
In addition, Elliot unveiled its largest and most powerful insulating digger derrick, the D100i.
Next-generation distribution digger derrick
The D47 is a high-performance digger derrick designed to meet the needs of the most demanding distribution applications, the company says.
"This new product is designed with the operator in mind, and we believe it is the most user-friendly distribution digger derrick on the market today," said Jim Glazer, president and CEO of Elliot Equipment Company.
It has a 17- to 26-foot digging radius. Standard features include 46kV insulation, independent boom operation, transferable pole guide, line body, and rear-mounted hydraulic tool circuit.
In addition, the D47 is equipped with full-pressure, open-center hydraulic controls, hydraulic side load protection, a premium planetary swing drive, a winch motor that is typically found on larger machines, and an ergonomic control console with a high-back air-suspension seat.
Also, the D47 includes dual lift cylinders and a cable carrier/slide tube system designed for ease of maintenance.
The unit is backed by a lifetime structural warranty and is available now through Elliott Equipment and its rental partner, United Rentals.
"We share the same commitment to helping our customers work efficiently, and the D47 model is a great and user-friendly option that we are proud to offer as part of our end-to-end utility solution," said Craig Schmidt, vice president of national accounts, at United Rentals.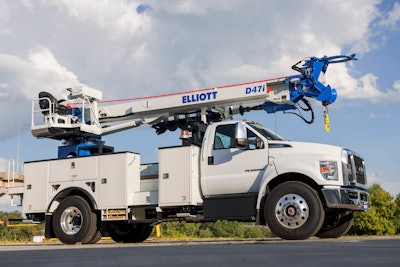 Tallest and highest capacity digger derrick
The D100i features a 100-foot tip height and an independently operated fiberglass boom with 46kV insulation. 
In addition, it has a maximum lifting capacity of 48,000 pounds and 10,800 pounds at a 30‐foot radius.
The unit's fourth stage, powered by a singular drive cylinder and a transferable pole guide, is adaptable for a range of configurations.
According to Elliot Equipment, the D100i is equipped with a 20,000‐foot‐pound auger drive, allowing it to handle flightings up to 48 inches in width in a wide variety of soil conditions.
"The D100i exemplifies Elliott's core values of innovation, quality, and continuous improvement," Glazer said. "The D100i is not only the most advanced digger derrick on the market, but it also incorporates years of customer input to optimize its performance and operator experience."
As part of its innovations, Elliott minimized the wheelbase of the D100i to 232 inches to allow for maneuverability around transmission pads. 
Like the D47, the D100i also features:
Deluxe control console
Intuitive LMI Interface
High Pinpoint Boom Geometry
Lifetime Structural Warranty.
Compliant with ASNI/ASSP A10.31 standards 
Also, the D100i can be operated with the outriggers partially deployed in mid‐span mode or with one side fully deployed and one side fully retracted to save additional space.
Quick Specs
D100i 
Sheave height max: 100 feet
Horizontal reach max: 85 feet
Digging radius: 24 to 41 feet
Lifting capacity: 48,000 lbs.
Boom range: ‐10 to 80 degrees
Digger speeds: 80 rpm/35 rpm
Torque: 20,000 ft.-lbs.
D47
Lifting Capacity: 26,000 lbs. 
Sheave Height: 47 feet maximum
Digging radius: 17 to 26 feet
Boom rotation: 360 degrees continuous
Insulation: ANSI Category C
Digger motor torque: 12,000 ft.-lbs.