Donaldson has expanded its Filter Minder Connect solution to monitor fuel filters and engine oil condition on heavy duty engines. The system was previously just available for engine air filtration in on-highway trucks and off-road equipment.
Filter Minder is designed to combat situations when filters are changed too soon — leading to increased costs and inefficiencies — and when they are changed too late, which can result in additional costs and unplanned downtime. 
System components can be installed on equipment in minutes. The system integrates into a machine's existing on-board telematics and fleet management system, Donaldson says.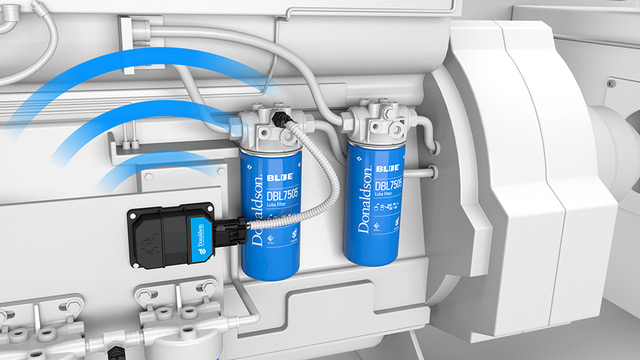 The Filter Minder sensors and receiver wirelessly transmit performance to the cloud.DonaldsonThe sensors and receiver wirelessly transmit performance to the cloud and use predictive analytics to inform users when filters and engine oil are approaching the end of their optimal life. 
Filter Minder sensors can measure pressure drop and differential pressure on fuel filters, plus the condition of engine oil, including density, viscosity, dielectric constant and resistivity, says the company.
If you also use Geotab tracking and fleet management software along with Filter Minder Connect, you can receive fleet data and analytics via the MyGeotab dashboard.