After 10 consecutive months of gains, the Dodge Momentum Index, issued by the Dodge Construction Network, declined in January.
Sarah Martin, associate director of forecasting for Dodge Construction Network, said the DMI fell 8.4% in January to 201.5 (2000=100) from the revised December reading of 220.
In January, the commercial component of the DMI fell by 10%, and the institutional component receded by 4.7%.
"While planning activity slowed, the index remains elevated, and the volume of projects remains steady," Martin stated. 
The DMI is a monthly measure of the initial report for nonresidential building projects in planning, shown to lead construction spending for nonresidential buildings by a full year.
"For now, construction activity does remain strong at these elevated levels, and that bodes well for the construction sector," Martin said.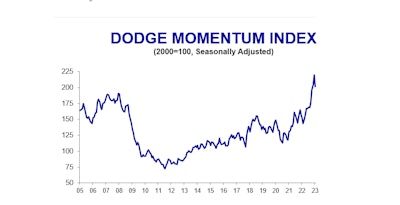 She pointed out that weakness in commercial planning was broad-based with declines in activity in offices, warehouses, retail and hotels. On the institutional side, education and amusement projects drove that side of the index down.
An uptick in government buildings and healthcare projects failed to nullify the other decreases in planning over the month.
Martin says that due to the numbers, January might look like a weak month for the DMI.
"It's important to keep this in context." she said. 
On a year-over-year basis, the DMI remains 32% higher than in January 2022. The commercial component was up 40%, and the institutional component was 16% higher.
"After such strong growth in 2022, we expect the index to work its way back towards historical norms and to grow at a more modest pace in 2023," she said.
Moving further into the year, Martin said, the construction industry could see continued issues with labor and supply shortages, high materials costs, high interest rates and an overall weaker economy, all of which can slow the DMI even further.
Martin noted that based on her analysis of the data, a total of 26 projects with a value of $100 million or more entered planning in January. 
The leading commercial projects included the $325 million Westfield Data Center in Westfield, Massachusetts, and the $275 million Illinois Medical District Data Center in Chicago. The leading institutional projects include the $315 million USC Discovery and Translational Hub laboratory building in Los Angeles and the $211 million Granary Lab and Office Building in Salt Lake City, Utah.