Ditch Witch is touting its new AT120 as the "world's largest" all-terrain horizontal directional drill.
According to the company, the machine's 15,500 foot-pounds of rotational torque and 3,000 foot-pounds of inner rotational torque is a 50% increase over its predecessor, the AT100. The additional force enables maxi-rig drill operators to move down a class size to meet jobsite constraints without compromising productivity, the company says.
With 120,000 pounds of thrust and pullback, the AT120 opens users up to new job opportunities.
"Anyone drilling through hard rock needs a machine that has the brawn to push through," said Jeff Davis, Ditch Witch HDD product manager. "The AT120 delivers the exceptional power that these jobs require."
Using the AT120, he said, operators at larger scale jobs that typically run maxi-rigs can bring less equipment to the jobsite, for cost savings and increased overall uptime.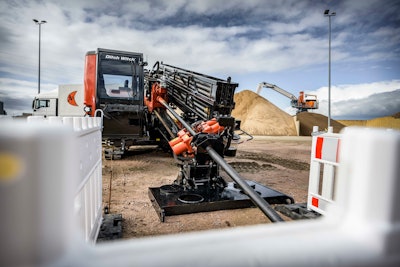 Additionally, Ditch Witch says the AT120 shares a commonality with the latest Ditch Witch family of horizontal directional drill designs. The similarities enhance operator comfort and ease of use, as well as streamline training on a new machine.
Powered by a 280-horsepower Cummins Tier 4 Final and European Stage V diesel engine, the AT120 offers a 20-foot end-to-end drill pipe, allowing operators to put more pipe in the ground. 
New technology includes a patent-pending Virtually Assisted Makeup and Breakout (VAM) solution that ensures the drill pipe and tooling are at the correct levels observed by the torque gauge during a bore. According to Ditch Witch, this makes it easier for operators to automatically add or remove drill pipe during a bore as necessary. 
Ditch Witch says the AT120 is designed to maximize uptime. It features a range of improvements including a new displacement fluid pump for added fluid flow, an integrated wireline platform that allows greater access when connecting wire, and open-top, angled front wrenches that bring greater visibility of machine functions during operation.
Also, the AT120 offers a saver lock design to protect the drill pipe and drive system against wear and tear. 
With an updated engine compartment and access panel design, operators have increased access to critical components that frequently need to be maintained, streamlining maintenance routines and the serviceability of the drill. 
The fully enclosed cab features heat and air, a heated suspended seat, added legroom and two LED touchscreen displays. In addition, it provides views of all critical vision points and a real-time carriage-position indicator that provides operators insight into the exact carriage position.
The company says the AT120 also offers a multimode joystick, allowing operators to set it to their style of drilling. This also can improve an operator's overall comfort running the drill and reduce training time.
Quick specs
Engine: 280-horsepower Tier 4 Final (European Stage V) Cummins
Inner rotational torque: 3,000 ft.-lbs.
Pullback/thrust force: 120,000 lbs.
Rotational torque: 15,500 ft.-lbs.
Drill pipe: 240 in.