Ditch Witch has unveiled a new entry to its stand-on "mini skid steer" line, the SK1750, which runs on the company's all-new track system designed to reduce downtime.
The compact utility loader is second only in size to Ditch Witch's SK3000, which has a 3,100-pound rated operating capacity. The new model boasts a 2,000-pound ROC and is the first of the company's machines to be equipped with the TriTrax System. TriTrax features "a patent-pending tension window, redesigned rollers and an upgraded outer frame," Ditch Witch says.
"This machine was made to stop downtime in its tracks."
Along with less maintenance, the system is designed to deliver "smooth performance, comfortable operation and reduced ground pressure." The tension window allows operators to check track tension at a glance.
Attendees at this month's Utility Expo got a glimpse of the SK1750 in action (see the video below) and will get a deeper look at the CUL's official release at Equip Expo, scheduled for October 17-20 in Louisville, Kentucky.
The SK1750 runs on a 43-horsepower Yanmar diesel engine. Other features on the compact utility loader include:
Adjustable auxiliary flow to match the attachment.
9-inch ground clearance.
An operator platform that is designed for a more stable, comfortable ride.
Manual throttle lever to match ground speed to the task.
Full-color LCD display for engine diagnostics.
The CUL also can be equipped with a variety of Ditch Witch's quick-change attachments. Those include buckets, trencher, pallet forks, grapples, power rake, auger, rock saw, stump grinder, microtrencher, grading blades, hydraulic breaker, even a backhoe attachment.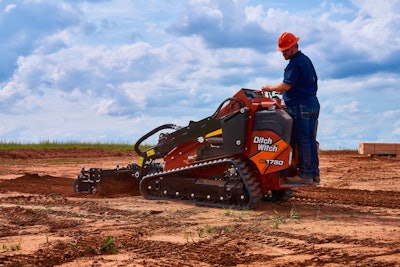 Quick Specs
Engine: Yanmar, 43.5 gross hp, Tier 4 Final
Weight: 4,710 lbs.
Operating capacity: 2,061 lbs.
Tipping capacity: 5,213 lbs.
Width: 47"
Ground clearance: 9.3" center; 7.1" side
Speed: 4.1 mph
Max hinge pin height: 7' 10.5"
Length (no attachment): 8' 3.7"
Ground pressure: 3.8 psi
Noise: 91 dBA