Deere & Company's global net sales and revenue increased 32%, to $12.7 billion, for the first quarter of the company's fiscal year.
Net sales for Deere's construction and forestry segment increased 26% for the quarter, going from $2.5 billion in Q1 2022 to $3.2 billion in Q1 2023. Deere says the uptick was primarily due to "higher shipment volumes and price realization, partially offset by the negative effects of foreign currency translation." UAW contract-ratification bonus costs also affected the prior period.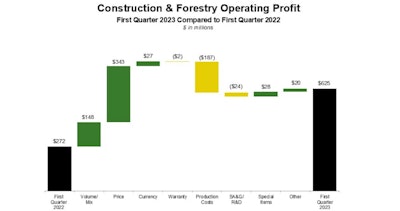 "Deere's first-quarter performance is a reflection of favorable market fundamentals and healthy demand for our equipment as well as solid execution on the part of our employees, dealers and suppliers to get products to our customers," said John C. May, chairman and chief executive officer. "We are, at the same time, benefiting from an improved operating environment, which is contributing to higher levels of production."
Because demand continues to outpace supply, Deere says its dealer order books are still on an allocation basis. While supply challenges have eased, the supply chain is still fragile, Vice President and CFO Joshua Jepsen told participants on a February 17 earnings call, "It's getting better, but we continue to experience higher-than-normal supply disruptions. We're working with our supply chain and doing our best to try to ensure delivery to our customers."
The limited inventory of new equipment is also causing dealers to turn used equipment at a rapid pace. "Used equipment inventories are at low levels, and used equipment prices continue to be strong. This is a positive for customers as it reduces their trade differentials. This is especially true for both large ag and construction and forestry," Jepsen added.
2023 Deere & Company Outlook
Deere now forecasts its net income for fiscal 2023 to be in the range of $8.75 billion to $9.25 billion.
"Deere is looking forward to another strong year on the basis of positive fundamentals, low machine inventories and a continuation of solid execution," May said. "We are proud of our recent performance and remain fully committed to helping our customers do their jobs in a more profitable, productive and sustainable way."
For the year, industry sales of earthmoving and compact construction equipment are projected to remain flat to up to 5% growth in the U.S. and Canada. Global roadbuilding markets are forecast to be flat. Deere's Construction and Forestry 2023 net sales are forecast to be up between 10% and 15%.
"End markets for earthmoving and compact equipment are expected to remain strong. While housing has softened, infrastructure, the oil and gas sector, and robust capex programs from the independent rental companies have continued to support demand," said Rachel Bach, manager, investor communications.