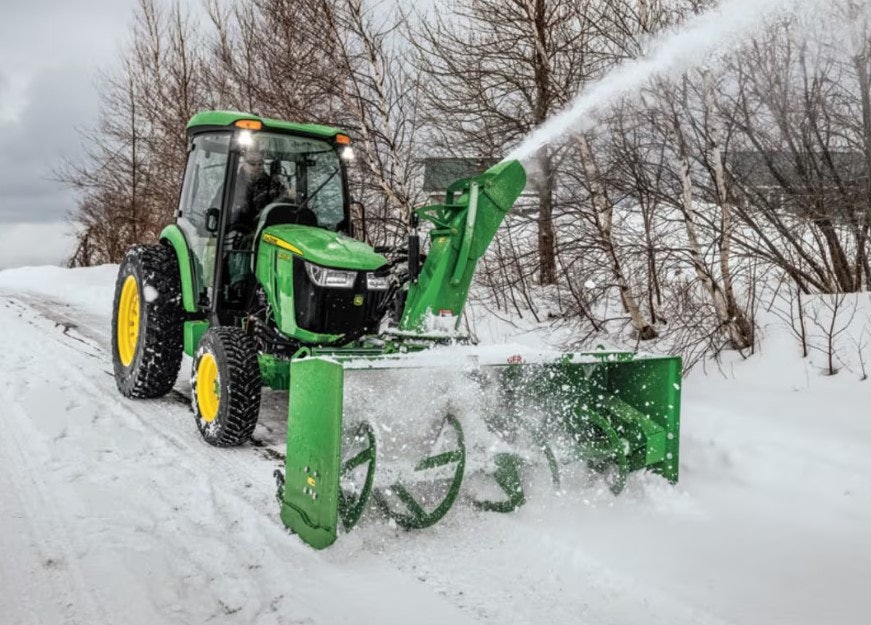 Boasting 80 inches of clearing capacity, John Deere has introduced its new Frontier SB12F Series Front-Mount Snowblower for compact utility tractors.
Designed for both large residential and commercial jobs, the SB12F features a heavy-duty front mount. Deere says the design keeps operators focused on what's ahead of them, rather than behind them.
"Our customers are always seeking tough and reliable solutions to clear even the most difficult snow during peak winter months," said Mark Davey, go-to-market manager, John Deere. "The new Frontier SB12F Series Snowblower pairs a tried-and-true front-mount design with cutting edge features to help clear snow in record time, keeping operators safer and more productive all season long."
With 245 degrees of hydraulic chute rotation, operators can place snow where they want it. A standard hydraulic chute deflector controls the blowing angle for added discharge accuracy.
Adjustable and replaceable steel skid shoes extend the life of the cutting edge and help prevent damage or injury from unseen materials on the job. The cutting edges are made of CHT400 steel. They scrape the layer of ice under the snow and blow it with the snow through the chute, Deere says.
The snowblower weighs 895 pounds. It is compatible with 30- to 80-horsepower tractors.