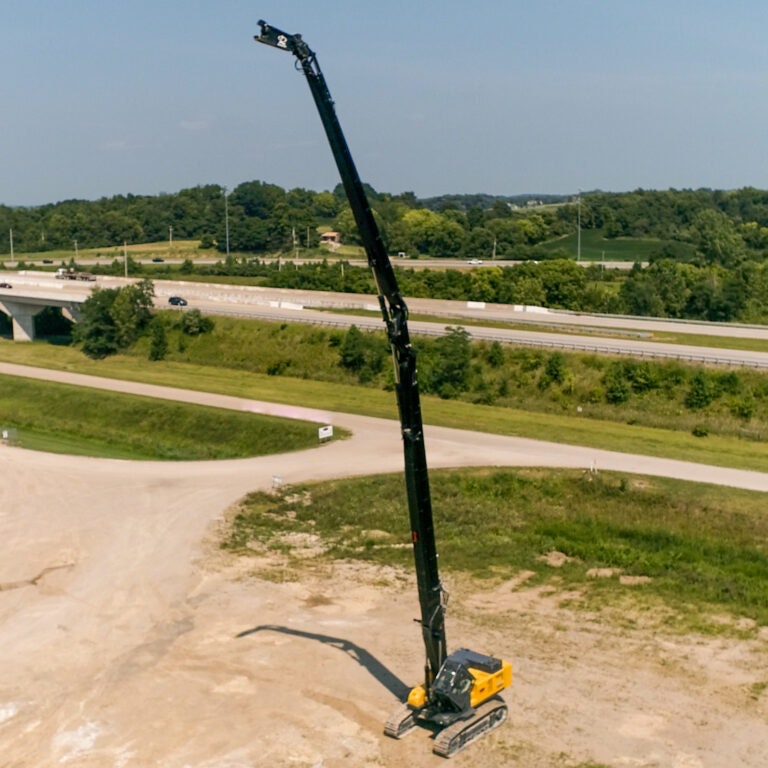 When a standard machine doesn't meet a customer's job requirements, Carroll, Ohio-based dealer and rental equipment provider Company Wrench steps in to perform custom high reach excavator conversions.
The company recently completed the fabrication of a 125-foot high reach excavator with a three-piece boom specially made for a Kobelco SK850 carrier. The entire conversion process averages 5 to 8 months. It includes drafting new product blueprints, boom assembly and counterweight fabrication, plumbing kit installation, painting of the entire machine and a custom cradle design and build. [Check out a video of the machine at the end of this story.]
"When we were building the front, we tried to maintain mostly Kobelco components for easier parts sourcing," Company Wrench's High Reach Specialist Ben Dowdy said.  "The mid link cylinder is actually the original SK850 Kobelco arm cylinder, and the third member cylinder is the original SK850 bucket cylinder.  If the cylinders get damaged or need service, conventional Kobelco parts can be obtained to complete the repairs."
Company Wrench says it designed this machine with features to address common issues customers face when renting a high reach excavator.  
Easy Transport and Setup
To save time and money during transportation and setup, the excavator's modular joint allows operators to attach the high reach front directly from the shipping truck. Hydraulic pins and quick couplers on the hose connections make attaching the front quick and easy. The three-piece boom fits on one delivery truck, reducing shipping costs.
Working Ranges and Tool Capacity
The modified excavator has a tool capacity of 5,500 pounds at maximum height. Its working range allows it to operate as low as 30 feet. 
When the three-piece boom isn't needed, Company Wrench engineered an excavator boom tip, which sets the SK850 back to near-factory working ranges and tool capacity specifications. The boom tip can be fit with an additional straight boom to achieve an operating height of up to 57 feet with a tool capacity of 20,000 pounds.
Safety Features and Training Opportunities
With the flip of a switch inside the cab operators can activate a dust suppression system, which sprays water from the excavator's stick tip directly at the area being demolished.
The cab has an external steel demo guard for added protection. The 45-degree cab tilt system and top wiper help to increase the operator's field of view. 
The controls are similar to a conventional excavator, the company says, reducing the learning curve for new operators. 
A shield that extends and retracts with the cylinder protects the tool tilt rod from damage.
Dowdy, who has over a decade of experience operating and servicing high reach excavators, provides hands-on training for operators onsite.
"After the machine is set up, I can stay onsite to go over safe operation and how to properly use the machine," Dowdy said.  "I'll show the operator the machine's limitations, how it reacts to certain situations, and safe operating techniques.  Then we'll let the operator enter the cab and get a feel for the machine."