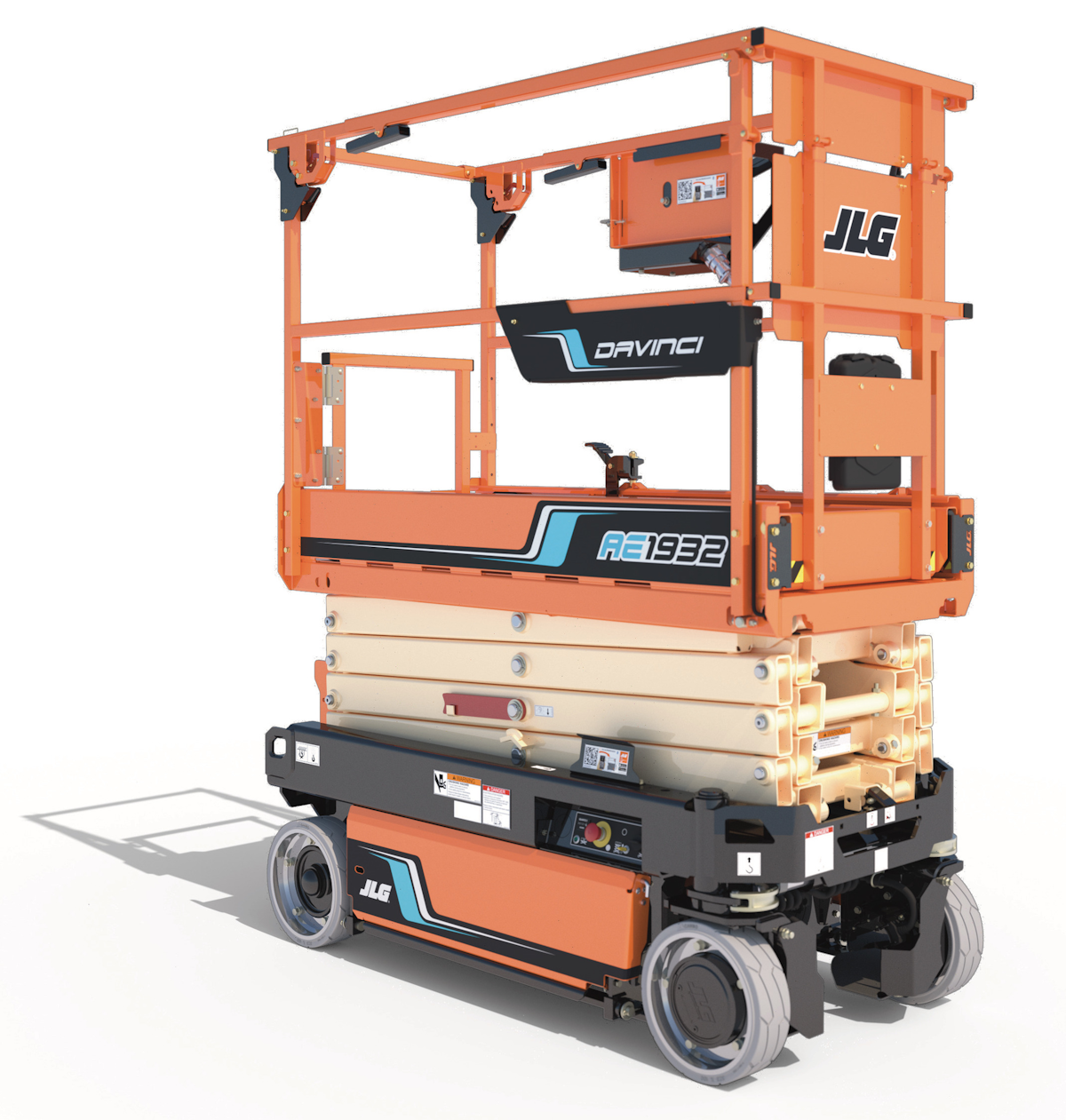 JLG has achieved an industry first with its all-electric DaVinci AE1932 scissor lift, which has no hydraulics.
The lift, which rises up to 19 feet, is designed for environmentally sensitive jobsites by eliminating carbon emissions and the possibility of hydraulic leaks. An electromechanical lift actuator replaces the hydraulic cylinder.
"We believe this is going to advance the industry," said Rafael Nunez, senior product manager of scissors and vertical lifts, at ConExpo. "…You don't have to change your oil. You don't have to worry about leaks. You don't have to worry about inspection. We've reduced the amount of maintenance that needs to be done on this machine."
The DaVinci, which is now available on the market, is powered by a single 24-volt lithium-ion battery that can be fully charged in 3-1/2 hours. The lift has a drive speed of 4 mph, twice that of the standard scissor lift, and an indoor/outdoor platform capacity of 606 pounds.
Permanent magnets generate torque and spin the motor, a process the company says achieves 20 to 30 percent greater efficiency. Also, when the platform descends, energy is recovered and returned to the battery to increase runtime.
If the battery dies and more power is needed, the battery can be charged for 5 minutes to get 100 feet of drive and enough torque for loading. The company says the battery has a 10-year life and requires no maintenance.
Operators can also control drive, steer and load remotely by iOS or Android device with JLG Mobile Control. The DaVinciGo app monitors the machine's charge and usage and provides detailed diagnostics about the battery and charge systems. The scissor lift can transmit data to operators, fleet managers and service technicians by Bluetooth and cellular networks.
Independent controllers of the steering system reduce tire scrubbing to preserve tires and prevent damage to sensitive surfaces. The steering system also allows for easier maneuvering in tight spaces.
The DaVinci introduces JLG's "progressive elevated drive speed," which slows the lift while the platform is rising rather than defaulting to .5 mph as do standard lifts, the company says.
The DaVinci also meets new ANSI standards for mobile elevating work platforms, with load-sensing that cuts off the lift before it exceeds platform capacity, a self-closing gate, and the JLG QuikFold rail system to lower the guardrail.
New electric partnership
The DaVinci lift is just the beginning of a new chapter in JLG's advance to electrification, the company says. Parent company Oshkosh Corporation plans to invest $25 million in Microvast, which produces battery technology for commercial and specialty electric vehicles.
JLG says the investment is part of a strategy to expand electric solutions across its product line, including its boom lifts and telehandlers. JLG and Microvast have also entered into a joint agreement for battery collaboration and integration.
"JLG is focused on electrification and the delivery of sustainable technologies that are environmentally friendly without a compromise to performance," says Frank Nerenhausen, JLG president. "We believe advancing battery technology is crucial to striking this balance." 
JLG launched its first electric boom lift in the mid-1990s. 
Quick DaVinci specs
Max height: 19 feet
Weight: 3,450 pounds
Max ground pressure: 150 psi
Gradeability: 25%
Lift time: 24 seconds
Lower time: 26 seconds
Ground clearance: 3 inches
Machine width: 2 feet 8 inches
Machine height: 6 feet 11 inches (6-foot-6 with rails folded)
Platform size: 25.5 by 62.7 inches