Contractors and designers have been chosen to reconfigure the second-worst truck bottleneck in the nation, which was also the site of a fiery tractor-trailer crash in 2020 that closed the Brent Spence Bridge between Kentucky and Ohio for months.
Walsh Construction and Kokosing Construction Co. of Westerville, Ohio, have formed a joint venture after winning the contract as the prime contractor for the $3.1 billion project. Kokosing was the contractor on the Spence Bridge emergency repair, which was completed in December 2021.
AECOM has been chosen as the team's lead designer and engineer of record. Jacobs has also been chosen by the team as an engineer and designer on the project.
The Brent Spence Corridor Project was awarded a $1.385 billion grant from the federal infrastructure law in January. The project involves rehabilitating the Brent Spence Bridge and adding a companion bridge to the west of the current span to add capacity and alleviate pressure on Brent Spence, which was built in 1963 over the Ohio River. The Ohio and Kentucky transportation departments have maintained that the Spence Bridge is still structurally sound and does not need to be replaced. It has been deemed at overcapacity for years. It carries about 160,000 vehicles a day on I-75 into Cincinnati, which is double its capacity. It carries $700 billion worth of freight each year.
Along with a new companion bridge, a 6-mile approach to the bridge along the I-71/I-75 corridor will be reconstructed between Cincinnati and Covington, Kentucky. Five of those miles will be on I-71/75 in Kentucky and one mile of I-75 in Ohio. Another 2 miles of I-75 in Ohio will be reconstructed in a separate contract to be awarded later at an estimated cost of $500 million.
"With the help of this new design-build team, we are one step closer to building the companion bridge without tolls and providing the many families, communities and businesses that rely on this vital commercial link with new and exciting growth and development opportunities," said Kentucky Governor Andy Beshear.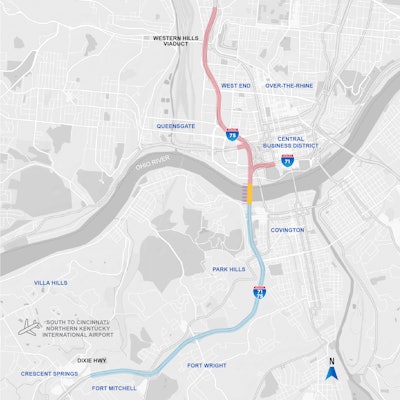 The Brent Spence Bridge and I-71/75 corridor it serves got national attention November 11, 2020, when a tractor trailer jackknifed on the double-deck bridge's lower deck. A second truck carrying potassium hydroxide, or lye, then crashed into the jackknifed truck. The fire's main cause was the impact and 400 gallons of diesel fuel, officials said.
Kokosing repaired the bridge for reopening by December 22, a day ahead of schedule and underbudget. Below is a time-lapse video by the Kentucky Transportation Cabinet of the five-week repair:
Now that a design-build team has been selected, work can begin on designing the project.
Initial plans call for the Spence Bridge to be rehabilitated and used for short trips between Ohio and Kentucky. The speed limit would be reduced to 45 mph, and it would be returned to its original design of three lanes in each direction and emergency shoulders on each side. Bridge decks would be replaced and spot repairs will be made as needed to the steel structure.
The new companion bridge will be used by interstate travelers, bypassing local traffic. The new double-deck bridge would have five lanes in each direction and two 14-foot shoulders on each deck.
"This is one of the largest highway construction projects ever undertaken in the U.S.," said KYTC Secretary Jim Gray. "We are confident that this experienced team, with their solid track record of completing projects approaching this size, possesses the talent, skills, and know-how to deliver this complex bridge and highway system."
To watch an animated flyover of what the reconstructed corridor and new bridge could look like, see the video below: