As some areas of the construction industry have slowed during the pandemic, contractors are shifting into other segments, such as roadbuilding, to try to keep revenues coming in.
Manufacturers of concrete slipform pavers say they have witnessed such market shifts, as well as increased competition for jobs. Bidding has become more aggressive for projects, contractors are seeking productivity advantages, and others are entering concrete paving to boost business, they say.
To help contractors weather the economic slowdown and stay competitive, representatives from Wirtgen, Power Pavers, Guntert & Zimmerman and HEM Paving offered their views to Equipment World of the current market, and some recommendations for those interested in starting concrete slipform paving operations or those wanting to become more productive.
We also provide specs of all the concrete slipform pavers on the market.
Market trends
"It's difficult to point to a market that is truly growing at this moment, but there are certainly some hotspots that are fairly robust," says Tim Nash, Wirtgen director of concrete products.
Those hotspots include highway work in the Southeast, especially in Florida, Georgia and the Carolinas.
"Texas continues to remain a strong concrete paving market, with not only a significant amount of highway work but strong residential development roadways going in," Nash adds. "Population growth is a major theme there."
Highway work in California has also been busy over the past couple of years, as the state catches up on project backlogs, he says.
The slowdown in some construction segments has led asphalt contractors to expand into concrete paving and vice versa, Nash adds.
Power Paver SF-2700"We are seeing contractors shift into roadbuilding work because other construction sectors have slowed down," says Fred Bryan, Power Pavers vice president of sales.
Power Pavers reports growth in subdivision streets and municipal road extensions and improvements.
"The two-track Power Paver SF-1700 and SF-2700 models are in high demand for these projects due to their compact size, ease of transport and simple operation," Bryan says. The SF-1700 is designed for congested city streets, narrow rural roads and crowded work areas, the company says. The mid-sized SF-2700 is the company's most popular paver, with paving widths of 12 to 27 feet.
Grading contractors that once subcontracted concrete paving are starting to take on the paving themselves, says Richard Graves, Guntert & Zimmerman sales manager for North America. 
Guntert & Zimmerman has seen growth in urban paving markets and whitetopping, which is a concrete overlay on existing asphalt.
"These tend to be very cut-up jobs requiring a lot of width change, maneuvering around the site and moving, but with no less stringent smoothness specs," Graves says.  
Slipform paver interest has held steady through 2020 for HEM Paving, says CEO Roger Bockes. The company's SFP 8-15 paver has been growing in popularity because of its wide width range. "Our 8-15 can do 8-foot work all the way up to 27-foot work," he says. "It has the weight and the power capabilities of a larger machine … yet it has the ability to go even narrower without any unusual adaptations."
Bockes has been seeing growth in concrete work for airport repair and expansion. HEM's 12-27 Form-Riding Paver has been popular in that area. "It has all the items that a slipform paper would have except it rides on forms," he says. "…You can pour 3 feet thick, and there's no edge slump."
Staying competitive
"Bidding has become more aggressive, and everyone is looking for ways to become more competitive," says Wirtgen's Nash.
That means contractors need to focus more on productivity and efficiency. Nash recommends looking for equipment with smart paver features that can save on fuel and reduce costs associated with labor behind and around the machines. "Initial price comparisons between machines can pale in comparison to some of the economies of smart paver features," Nash says.
Wirtgen smart paver features include Eco Drive, which provides automated engine rpm control to reduce fuel costs and emissions; 90-degree track turn for increased maneuverability; and Super Smoother, an automated float process at the back of the paver to save labor and provide a more consistent surface finish, Nash says.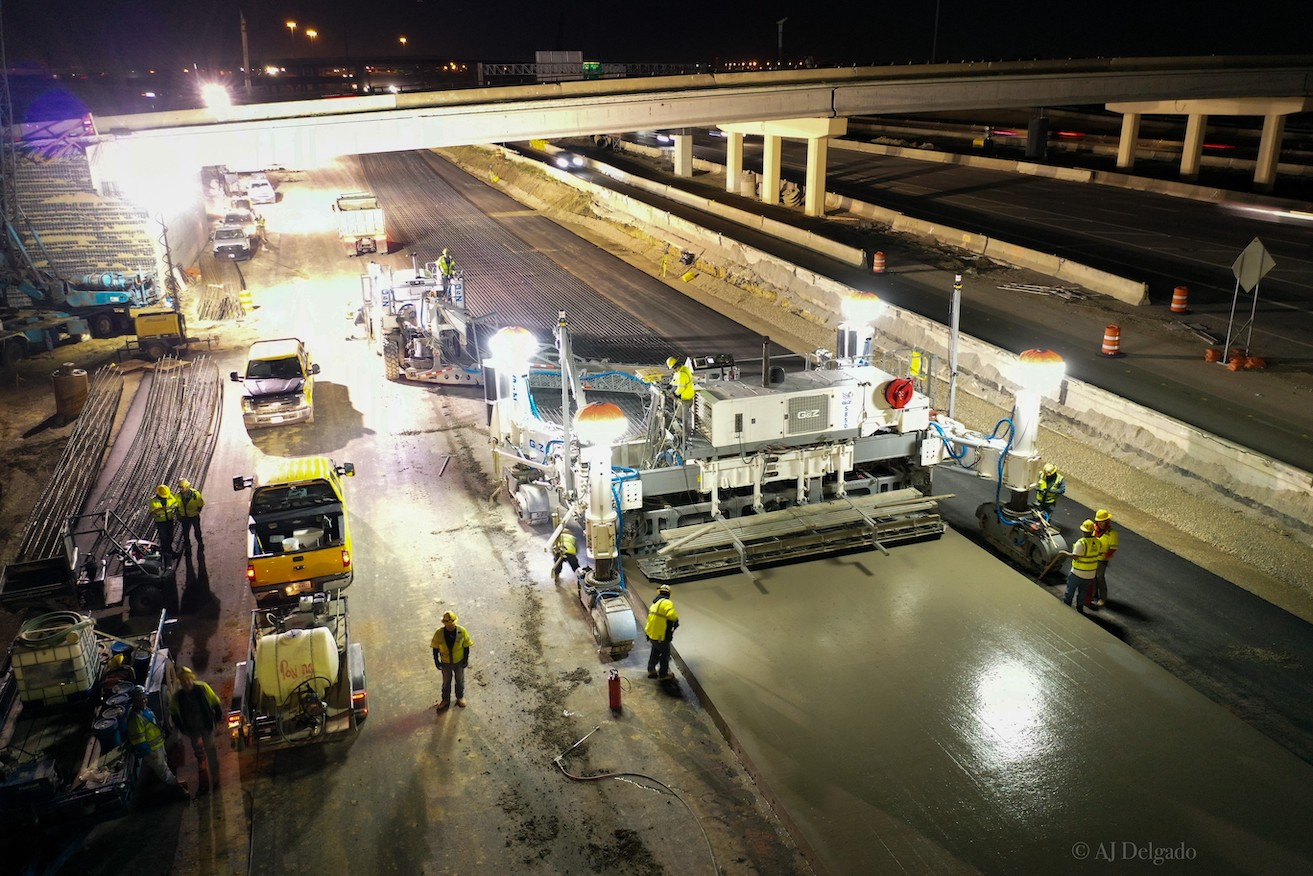 Guntert & Zimmerman S850Graves, of Guntert & Zimmerman, says newer productivity features on pavers are driving sales beyond just fleet upgrades.
"Contractors are looking for machines that are highly productive, reduce their non-productive time and tasks associated with concrete paving and that fit in tight, restricted spaces," he says. "Many contractors are having to pave in urban markets at night because of traffic control issues."
He cites Guntert & Zimmerman's multipurpose S600 and mid-size S850 pavers, which are heavy enough for laying smooth pavement but have productivity features, such as AccuSteer and SmartLeg for quick maneuvering around the jobsite, and VariWidth and TeleEnds features for quick width changes.
The paver manufacturers also report increased interest in 3D machine control. That saves the time and cost of having to set up and take down stringline, says Power Pavers' Bryan.
"Contractors also see incredibly accurate machine control and concrete placement," he says. "We think that 3D stringless guidance is a valuable investment for many companies, but we recommend contractors do their research and plan how to implement it."
Power Pavers has made improvements to its pavers for implementing aftermarket 3D control through its SlipSmart system. The system requires fewer components to integrate with third-party machine control.
The cost of outfitting a paver with 3D machine control still carries a hefty initial investment.
"Not everybody's interested in it," says HEM's Bockes. "We also see that people don't want to spend the money on it if they're not ready to do it." He believes the choice often comes down to the personality of the company and whether stringless paving fits its business model.
For some, the benefits outweigh that initial cost.
Graves recommends contractors interested in making the switch assign a young employee who will be committed to implementing it.
"There is some resistance among paving contractors," he says, "but I don't know any contractors that once they have committed to stringless go back to stringline."
Tips for first-time buyers
Paving manufacturers are highly cognizant of the decline in the number of experienced operators and the need to make their pavers as simple and easy to use as possible. They all tout intuitive controls on their machines and provide training for new operators entering concrete slipform paving.
Bockes, of HEM, says it takes a couple of days of training to get new operators up to speed.
"Within two days, we've got them well trained, to the point where they can handle the operation of the machine, the maintenance, the width changes, all those sorts of things," he says.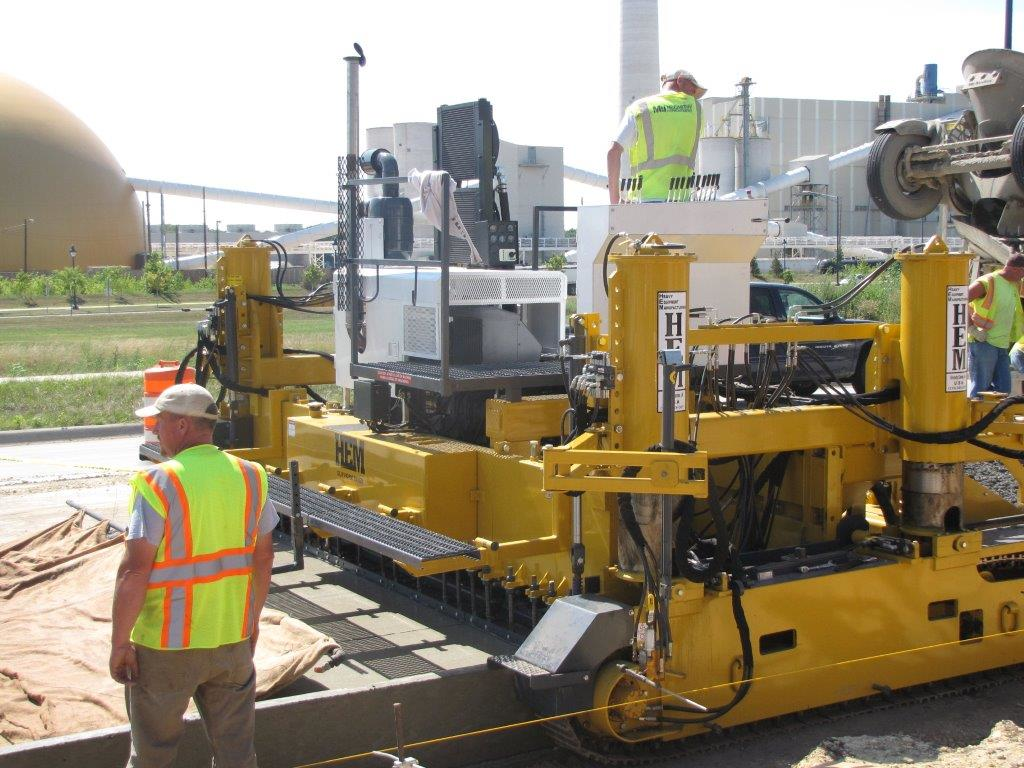 HEM Paving's SPF 8-15 paves at widths ranging from 8 to 27 feet.Here are some tips for contractors making their first paver purchase.
From Graves of Guntert & Zimmerman:
"Choose the slipform paver model that fits your present and future target market. Don't buy the machine on just lowest price; buy for best smoothness results, reliability, broad range of capabilities, lowest ownership and operating cost. Do your homework. The concrete paver is the most important machine in the paving spread."
From Bryan of Power Pavers: 
"We advise companies new to slipforming to evaluate their projects and determine where they will compete for most of their work. Selecting the right machine that meets all requirements will minimize mobilization costs, service, labor and initial investment. Beginners will find that the concrete supply and process are the biggest challenges. Don't compound those challenges by getting an overcomplicated machine."
From Bockes of HEM:
"I think a lot of it goes back to the versatility of the machine to cover the full range of widths that they might want to pave, then warranty, and then service from the manufacturer for the life of the machine … more than just the initial startup, they're willing to come back as changes to operators might occur."
From Nash of Wirtgen: 
"For first-time buyers, it is always important to emphasize the specialty nature of slipform paving and choosing carefully a dedicated team that, if not already experienced, is willing to be trained extensively as slipform pavers … Learning to use them with the objective of achieving a smooth, well-consolidated finished result, coming out the back of the paver with a live, perishable material in a constantly varying environment, makes for a significant departure from other types of construction equipment."
With all the various models of pavers, he also recommends contractors talk to the experts before purchasing:
"Even within a given geographical area, the job types range widely on paving widths, construction space, etc. It is best to speak to a concrete paving specialist to determine which paver, configuration and attachments could be helpful in a given paving environment or job bid."
And after you buy your new paver, Graves recommends you approach its operation as a pilot does before flying – with a checklist. The biggest mistake he sees made by new operators is starting to pave before the slipform paver is properly set up and ready to go.
"Use a pre-paving checklist after every move, width change and when a few days pass between paving – just like a pilot," he says.
After that, avoid stop-and-go paving, which is another common mistake of new operators. Instead, he says, operators should set machine speed to match an average speed based on concrete delivery to the jobsite.
Concrete slipform paver specs
Here are the specs for all concrete slipform pavers from Equipment World's 2020-21 Spec Guide: