Certain categories of equipment have basked in the sunshine of popularity in the past. Backhoes. Compact excavators.
It seems it's now time for compact utility loaders. Their star status is spread across multiple markets, from landscape and hardscape to concrete and masonry to tree care and more.
The term "compact utility loader" is widely accepted but not universal. Ditch Witch refers to them as "stand-on skid steers." Bobcat calls them "mini track loaders." Other variations exist.
Whatever you call them, there's no debate over their popularity with owner-operators, larger contractors, municipalities and rental houses.
Three emerging trends have propelled CULs to their headliner position: higher rated operating capacities, enhanced performance and an increasing array of tools they can wield.
Going bigger
Manufacturers are pushing the upper end of rated operating capacity for compact utility loaders.
"In many cases these stand-on models rival the smaller models of skid steers and compact track loaders," says Kyle Cartwright, marketing manager at Toro. "But they offer the advantages of a CUL. These include a smaller footprint, better visibility, ease of getting on and off, and greater operator space and comfort."
These traits make large CULs more user-friendly than other equipment, especially for small contractors and homeowners who rent them.
The Dingo TXL 2000 has a 2,000-pound ROC, the highest of any Toro model. It comes in telescoping or non-telescoping versions. The telescoping model claims another size record with its 123-inch hinge pin height and 46-inch reach. Sensors monitor the center of mass and stop forward telescopic motion if the machine's mass is at risk of moving forward of center.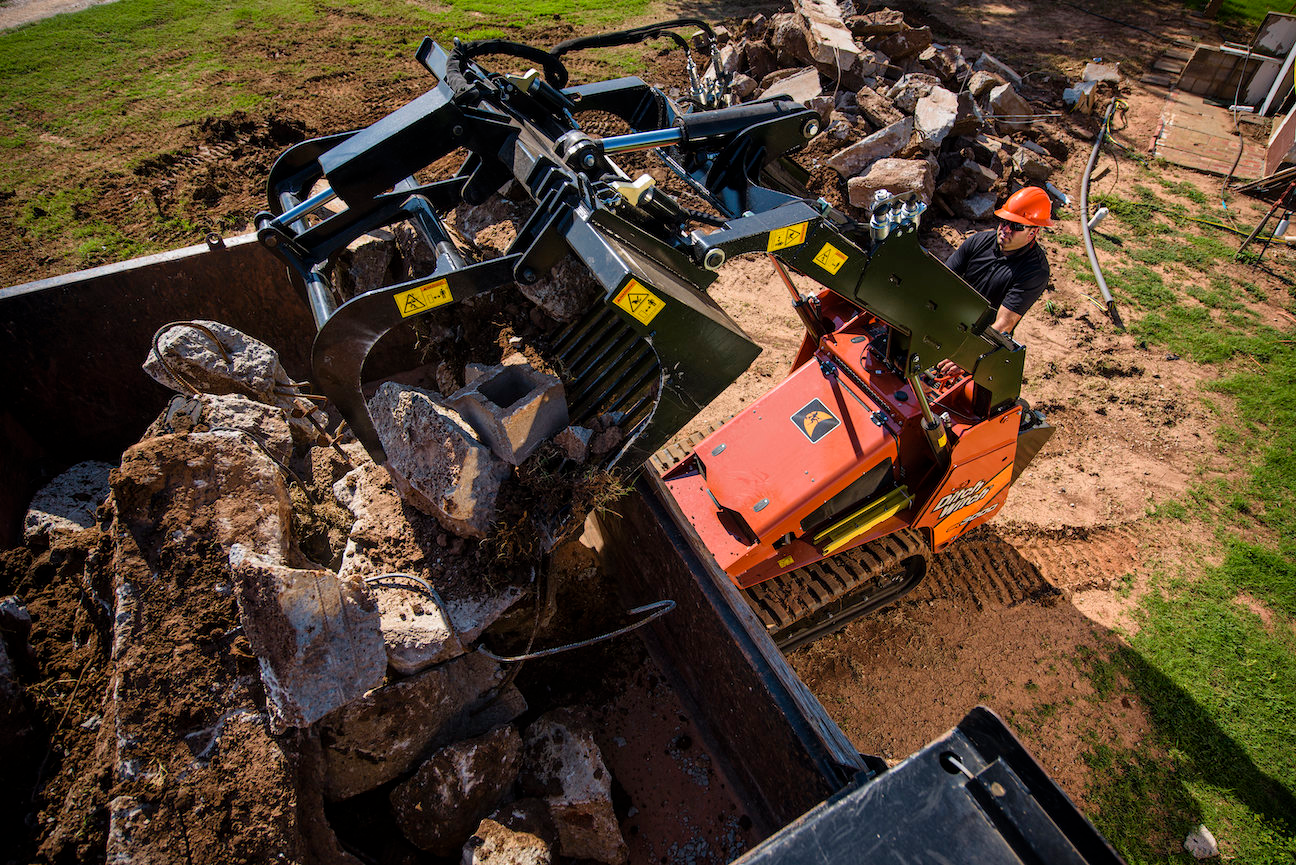 The Ditch Witch SK3000 has an operating weight of 7,600 pounds. It will accommodate buckets of 60 to 72 inches and has a 118-inch hinge pin height. Dimensions are 57.5 inches wide, 64.6 inches high and 137.6 inches long with a 66-inch bucket. Maximum ground speed is 5.8 mph forward and reverse. Ground pressure is 5.8 psi with 12.5-inch tracks.Atop the Ditch Witch lineup sits the SK3000 with its 3,100-pound ROC, "the most powerful stand-on skid steer on the market," says Brant Kukuk, Ditch Witch compact equipment manager.
Powered by a Yanmar 4-cylinder engine rated at 58.9 gross horsepower, the SK3000 provides maximum hydraulic flow of 22 gallons per minute at 4,000 pounds per square inch. This performance is appealing in many applications, but especially in "residential construction, landscape and tree care jobs where moving hazards and space restriction often exist."
Brett Newendorp, landscape marketing manager at Vermeer, notes that larger compact utility loaders are close in price to smaller skid steers, yet they offer the lower ground disturbance of compact track loaders at a much lower price than a CTL. And while the largest CULs are bigger than their predecessors, they're still smaller than the smaller skid steer and compact track loaders with which they now compete.
"Their lighter weight and smaller size make them easier to transport," says Newendorp. He also notes that the sum of traits of CULs makes them the darlings of the fast-growing entrepreneurial market.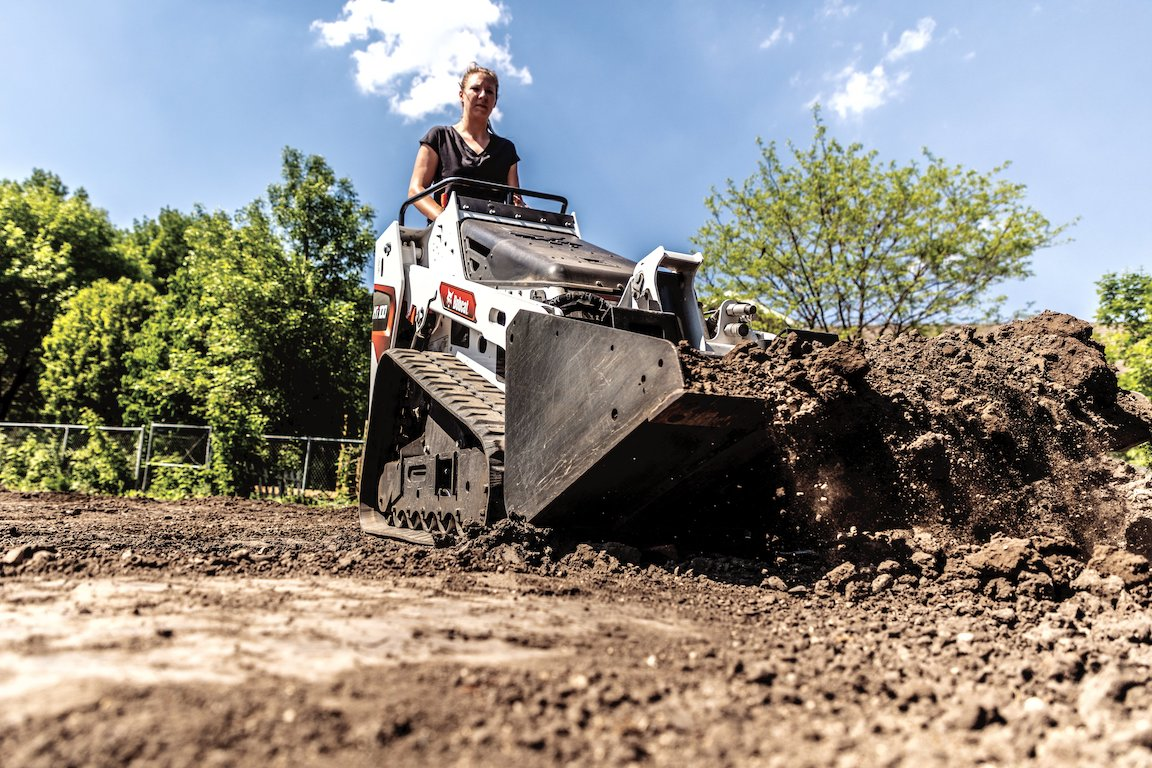 The Bobcat MT100 has an operating weight of 3,390 pounds. Standard equipment includes removeable counterweights that can be mounted to either the undercarriage or the rear uprights to increase lifting performance. Hydraulic pressure is 2,900 psi. Width is 36 inches with narrow tracks and 41 inches with optional wide tracks. Height is 54.6 inches.Bobcat's new MT100 with its 1,000-pound ROC is the company's largest CUL. It replaces the MT85, which had an 850-pound ROC. By skid steer standards the MT100's ROC is relatively small. But the MT100 offers a host of features to enhance its versatility.
Pete Atterberg, marketing manager, mini track loaders at Bobcat, says the MT100 hits a sweet spot for many owners. "It's a powerful, reliable replacement for manual labor and wheelbarrows in tights areas where larger equipment won't fit. It's also a great option for operators looking to downsize to a more maneuverable machine."
Higher performance
The MT100 exemplifies another strong trend in the industry: enhanced capabilities of small and midsize compact utility loaders.
Narrow tracks are standard on the MT100; wide tracks are an option. With standard narrow tracks the machine's overall width is just 3 feet. Optimized roller spacing on the tracks improves ride quality and operator comfort. Ergonomic ISO joystick controls further enhance comfort and reduce fatigue.
Two attachment interfaces are available. The Bobcat Common Industry Interface combines over-center latches with pin-on design to make the MT100 compatible with a range of attachments. The proprietary Bob-Tach mounting system simplifies the use of Bobcat attachments. It also uses an over-center latch mechanism but features wear-compensating pins for consistent attachment fit over time.
Models in the middle of the Toro lineup all have wide and narrow track options. These include the Dingo TX 427, TX 525 and TX 1000.
Smaller models now come with Toro's traction control handle. Smart Power senses engine load and adjusts the traction drive to prioritize auxiliary hydraulics and preserve attachment performance without bogging the engine in demanding conditions.
"While the evolution is toward stand-on models, some markets, especially rental, still prefer walk-behind operation," says Cartwright. "For that reason, the TX 427 and TX 525 come standard as walk-behind models with stand-on platforms as options."
Radial lift is used on the TXL 2000 and Toro's three-wheeled CUL models, the Dingo 320-D, Dingo 323 and the electric e-Dingo 500. The TXL 1000 is vertical lift.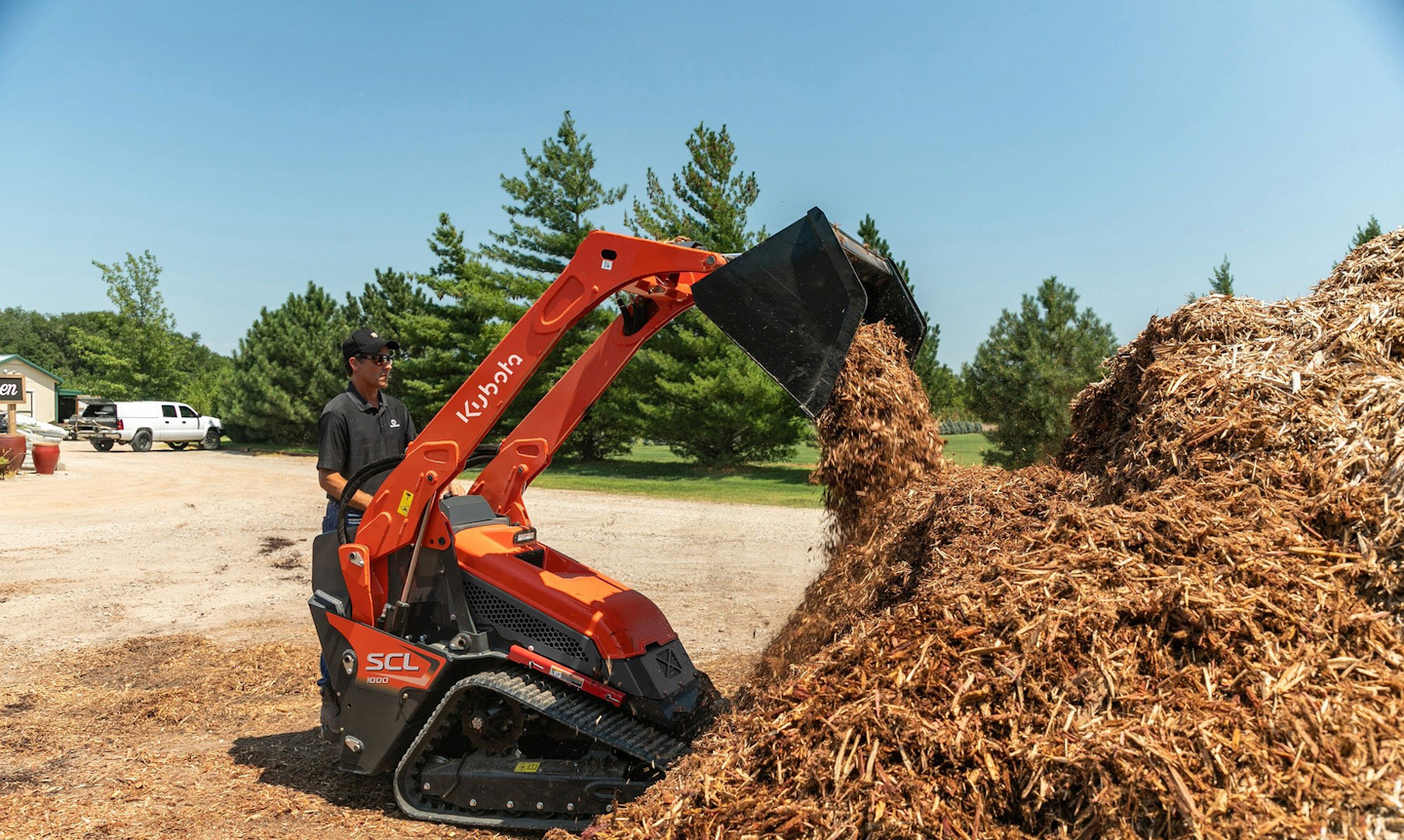 Kubota incorporated many design elements of its compact track loaders in developing its first CUL, the SCL1000. Controls are pilot operated. Standard features include keyless start with passcode protection, 12-volt charging port and a 4.3-inch LCD color dash monitor. Push-button control of auxiliary hydraulics is built into the loader control handle. Cushioned loader boom cylinders and an adjustable platform suspension system enhance operator comfort.Kubota's first entry into the CUL market is the SCL1000. The unit was unveiled at ConExpo 2020 and was to have been available in the second half of that year. Unspecified production issues pushed back availability to a yet-unannounced date. Assuming those production setbacks don't introduce design changes, here's what we know about the SCL1000.
As the model name implies, the SCL1000 has a 1,000-pound ROC. A turbocharged Kubota diesel rated at 24.8 horsepower provides the power. Hinge pin height is 84.7 inches, among the highest of all CULs.
Reach of this vertical-lift machine is 25.9 inches at a 45-degree dump angle. Track width is 9.8 inches, not the 7-inch width typical on machines of this size.
The wider tracks exert just 4 psi of ground pressure for reduced ground disturbance. Clever design keeps the overall width of the SCL1000 at just 36 inches despite those wider tracks.
Kubota is releasing five attachments with the CUL: pallet forks, auger, high-capacity bucket, compact skid rake and a trencher. The attachments and the SCL1000 itself will be built by Kubota's Land Pride division in Salina, Kansas. 
Toolcarriers or loaders?
Given the increasing ROC of larger models and the versatility of smaller CULs, are compact utility loaders still loaders or have they become compact do-anything machines?
"While stand-on skid steers are certainly used as loaders, their uses go well beyond that in today's market," says Kukuk. He cites residential construction "where a new home needs everything from site work, retaining walls and utility installation to irrigation, landscaping and hardscaping. Contractors with a stand-on skid steer can accomplish many of these tasks with one machine rather than needing several application-specific machines."
Kukuk notes that CULs are handy for shuttling materials around the site, and their small footprint is "especially helpful with urban lot lines becoming narrower. Plus the contractor saves on-site space and reduces transportation costs by relying on one versatile machine."
Cartwright points out that the first Toro compact utility loaders were designed as toolcarriers and typically were fitted with buckets, forks, tillers, Harley rakes and other attachments. He says it's only in the past few years that larger CULs with higher ROCs have positioned these machines as serious contenders in the loader market.
Newendorp says Vermeer CULs followed the path from being primarily toolcarriers to becoming capable loaders. "We developed compact utility loaders in the early 2000s mainly to meet the needs for support equipment for our directional drilling and trenching customers. Demand for loaders came from the landscape and forestry industries after the initial product development."
Vermeer takes a hybrid approach to attachments. The company makes attachments such as tree and log grapples, trenchers and vibratory plows that are used in specialized markets they serve. More generic attachments, such as buckets and forks, are produced by other manufacturers and sold through Vermeer dealers.
The Vermeer CTX160 is powered by a Kohler diesel engine rated at 40 horsepower. The dual hydraulic system provides up to 16.7 gpm of auxiliary flow at 3,045 psi of pressure. Operating weight with the standard bucket is 4,120 pounds, and rated lift capacity is 1,600 pounds. Hinge pin height is 88.8 inches. Machine dimensions are 59 inches high, 42 inches wide (with 9-inch tracks) and 116 inches long (with the standard bucket).Atterberg cites the CUL's list of attributes: simple operation, maneuverability, minimal ground disturbance and, perhaps most of all, ease of changing a range of tools and attachments. Such versatility, he says, makes the compact utility loader suitable for many markets.
"In construction, those needs include digging, trenching, sweeping and hauling material," he says. "In landscaping and grounds maintenance, they include turf maintenance, fence installation, irrigation projects, digging holes for trees, stump removal and snow removal."