The nearly nine-month strike against CNH Industrial, the manufacturer of Case and New Holland construction and agricultural machinery, ended January 21 with the ratification of a new contract with the United Auto Workers union members.
Approximately 1,100 workers went on strike at two plants – 400 in Burlington, Iowa, and 700 in Racine, Wisconsin – on May 2 to challenge wages, overtime, vacation and retirement benefits.
The agreement, which was approved, was reportedly an improved version of CNH's "last, best and final offer" that was rejected by UAW members on January 7. According to UAW officials, the new contract provides wage increases, shift premium increases, classification upgrades as well as other improvements.
A union official told The Hawk Eye Newspaper that members voted 62.4% in favor and 37.6% against the proposal this time. In addition, the vote reportedly came after CNH issued a letter to UAW members informing them of an intention to hire 220 permanent replacement workers.
Officials did not disclose any details of what is included in the contract. Previously, the company said the last offer that workers rejected included wage increases of 28% to 38% over four years. CNH did not immediately respond to questions Sunday. 
"This agreement reflects the effort of a determined bargaining team and members being on an almost nine-month strike," said Ray Curry, UAW president. "UAW members at Locals 180 and 807 did the hard work to strengthen the hand of negotiators."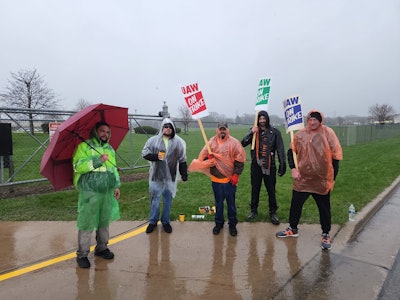 Workers are expected to return to the plants Monday, January 23.
Throughout a nearly nine-month-long walkout, only two votes were taken on any contract offers. The workers rejected CNH's initial offer and voted to strike on May 2. No votes were taken on any contract offers again until January 7, and then again to ratify a contract on January 21.
"Our negotiators tenaciously bargained to the very end, even fighting for contract improvements in the face of threats from CNHI to hire permanent strike replacements," said Chuck Browning, UAW vice president and director of the agricultural implement department. "Combined with the incredible support from our members, it's remarkable what had to be endured to achieve this contract."
The strike started about seventh months after a similar challenge by 10,000 John Deere workers in October 2021 that lasted five weeks and concluded with employees receiving 10% raises and improved retirement benefits.
Negotiations are currently underway between UAW and Caterpillar to extend the current six-year agreement that expires on March 1, 2023. Central bargaining is slated to begin this week after negotiations on four local agreements were held from January 9 to 20. Union officials have reportedly set a strike authorization vote for January 27. That vote does not call a strike but gives the union the ability to do so if deemed necessary.
Both the Burlington and Racine CNH facilities remained operational throughout the strike. CNH brought in a temporary workforce within days of the strike to ensure the plants continued to operate. Even amid the strike, the company said its third-quarter profits jumped 22% to $559 million. 
Union officials suggested the temporary workforce was assembled before the contract deadline, possibly in anticipation of the strike being called. It has not been defined what sort of wages these workers are being paid, although reports have indicated as much as $27 an hour, which exceeds pay rates for current employees.
As the strike continued, union members in both communities started taking other jobs.
Traditional UAW strike rules prevent striking members from having a job that provides more than what strike pay is being allocated. For the CNH strike, that rule was not applied, and several members found other part- or full-time jobs and continued to receive strike pay if they completed four hours of strike duty per week.
Some workers are expected to not return upon finding higher paying jobs. Per union rules, the members do not have to tell the union if they don't intend to return to work once a contract is ratified.
Before January 7, no formal vote had been taken on any offer presented to the union by CNH. The last formal offer presented by CNH on May 19 was rejected by UAW with no vote being taken because the offer fell far short of the members' bargaining agenda. CNH described that offer as a significant financial boost from its original offer on May 1.
The two sides returned to the bargaining table on June 14 after U.S. senators, including Bernie Sanders, D-Vt., and Tammy Baldwin, D-Wis., sent a letter to the company and visited the picket lines at the plants. However, union leaders said CNH showed little movement from its May 19 proposal, merely moving some of the money around to make it appear different from the previous proposal.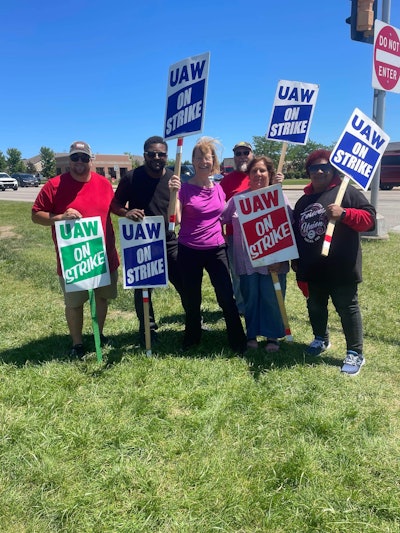 Based on the content of the proposal, negotiations halted again with no future dates scheduled until the meetings that started on August 15 and continued the following week with little success. 
At the end of September, CNH reportedly put an offer on the table as the first document that it called its "last, best and final" offer. Some reports suggested that offer almost came to a vote. However, union leadership denies this, saying it was "unacceptable" in the form it was written.
Following those negotiations, CNH placed ads in local media near both facilities highlighting details of the proposal that allegedly was not presented to the union members in full.
The updated version of CNH's "last, best and final offer" was barely discussed when presented for a vote and rejected by union members on January 7. The vote on January 7 was reportedly divisive between the two plants. The final tally came down to 55% of voting members rejecting the proposal and 45% voting in favor and ready to return to work. The division in vote was nearly split between the two plants, with the offer reportedly garnering approval in Burlington and rejected in Racine.
According to the Associated Press, the CNH strike was one of the longest ones in the recent spate of strikes since the pandemic. Workers at a variety of companies have been demanding and getting significant raises and better benefits amid widespread worker shortages. New unions have been established at Starbucks stores and Amazon warehouses, although some locations have rejected unions.