Caterpillar reported continued growth, with a 12% increase in sales and revenues over the same quarter last year.
Sales and revenues rose from $15 billion in Q3 2022 to $16.8 billion this year, driven by favorable price realization and higher sales volume.
Cat also noted that operating profit margin for the quarter was 20.5%, compared with 16.2% during the same period in 2022.
For the nine months ended September 30, 2023, Cat says, enterprise operating cash flow totaled $8.9 billion. The company ended the third quarter with $6.5 billion of enterprise cash.
Construction Industries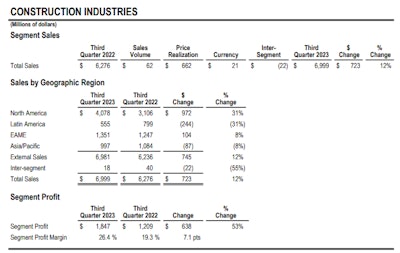 Cat's global construction industries segment also saw a 12% increase for the quarter, realizing $6.9 billion in total sales, compared with $6.3 billion in 2022.
Carrying the growth, the company's North American construction markets jumped 31% year over year, driven by higher sales of equipment to end users and the impact of changes in dealer inventories. Dealer inventory increased more during the third quarter of 2023 than during the third quarter of 2022, Cat says.
Sales in the Europe, Middle East and Africa region rose more moderately, at 8%, due to favorable price realization and favorable currency impacts primarily related to the euro.
All other regions saw declines, with Cat citing lower sales volume and changes in dealer inventories.
"I'd like to thank our global team for delivering another great quarter, as demonstrated by double-digit top-line growth, strong adjusted operating profit margin and robust ME&T free cash flow," said Chairman and CEO Jim Umpleby. "We remain focused on supporting our customers' success and executing our strategy for long-term profitable growth."