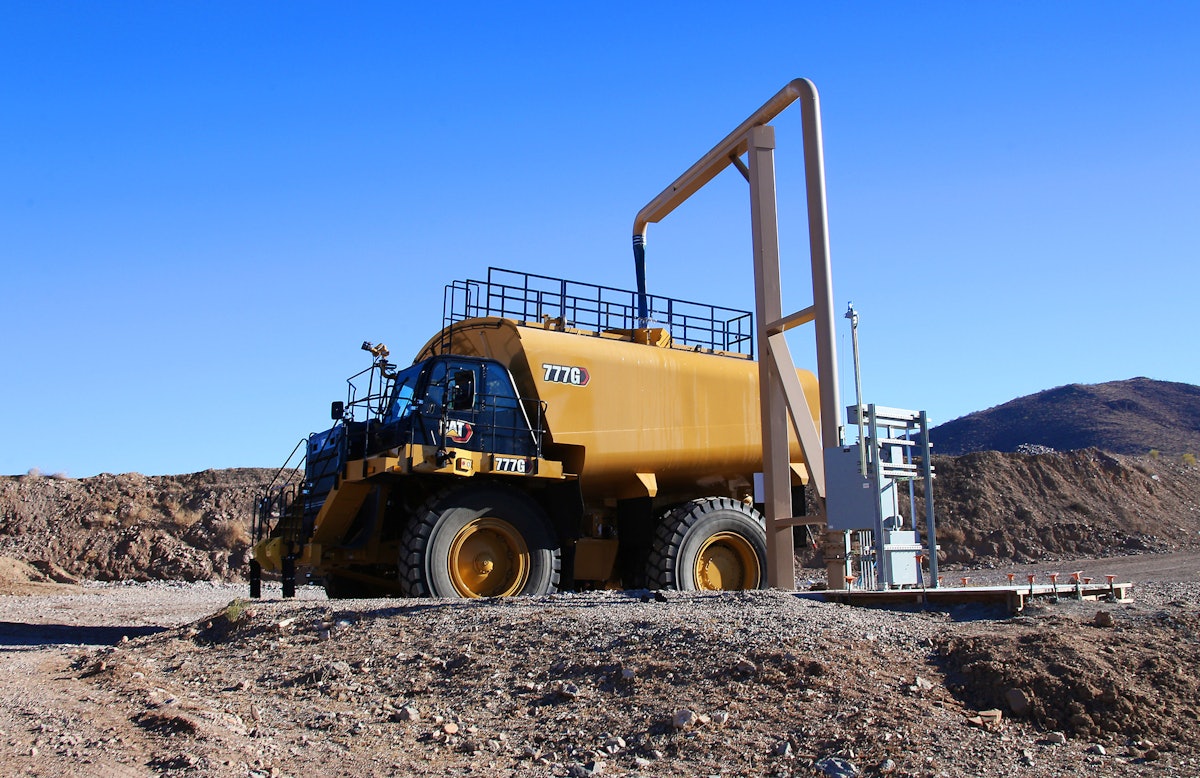 As we enter the driest part of the year for many regions of the country, Caterpillar has come to the rescue of dusty worksites with its new 777G Water Solutions truck platform. 
The redesigned Cat 777G doesn't just throw water out haphazardly, it uses a Water Delivery System (WDS) combined with Cat MineStar Edge connectivity to vary the water flow by truck speed. This conserves water and prevents overwatering and all the problems that result from turning a dusty site into a muddy one — including traction and visibility issues. It also conserves water, which reduces the number of fill-ups and helps in drought prone areas.
A variable displacement pump automatically starts and stops when the truck slows or comes to a halt. Soft start-ups also eliminate excess watering, and the pump turns off automatically when the tank is empty, preventing damage to the system from the pump running dry.
The WDS components include a water cannon, oil cooler, variable displacement pump, hydraulic oil tank, electronic control boxes and a hydraulic motor and water pump. In the adaptive economy mode, the truck's engine uses up to 13 percent less fuel than full power mode. And the water cannon operates at engine idle speed, further reducing fuel consumption by up to 50%.
Standard equipment on the new Cat 777G Water Solutions truck includes an integrated 20,000-gallon Cat-branded water tank, complete with spray system, splash guards, fill chute and rock ejectors. Remote tank fill control, complete with auto shut-off to prevent overfilling, enables the operator to remain inside the cab during refilling to reduce potential operator slips and falls. Retrofit kits are available for existing Cat 777G truck platforms in the field.