Increased stick and bucket cylinder sizes on Cat's new 335 Next Gen excavator give the compact radius machine 15% greater digging force than its predecessor 335F.
In addition, hydraulic power on the 335 has increased by 20 percent, while fuel consumption has decreased by up to 10 percent. 
Powered by a Cat C7.1 engine, the machine has three selectable operating modes – Power, Smart and Eco – along with a one-touch low idle. Selecting the Smart mode automatically matches the engine speed and hydraulic power demand, based on how hard the operator is digging. 
Cat says the machine offers the tightest tail swing radius in the industry, creating an agile machine for space-restricted jobsites such as single-lane road projects.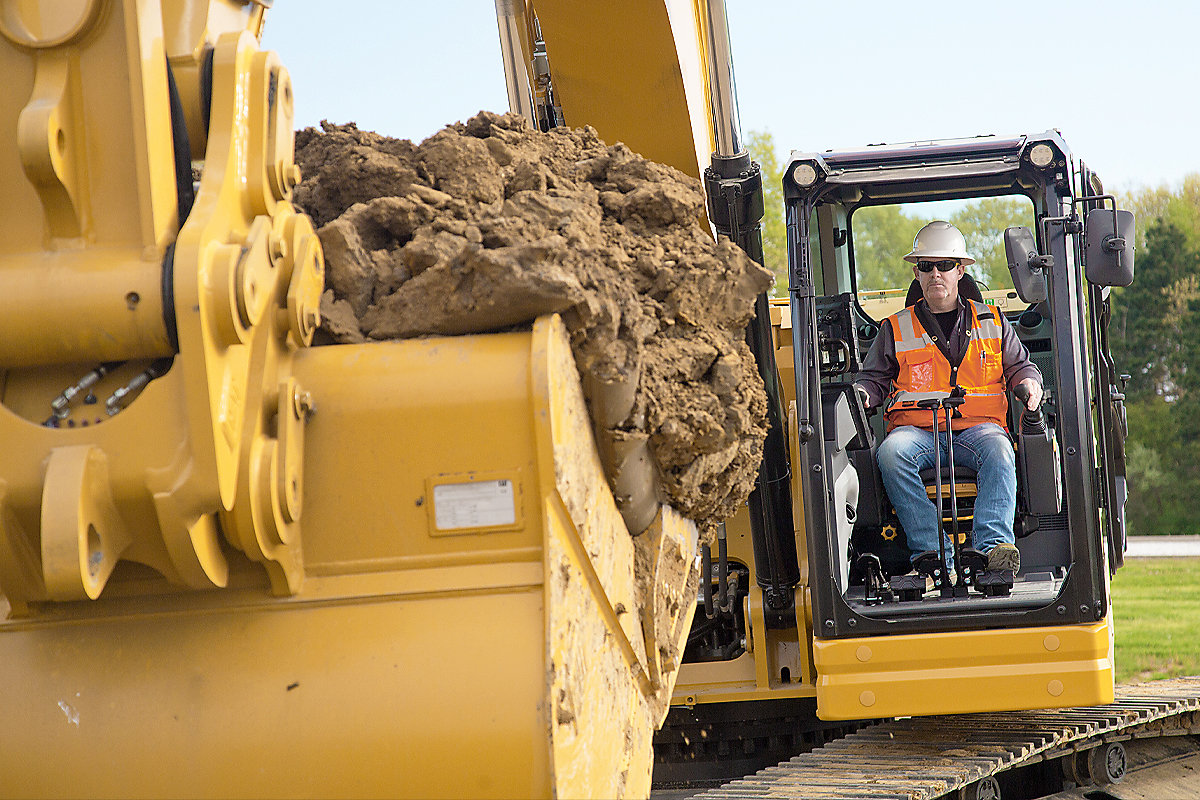 Operator visibility is enhanced by reduced side pillars.Caterpillar
Technology built in
The 335's integrated technologies assist operator performance and increase machine efficiency by up to 45% compared to manual operation, according to Cat. These technologies include Cat Payload, which offers on-the-go material weighing, and Lift Assist, which lets operators know when the machine is in a safe lift working range or if they need to take action to avoid tipping.  
In addition the standard Cat Grade with 2D allows operators to cut and fill to spec without overcutting. To save time, the system stores up to four most used target depth and slope offsets. In addition, Cat Grade with Assist provides automated boom, stick and bucket movements. Available upgrades include Cat Grade with Advanced 2D or Cat Grade with 3D.
The Cat Link telematics on the 335 provides data to assist fleet management. Product Link automatically collects machine operating data that can be accessed through VisionLink. Fleet location, hours, critical maintenance alerts and other machine operating information can also be accessed through the Cat App.
Maintenance upgrades
Service techs can use Cat Remote Services to troubleshoot and update the 335's software. Remote Troubleshoot allows Cat dealers to perform diagnostic testing remotely and pinpoint potential issues while the machine keeps working. And Remote Flash reduces on-board software update time by as much as 50% and allows you to do it when it's convenient for your operation.
In addition, Cat says the 335 has extended, more synchronized maintenance intervals that can save up to 20% on maintenance costs compared to the predecessor 335F. All fuel filters feature 1000-hour change intervals, as does the air intake filter with precleaners. Improved hydraulic filter performance — combined with anti-drain valves to keep the oil clean during filter replacement — result in a 3,000-hour filter replacement interval, a 50% increase, Cat says.
The new service platform toward the front of the machine features anti-skid punch plate to prevent slipping and provides easy and safe access to the upper service platform.
Other features
Customers can choose between reengineered Deluxe and Premium cab designs featuring vibration-reducing viscous mounts, adjustable operator seats and automatic climate control. Fatigue-reducing customizable joysticks allow operators to set pattern and response. The tilt-up console eases operator entry and exit.
A flat engine hood design, smaller cab pillars and large windows enhance operator visibility. Standard rearview and right-view cameras can be upgraded to offer 360-degree visibility.
The track gauge is wider to improve side stability, yet total machine weight is under 80,000 pounds, with or without a blade, helping meet most transportation limits.
Auxiliary hydraulic options are available for a wide range of attachments. Cat's Advansys bucket tips can be quickly changed without a hammer and aid material penetration. A new, wider blade is available to cover the width of wide track shoes.