Net sales for the construction division of CNH Industrial exceeded $1 billion for the first time in the second quarter of 2023.
The company's portfolio of construction equipment is sold under three brands: Case Construction Equipment, New Holland Construction, and most recently, Eurocomach, part of the portfolio acquired with Sampierana.
CNH Industrial recently presented its current financial status to investors during an earnings call on July 28.
The manufacturer's consolidated revenues for Q2 2023 were up 8% over the same period last year, at $6.57 billion. Adjusted net income was $ 711 million. Net sales of Industrial Activities were down 6% for a total of $5.95 billion.
Gross profit margin was up 16% compared to Q2 mainly due to the favorable price realization and volume/mix partially offset by higher production costs.
"In the second quarter, we delivered a solid set of results with record margins in both agriculture and construction," said CEO Scott Wine. "The impact of our CNH business system is accelerating, and we recorded our highest ever level of price over cost both in dollar and percentage terms."
He noted that profitability was particularly strong in Q2 with results exceeding the favorable manufacturer's 2024 margin targets. 
"Our ability to deliver record margins with moderate revenue growth is indicative of the earnings power we are building," Wine said.
The CEO noted that across the company, strong execution and focus on serving customers drove the ongoing success. 
"Our lean manufacturing programs are developing more efficient processes across the company," he said.
"Make it simple is one of my favorite cultural beliefs, and it is helping us streamline our business, and you can see the early results in our earnings strength," Wine said. 
"We are transforming the business and expanding our technology investments to drive growth and improve through-cycle margins," he said.
Construction
Wine said global industry volume for construction equipment was down 9% year over year in Q2 for heavy construction equipment.
Comparatively, light construction was flat year over year. Aggregated demand increased by 8% in North America; was flat in Europe, the Middle East and Africa; decreased by 16% In South America; and decreased by 13% for Asia Pacific (excluding China, Asia Pacific markets decreased by 3%).
"Construction continues to benefit from strength in the North American market, especially for light equipment," Wine said. "We are leaning into the customer synergies we have with our ag distribution network to create incremental construction sales opportunities with our New Holland brand. All this, plus much more value we're working to unlock to take margins still higher in years to come, demonstrates why our construction business is an important part of our portfolio."
Overall in Q2, construction net sales increased for the quarter by 19% to $1.06 billion, driven by favorable price realization and positive volume/mix mainly in North America partially offset by lower net sales from South America. 
Wine said the construction team is making impressive progress in its pursuit of profitable growth. 
"Our 2024 construction EBIT margin target of 5.5% to 6.5% was a significant stretch from our previous low baseline, but we surpassed that at 6.8% in the second quarter and we will likely be in that target range for the full year," he added.
Under the construction segment, nearly 30 new products were unveiled at ConExpo 2023. 
Case Construction Equipment and New Holland Construction showcased new and updated products at ConExpo, including new small articulated loaders, a new mini track loader, a new wheeled excavator, a new zero tail swing mini excavator, new electric mini excavators, new backhoes, updated compact wheel loaders, and updated small M Series dozers.
"We started taking orders in North America for model year 2024 products, in June, and production slots for 2023 are full for most products in most markets," he said.
According to the CEO, CNH recently opened a new assembly facility in central Italy, expanding its production capacity for many excavators and the new many track loaders both of which we will soon export to North America. 
"We are taking orders into 2024 now, and we see order backlogs, like pricing normalizing above pre-pandemic levels," Wine said. 
Also, he said customers are increasingly asking for the company's suite of precision technologies. 
The CEO noted that precision components' net sales contribution increased 21% year-over-year in the second quarter, with a steady growth of factory-fit elements.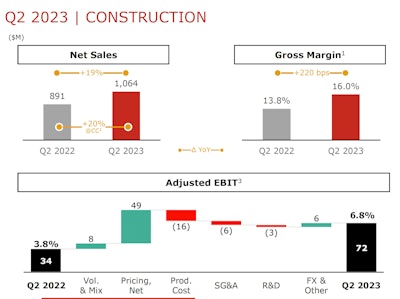 Looking ahead
Most of CNH's 2023 outlook projections have remained unchanged. 
"We have slightly lowered our projections in South America for heavy construction," he said. "We also expect heavy construction equipment in APAC to be slightly worse than originally expected."
Conversely, the CEO pointed out that CNH is projecting a slightly better full-year industry demand for light construction equipment in both North and South America. And for heavy equipment in Europe.
Wine said the company is catching up on its order backlog and will stay vigilant to ensure a tight balance is kept on dealer inventory.
"Naturally it varies seasonally, but we are committed to taking the necessary actions to keep our dealers positioned for success this year and every year to come," the CEO said.
Wine said CNH Industrial is well positioned to continue to optimize the business building off the current momentum.
"Our new product offerings and tech stack are consistently improving and continuously expanding their contribution to profitable growth," the CEO said. "These developments take time, however, so our short-term growth is more reliant upon market share performance and dealer inventory management."
CNH held firm in market share in the first half of 2023 and expects to gain in the rest of the year.
"We are confident that we are controlling dealer inventory and stressing retail execution as well as anyone else in the industry," Wine said.