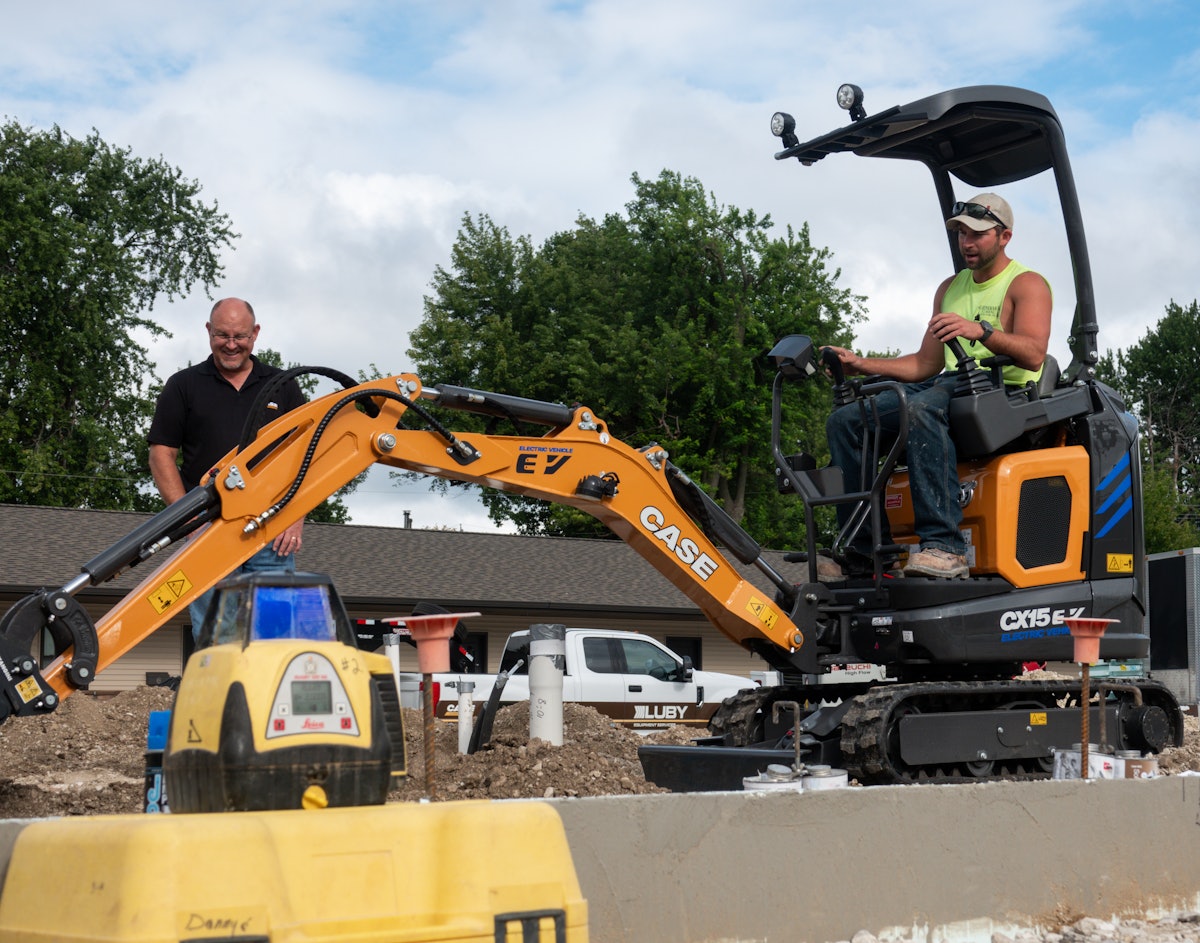 Brinkman Plumbing Contractors in Quincy, Ill. is the first contractor in North America to take delivery of Case CE's first all-electric mini excavator, the CX15EV.
Owner Jim Brinkman says his company needed an emissions-free machine to perform plumbing excavation work in indoor environments, like factories, restaurants, and commercial buildings, and fit through a 36-inch doorway. Working with his dealer, Luby Equipment, he decided on the CX15EV. (Get a closer look at the CX15EV in the video at the end of this article.)
"Electrified construction equipment has a bright future everywhere. While EV is synonymous with big cities and municipal needs, the reality is we sold our first EV to a contractor from Quincy, Illinois, a town of 40,000 people," says Terry Dolan, vice president, North America, Case Construction Equipment. "Jim sees the business opportunity for EV in his fleet and he's exactly the type of contractor we innovate for."
The 1.5 metric-ton CX15EV offers the same working performance as a diesel machine, Case says, all while delivering zero on-site emissions, minimized noise and less maintenance. Those were all benefits Brinkman was looking for.
"To be able to say we got the first one in North America, to have an all-battery machine – that's pretty awesome for a little company like ours to have that," says Brinkman. "This excavator is going to make us more competitive and will save us a lot of headache, time and backache on indoor jobs.
"It's safer for our guys and it's more productive. It's a win all the way."
Rob Kuhn, Luby Equipment's sales representative, added, "I'm happy and proud to say that Jim was the first one to get one of these. I couldn't think of a better customer to put it in the hands of. He'll grow his business with all the interior work he's going to be able to accomplish with this machine."
Other new models from the Case EV lineup, the CX25EV mini excavator and SL22EV small articulated loader, are set to launch in 2024. No release date has been announced for the manufacturer's CL36EV wheel loader. Case's 580 EV electric backhoe has been commercially available since 2021.