Bobcat's new L95 gets the most horsepower and bucket capacity of any of the company's previous compact wheel loaders.
With a nearly 4,000-pound operating capacity and 10.5-foot lift height, the L95 runs on a 74-horsepower engine and has a standard bucket capacity of 1.2 cubic yards. That beats the company's previous largest compact wheel loader, the L85, which has 68 horsepower and a 1-cubic-yard bucket.
The new CWL also gets Bobcat CWLs' most powerful transmission for increased loading and pushing power, the company says. The electronic hydrostatic transmission "delivers easy direction changes, efficient acceleration and effortless speed control."
The L95 can reach a top speed of 24 mph in Travel Mode – 7 mph faster than the L85 – and has "automatic ride control," which is activated at a set speed. The system is designed to cushion the load to reduce bucket spillage and increase operator comfort. It is turned on and off on the operator's 5-inch display.
In Smooth Drive Mode, the operator can maneuver around the jobsite with mild acceleration and deceleration via foot pedal rather than throttle knob while carrying loads.
The CWL's third drive mode is Flex Drive. With the throttle pedal, the operator can maintain constant hydraulic flow to the boom and attachments without affecting travel speed.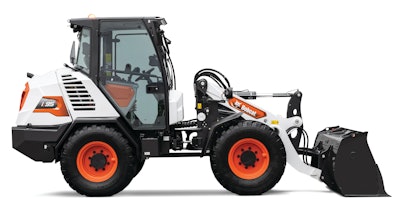 With standard high-flow auxiliary hydraulics of up to 27 gallons per minute, the operator can run a variety of attachments, including buckets, forks, angle brooms, snow pushers, grapples, snow blowers and augers. The loader also comes standard with the Power Bob-Tach System for changing non-hydraulic attachments with the push of a button without leaving the cab.
Other standard features on the cab version L95:
Heated, air-ride seat
HVAC system
Seat-mounted joystick with adjustable armrest
Automatic parking brake with Slope Assist when on inclines and trailer ramps
Password-protected keyless start
Tilt and telescopic steering wheel
Front and rear defrost
Front and rear LED work lights
Road lights, including turn signals, four-way flashers, high-beam and low-beam headlights, and brake lights.
The cab is pressurized, has frame oscillation and is designed to reduce noise for the operator. A canopy version is also available.
The engine meets Tier 4 Final emissions standards without diesel particulate filter or selective catalyst reduction.
An optional rearview camera integrates with the touch display.
The L95 will make its debut at this week's Equip Expo in Louisville, Kentucky. It is scheduled to be available for sale in late 2023.
Quick Specs
Engine: 74-hp Bobcat
ROC (with bucket straight): 3,981 lbs.
Standard bucket: 1.2 cubic yards
Lift height: 10.5 feet
Max travel speed: 24 mph 
Hydraulics: 27 gpm