More than 60 years ago, Bobcat invented the original skid steer loader. Continuing its history of innovation, the company decided to reinvent it all over again in 2023, unveiling the prototype version of its first all-electric skid steer, the Bobcat S7X, at ConExpo-Con/Agg 2023.
You can see more of what OEMs had  at  ConExpo 2023 on our show page by clicking here.
Despite its history of inventing the skid-steer loader, the company developed an all-electric compact track loader first, due to the machine's greater overall market share. 
The T7X, an all-electric machine designed for power and performance not previously believed possible, made its debut at CES 2022. The machine was recognized for its ingenuity, being honored with CES Innovation Awards in the Vehicle Intelligence and Transportation and Smart Cities categories.
"When we did our strategy session, we went to the size class, as well as the product that was the most prevalent in the industry," Joel Honeyman, vice president of global innovation at Doosan Bobcat. "When we initially started talking about this concept, we didn't want to do niche products and small volume, we wanted to go to the heart of the lineup in the heart of the industry."
He said it wasn't interested in going small.
"We felt we had an impactful machine, and if you're going to be impactful, you've got to pick the biggest market and the largest segment," Honeyman said. "We picked the hardest machine first to put all this technology on, so now when we step back and do something else."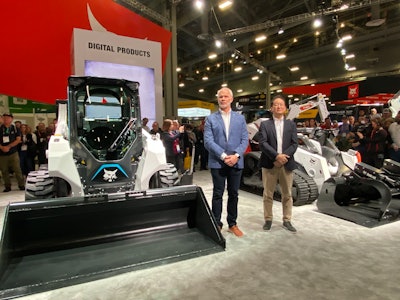 There was little doubt in the industry that Bobcat was not going to pursue an all-electric skid steer model, it was a matter of when.
"From the time we released the T7X, we had people commenting, 'Oh, I would rather have a skid steer than a track loader for those types of applications,'" he said. "As the inventor of the original skid-steer loader, we are excited to take the machine that created the industry and reinvent it all over again."
Honeyman said 95% of the parts of a T7X and S7X are the same, other than the undercarriage. Instead of a track loader, it's a skid steer.
Presented as a prototype at the show, it was evident he S7X would be moving toward full production in the near future, but a timeline was not revealed. "If it has 95% of the same parts, you can probably guess it's going to be sooner rather than later," he said. For example, the T7X was unveiled in January 2022, and production models were available at Sunbelt Rental locations in September.
Spinning wheels
Like the T7X, the S7X is all-electric, as it is powered by a 60.5-kWh, lithium-ion battery and features electric-drive motors and uses ball screw actuators for lift and tilt functions. It was developed in collaboration with Moog Inc., a developer of motion control components and systems, and Viridi, a developer of lithium-ion battery systems for industrial applications.
"It's very similar work content, but because it's a skid steer and not a track loader, we're consuming less energy to move the machine so we're able to get a lot more runtime on an S7X," he said. 
The battery and electrical powertrain generate instantaneous torque that is as much as three times greater than traditional loaders. Depending on the application, the battery in the T7X can provide up to four hours of continuous runtime or a full day under normal intermittent operation.
However, Honeyman said, efficiencies gained from turning only four tires versus moving the tracks on a CTL are significant. With the S7X, the battery runtime increases to nearly a full eight hours depending on the application. A full charge takes approximately 10 hours.
Heavy-dig cycles are probably the most energy-consuming applications that put a lot of power into the drive motors. Comparably, he said, a lift-and-carry application with a set of forks would be considered light duty.
"We've even had customers that talk to us that have tried these machines and use them and they say, 'I was charging it every three days,' or some people like once a week," Honeyman said. "They hear four hours, and they think it's only going to work for four hours, period. You've got to think in work time."
Educating contractors on the concept of battery runtime has been a critical piece in the development of new technologies. Honeyman cited some recent data that Bobcat collected from its customers' fleets via telematics to counter some arguments that the batteries are not sufficient. Bobcat found that, on average, contractors use their machines about three hours per day over a full eight-hour workday. Even more telling is that one-third of that runtime is idle time.
"With an electric machine, there's no idle time," Honeyman said. "When we talk about this, we've got to get the contractors thinking about the idea when they're in and out of their machine, the machine is at idle. They're doing things and, of course, this all just adds to the runtime."
Unlike their diesel counterparts, these eco-friendly machines and power management systems only consume energy when it's at work. When it's not running, the battery power is not being used. There is no idle time that adds to the overall runtime of the machine.
"When you start talking about runtime, you have to start factoring all those things in and then it starts to pop in their head," Honeyman said. "When we say four hours or eight hours, I still get challenged on it, but for most contractors, you're not running four hours a day anyway, and if you are, you spent a lot of time idle."
He acknowledges that electric machines are not for everyone. There is no question there currently is a substantial cost difference between the all-electric machines and their diesel counterparts. 
"There are many applications that can justify the cost," Honeyman said. "It is not for everybody today, and that's why we still make diesel-hydraulic machines, and we're going to make them for a long time. And if they want that solution, they can have that, but we have a certain segment of customers and early adopters that say, 'I want these electric machines.'"
Tech-savvy
Outside of the undercarriage, all the software and general abilities will be identical between the T7X and S7X. 
Both machines are connected to the Bobcat system to provide integral data to the operator and fleet manager about the machine's performance in certain jobsite situations, which allows the operator to adjust those preferences. This includes variable-drive speed at full torque and other features not possible with a diesel-hydraulic machine.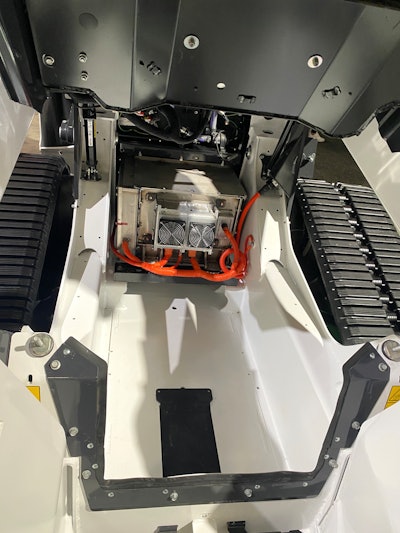 Different work modes allow operators to adjust the output needed. Honeyman said Eco-mode is best suited for the preservation of battery life. Advance mode is like the regular performance of a current S76, and Beast mode provides a short burst of full instantaneous torque to the drive system to produce power when needed.
Maintenance is reduced across the board on the electric machines as well. The only fluid on board is about a quart of coolant, and failures related to the engine and hydraulic powertrains are virtually eliminated.
As for sustainability, Bobcat has a recycling program through its battery manufacturer. Approximately 85% of the battery is recycled. Honeyman said every effort is being made to be sensitive to not only the product but the process being sustainable.
"These batteries are a long-life type of product," he said. "We have a real problem if we're changing batteries every other year."
Batteries currently in use have approximately a 10-year lifespan, the company says. In addition, recognizing the common trend of a refurbishment of existing machines, Honeyman noted that actuators and other parts can be refurbished also. The anticipation is that the components will generally last longer than the typical hydraulic cylinder.
To accompany the T7X and S7X, Bobcat will introduce the first-ever all-electric attachments, starting with an electrically powered auger, grapple and angle broom. Grapple and angle-broom prototypes were displayed at ConExpo. Honeyman said field testing is anticipated to get underway for some of the attachments this year. In addition, he noted that a snowblower attachment was tested with the S7X and operated for six hours continuously.
"The S7X is an incredible product with real-world application that can support operators on environmentally sensitive sites, in noise-restricted areas and for indoor operation," he said.
For a closer look at the S7X, check on this video: