AUSA has unveiled its first articulated site dumper with a 4,400-pound payload, designed for working in tandem with a compact excavator on tight jobsites.
The company says the 1.7-cubic-yard-capacity D201AHG has the highest skip capacity of any dumper in its class. At 59 inches wide, the swivel-skip dumper can operate on confined urban jobsites for removing earth and debris.
AUSA designed the cockpit on the D201AHG to house the fuel tank to make more room at the rear of the dumper for accessing the engine and components for service. The dumper runs on a 24.8-horspepower Kubota diesel engine that does not require a diesel particulate filter.
For safety, the dumper is equipped with an electronic negative brake that automatically engages when the engine is switched off "to ensure that it comes to a standstill," the company says.
The dumper can traverse slopes of up to 50% gradient and features all-terrain 4×4 traction, according to AUSA.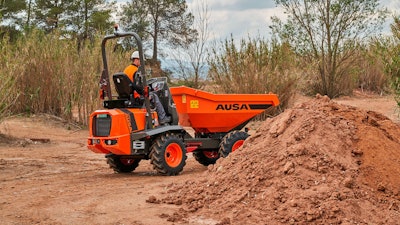 Other standard features on the D201AHG include:
Hydrostatic transmission
Seat that is ergonomically adjustable and has an operator-presence sensor and a seat belt with fasten sensor to prevent the machine from starting if the required precautions have not been taken and to avoid unintentional machine movements.
Rear-folding ROPS protective structure
LED rotating beacon
Sound warning when in reverse
Anti-vandal security system
All-in-one joystick
Metal engine cover
Available options include:
Extra-comfortable, fully adjustable seat
Full visibility cameras on the skip and counterweight sides and proximity sensors
Road lights
Front LED working lights
Green rotating beacon
Front mudguards
AUSAnow telematics
Quick Specs
Empty weight: 4,592 lb.
Skip capacity: 1.7 cu. yd.
Engine: 24.8 hp Kubota Tier 4 Final
Max speed: 10.5 mph
Noise: 101 dB(A)