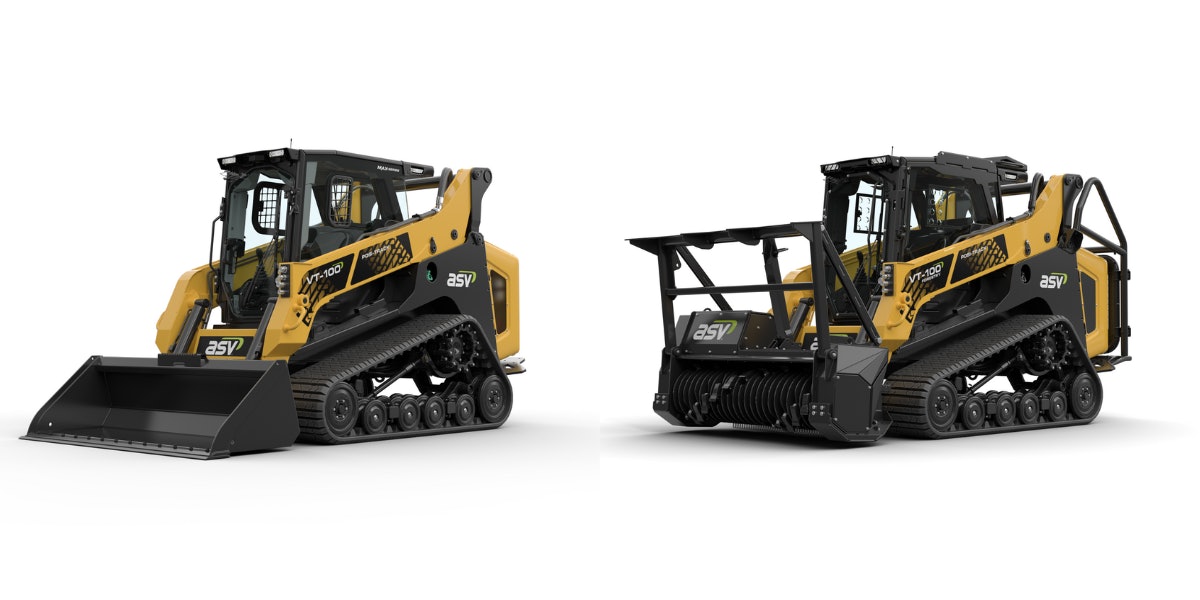 ASV showed off two new compact track loaders at ConExpo 2023, the VT-100 and VT-100 Forestry.
The new VT-100 is a vertical lift machine suited for loading and grading applications in landscaping and construction, while the VT-100 Forestry is fit for mulching, right-of-way clearance and site prep jobs. Both models include enhanced comfort, visibility and performance features, ASV says.
Sister brand Yanmar also rolled out its new line of compact track loaders at the 2023 show, rounding out its compact equipment offering.  
"The introduction of these two new loaders reinforces our reputation as a compact track loader specialist," said Buck Storlie, product manager for the ASV brand. "They are the perfect option for those looking for a little more power than the RT-75 without having to go to the heavy hitter of all CTLs — the RT-135. The lifting capabilities, pushing power and hydraulic flow of the new VT-100 and VT-100 Forestry is sure to impress."
Power
Powered by a 103.5-horsepower Tier 4 Final Yanmar diesel engine, the VT-100 and VT-100 Forestry offer large line sizes, hydraulic coolers and direct-drive pumps to transfer more flow and pressure directly to the attachment and reduce power loss. Forty gallon per minute high flow comes standard.
The VT-100 has a 3,500-pound rated operating capacity and a 10,286-pound tipping load. The VT-100 Forestry has a slightly beefier 3,700-pound rated operating capacity and a 10,571-pound tipping load.
The machines feature ASV's patented Posi-Track rubber track suspension, creating a smoother ride across any terrain. The dual-level suspension features both suspended wheels and axles and a fully flexible track that conforms to the ground, assuring maximum ground contact and traction, ASV says.
Performance
The VT-100 and VT-100 Forestry come with a host of intuitive features for increased efficiency and an improved operator experience.
A load-sensing system regulates the 40-gallon-per-minute hydraulic pump, so it only produces what's necessary to complete the work rather than always using the maximum flow.
Using the work-tool positioner, operators can create a preset for the angle of the attachment based on the task at hand, allowing return to position at the push of a button. Similarly, return-to-position technology complements the work-tool positioner by allowing operators to set a designated height for the loader arms. The features can be paired together or used independently.
The self-leveling and ride-control features help operators move material quickly with less loss. Self-leveling technology uses dual-direction capabilities to automatically level the load both while raising and lowering the loader arms. Speed-sensitive ride control offers operators greater material retention at higher speeds without needing to actively switch the feature off during slow-moving applications, such as grading.
Auto two-speed allows the CTL to shift automatically between low- and high-speed modes. This creates a more seamless transition between the two modes, providing operators improved control while working in tight places, grading or in other applications that require finite control, ASV says.
Both models boast travel speeds up to 9.3 mph. A low 4 psi ground pressure allows smooth performance on sensitive or unstable surfaces. 
Comfort & Operator Experience
ASV prioritized operator comfort and safety in the cab, which features 360 degrees of visibility, a 7-inch color display, a standard fully adjustable suspended seat and a removable roof hatch. The display provides monitoring tools, shows the view from the backup camera and integrates with service schedules and history.
Additionally, the VT-100 Forestry features forestry-rated guarding around the light and radiator as well as a built-in limb riser.
Optional remote-control capabilities on both models allow operators to control the loader from a distance with a harness-mounted control box, improving safety in potentially dangerous situations such as on steep slopes. It also increases operator independence when they may benefit from a larger view of the jobsite during operation or the ability to complete tasks outside of the loader without needing to get in and out of the cab, ASV says.
Serviceability
Service is made easier with accessible daily checkpoints and removable skid plates for quick cleaning when needed. The model's three-panel engine access with a swing-out radiator does not require tools to open.
Borrowing from sister brand Yanmar, the loaders offer the optional SmartAssist telematics system. SmartAssist features range from error detection and notification to real-time operational status updates and daily work reports. The telematics system also includes integrated theft protection. Owners can set a range from a specific location and trigger an alert if that range is exceeded.
The VT-100 and VT-100 Forestry come with a two-year, 2,000-hour warranty. The warranty includes a no-derailment guarantee and covers the tracks for the entire warranty period.