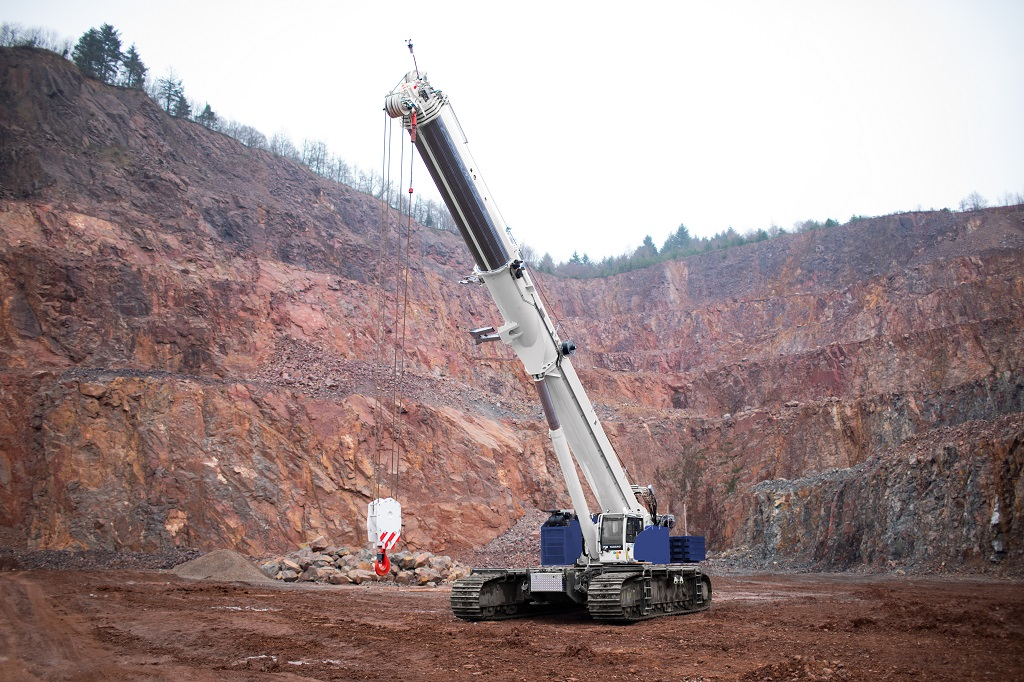 Tadano's new GTC-2000 telescopic boom crawler crane features a five-part boom system, which can range from 196 to 272 feet, and adjustable track widths for working in confined spaces.
The GTC-2000 telecrane has a lift capacity of 170 tons. Its main boom length is 196.9 feet. The main boom also has extensions of 16.4, 36.1, 55.8 and 75.5 feet that can be hydraulically or manually offset. Max length is 272.4 feet.
Track width can be adjusted to different widths to meet the job in symmetrical and asymmetrical configurations. This allows the crane to be used in confined areas, such as for bridge construction, the company says. "It is also perfect for doing construction work, where it is not only able to move and telescope components, but also luff down and retract the boom and then travel underneath roof structures to get to where it needs to be."
Standard adjustable track widths are 11.5, 15.6 and 19.7 feet, and continuously variable track widths can be used in asymmetrical configurations. Track width can be changed while moving or stationary.
The crane can also lift on inclines of up to 4 degrees, so it requires less ground preparation than a lattice crane, Tadano says. An intelligent control system automatically determines the permissible lifting capacity while taking in such factors as incline, slewing angle and track adjustment.
The crane is designed for maneuverability, with foot pedals for travel and joysticks for controlling the tracks. Tadano says it "provides nearly the same maneuverability and ease of operation as an excavator."
It has the highest traction force in its class, at 326,000 pound-feet, allowing it to turn on the spot under load, even at the narrowest track width, according to the company.
The telecrane has gradeability of 50%, travel speed of 1.3 mph and ground clearance of 16.54 inches. Travel width and height of the base crane is 9.85 feet each. 
The crane's assembly steps can be done by remote control or from the cab, and most of the couplings are quick-connect, the company says. The crane also has permanently installed outriggers with outrigger pads, allowing the base crane to be unloaded from a lowbed trailer.
The GTC-2000 runs on a 308-horsepower Tier 4 Final MTU engine, which produces 958.53 foot-pounds of torque. The engine has an Eco mode that kicks in at 1,500 rpm and Power Boost for increased output at 1,800 rpm.
The identical primary and auxiliary hoists have an 804-foot, 1-inch-thick wire rope with a high line pull of 15.3 tons for lifting heavy loads with low reeving.
The crane was developed by Demag and unveiled at the 2019 Bauma  international construction equipment trade show. Tadano acquired Demag Mobile Crane from in Terex Corporation that same year and is relaunching the telecrane under its name.