Contractors are entering 2023 with plenty of optimism as backlogs remain elevated, suggesting that despite talks of recession, they would be insulated from harm.
Rather than focusing on any potential recession, most contractors are fixated on growth with anticipation of increased sales, staffing levels and profit margins over the next six months, says Associated Builders and Contractors Chief Economist Anirban Basu.
"While 2023 continues to be filled with promise, contractors may soon show more concern," he says. "Anecdotal evidence suggests that financing commercial real estate projects is more difficult, due in part to recession predictions. The general increase in the cost of capital has also jeopardized many projects, with certain contractors noticing an increase in postponements."
From the start of 2022, Basu has maintained a recession forecast for 2023.
"I am a purveyor of doom and gloom," he said. "I'm an economist."
While Basu he has not yet been proven specifically right or wrong at this point, his story has been consistent. 
Labeling 2022 as a year of growth, he warned from the start that 2023 could be very different due to then anticipated interest rate hikes that would weigh down the U.S. economy. 
"I think what you'll see is that 2023 is going to be a rough year," he said.
That preliminary forecast in December 2021/January 2022 was made before the U.S. Federal Reserve began its series of interest rate hikes throughout the year. Those actions have only furthered his position of a likely recession.
"I've been saying that 2023 is going to be a year of recession because of the response to inflation in the form of higher interest rates," he said, noting that the impact from those rate hikes will take time to impact the economy.
"You won't necessarily feel the full effect of that latest increase for 12 to 18 months, and on top of that, the economy will remain unbalanced," Basu said.
Although forecasting a recession, he does not believe it will be a deep or protracted one.
"Here we are with high rates of inflation and high interest rates and there is more to come," Basu said. "We are seeing the worst of inflation behind us, but I still feel inflation will be problematic into 2023."
Unlike some economists, he believed early on that inflation had become ingrained into the U.S. economy and was not transitory.
Despite inflation being the economic story for more than a year in terms of the available financial data, the Federal Reserve took no action until 2022.
Taking the interest rate increase and the impact on the economy into account, projections for 2023 were altered throughout the course of 2022. Estimated GDP growth levels were originally projected at high as 2.5%. As the year ended, even the U.S. Federal Reserve's estimates for GDP growth in 2023 were reduced to a mere 0.5 percent. 
"That suggests very strongly that for part of next year, a recession is quite possible," Basu said. "I was told in graduate school by many professors and economists, who said, 'Once inflation becomes engrained into the economy, it's very difficult to weed out and expose people's expectations, and expectations become a self-fulfilling prophecy.'"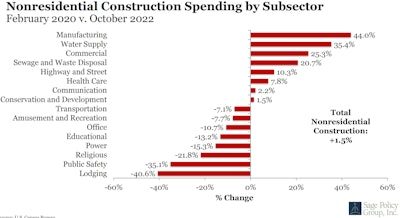 What about that backlog?
Backlog is the amount of work under contract to be done. Most contractors have maintained that they have a strong backlog going into 2023.
"The more backlog there is the better the outlook is," Basu said. 
He contends that it is important to take into consideration what is driving that backlog higher.
"Is it demand for construction service or is it because there is demand but it is taking longer to complete projects, so more stuff is sitting in the backlog waiting to be started," he said. 
While some segments of nonresidential construction are continuing to do well such as manufacturing, infrastructure, health care and communication, others have declined in the last few years.
The suggestion is that demand will be lofty enough to hold the line on margins.
"What I've been waiting for and not hoping for, by the way, … is some signs that consumers are pulling back," Basu said. However, data on U.S. manufacturers new orders for consumer goods do not show much indication of that. 
"I will say that the consumer has taken a lot of credit-card debt as a way to finance their lifestyle," he said. "Those stimulus payments have been spent, and it would appear the savings rate is at multi-year lows as it turns out, so Americans are saving less."
Basu admits he does not see the weakness in consumer spending.
"I think backlog would fall a bit faster than the margin if we had enough construction workers or skilled construction workers in this country," Basu said. "We have momentum going into the economy, but we don't have enough people to do the work."
Through December, on a year-over-year basis, construction employment had risen by 231,000 jobs or 3.1%. However, simultaneously, in December 2022, construction unemployment rose to 4.4%, compared to overall unemployment across all industries declining to 3.5% last month.
"This employment report indicates that contractors collectively remain in expansion mode despite rising costs of capital and fears of recession," Basu said. "Consistent with upbeat assessments of construction activity late last year, nonresidential contractors continue to ramp up staffing in the context of elevated backlog."
In addition, though the labor market remains strong and job creation persists, there are indications that wage pressures are easing.
Despite these apparent advances in the economy, Basu is confident that the Federal Reserve will continue to raise interest rates to restore inflation to its 2% target with the implication that a recession remains possible in 2023.
"Based on historical precedent, that could produce more challenging times for contractors in 2024 and/or 2025," Basu said.
He suggests that while backlogs into the first six months of 2023 may be solid, much beyond that could become more challenging.
Another economic indicator, the Architecture Billings Index, suggests a similar potential decline, in project design work.
"If suddenly all architects are getting less busy, that portends not quite such good things for contractors that work on such projects," Basu said.
In general, the construction process itself is relatively short, being only one, two or three years, depending on the size of the project. However, owners or clients that are financing those same projects can be outlined for 30 years.
"Even small increases in interest rates can alter the financing of the project as the cost of capital keeps rising," Basu said.
Despite some improvement in the supply chain, when combined with the Russian-Ukraine war, China's Covid policies and globally increasing interest rates, he said it all translates into a higher-than-average economy or inflation.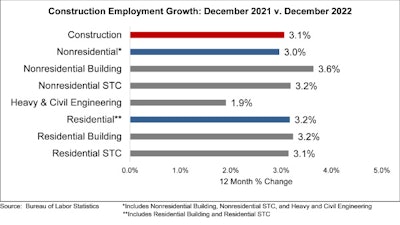 Survival of the fittest
Basu said the top two indicators that contractors should pay the most attention to are cash flow and the Architecture Building Index.
"If I'm right, and a recession is coming and therefore, at some point, the net construction services begin to dissipate, if not in 2023, then maybe in 2024 or 2025, the key is to have good cash flow," he said. "That means managing cash flow aggressively right now."
Over the past few years, there have been small numbers of layoffs. Basu noted that employers have held on to their employees and in fact been hiring to meet demand. Inevitably, some of the new hires are simply not great workers, but they are kept anyway.
"I think what you'll see this year is several months of job loss, and unemployment rising perhaps as high as 5%," he said.
To counter that scenario, Basu encouraged construction firms to let go of those underperforming employees. He likened the scenario to the recession in 2008-09, when many construction companies did not lose financially due to the shortfall in demand but rather during the ensuing recovery.
"It's often said that contractors or construction firms don't die from starvation, they die from overheating," he said. "They've gone through a period of downsizing, trying to manage cash, and then all of a sudden fail because they had waited too long to manage cash aggressively."
For example, he said when the financial market starts coming back and firms start hiring more workers, leasing equipment, and suddenly, the balance sheet is under pressure and the company doesn't have enough cash to afford all the expansion. 
"That's often when they lost their bonding; that's often when they lost money, and that's when firms failed," he said. "If you can start matching more aggressive cash flow now when that period of recovery comes in 2025 or 2026, the cash will be there to finance that expansion so that firms don't die of overeating."
Due to the anticipated issues in the economic recovery, Basu expects more bankruptcies in 2023.
"it's going to happen at the consumer level and also the corporate level," he said, noting that with increased unemployment and consumers having more credit-card debt and having taken on margin mortgages, more individual bankruptcies will occur as well, so the demand from the consumers will decline, impacting corporations.
Secondly, he said it is important to keep an eye on the Architecture Building Index.
"We could see the design work dry up among architectural engineers, and if we see that, then you know at some point backlog is going to wither, and then in 2024 it's not going to be quite as good for contractors on the demand side of the equation," he said.