Robert Dahs has a knack for finding unusual vintage equipment and restoring it.
His collection includes the following rare pieces:
a 1951 Mead "Mighty Mouse" Baby Bulldozer, which looks more like a kids' toy than a construction machine;
a 1955 Seaman-Gunnison Duo-Pactor, said to be the first compactor with both pneumatic tires and a steel drum – and possibly Dahs' rarest find;
and a 1930 Galion International Motor Roller, an early version of a road roller you have to start with a crank. (Watch Dahs run it and demonstrate how to start it in a video at the end of this story.)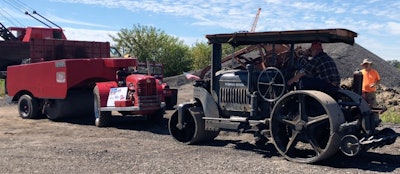 He had all of these interesting pieces out at last September's annual international convention for the Historical Construction Equipment Association. The Bellevue, Ohio, resident's pieces were among the more unusual specimens equipment enthusiasts had hauled out for the crowds to see. And Dahs likes it that way.
"I used to start collecting the regular tractors, but, to me, you go to a show, and you see 10 of the same tractors. What's the big deal?" he says. "I like looking at them, too, but this is definitely different stuff."
He also enjoys restoring the old equipment he finds.
"I don't sit there and watch television much," he says. "Some people golf; some people go swimming or whatever. I just tinker.
"I'm a tinkerer."
Mighty Mouse dozer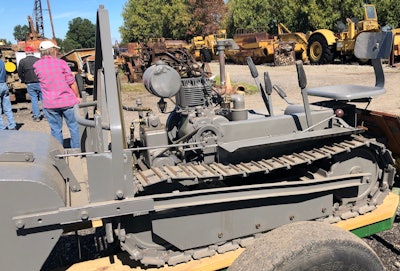 Dahs found his 1951 Model M-6 Mead Mighty Mouse dozer at an auction in Sandusky, Ohio. The "Baby Dozer," as it was nicknamed, was used at the Ohio Soldiers' and Sailors' Home for pushing construction debris out the windows when the building was being renovated.
"They drove it right up the staircase is what I was told," he says.
The mini dozer was made by the Mead Specialties Co. in Chicago. Though it looks like a toy, it was by no means made for kids.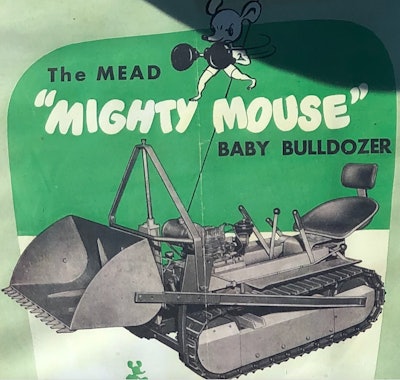 "A rough, tough, hard hitting little machine that can 'lift its weight in wildcats!'" reads the brochure for the Baby Dozer.
The brochure advertised the Mighty Mouse as specializing in moving bulk material "at an amazingly low cost per yard." It listed the following uses for the mini dozer: grading, excavating, backfilling, snow removal, towing, pushing.
It weighs 900 pounds and has a seat height of only 26 inches. The width at treads is 3 feet. It is 81 inches long, including the scoop, which has a capacity of 5 cubic feet.
It can travel 6 mph with its 6-horsepower gasoline engine. It has a drawbar pull of 1,000 pounds.
"It came to me as a basket case," Dahs says of the dozer's condition. "I had to make a bunch of bushings and bearings, and a few gears I had to cut on it. I went through it with a fine-tooth comb."
The original paint scheme was a Detroit Diesel green with some red and yellow, Dahs says. He painted his gray, though he has some regrets. "That's what I had for paint, so that's what I put on her."
His Mighty Mouse runs, but the front cylinder is cracked so he can't raise and lower the bucket.
As far as operating it, he says, it's a pain.
"It's basically a glorified scoop shovel," he says. "When I was in my prime, I think I could move more with a scoop shovel than I could with this thing."
It also doesn't steer well unless it's on a hard surface. He is impressed, though, with its lifting power.
"It's old and slow," he says, "but it still goes."
1955 Duo-Pactor
Next in his lineup of unusual vintage equipment is the 1955 Seamon-Gunnison Duo-Pactor, which might be his rarest find. The company's website says the Duo-Pactor was "the first self-propelled articulated compactor, with combined pneumatic and steel compaction."
Dahs believes his Duo-Pactor was the eighth ever built at its factory in Baraboo, Wisconsin. It is powered by an International Harvester 300 tractor and has hydraulic controls for steering the compactor as well as varying the compaction pressure. The Duo-Pactor has eight pneumatic rubber tires on the back and a steel drum roller ahead of them. The operator can compact with the tires and drum independently or simultaneously.
It weighs 12,000 pounds when the compactor is empty but can handle up to 38,000 pounds of liquid or sand ballast.
Dahs found it on govdeals.com. The compactor had been used by the municipal government in Cawker City, Kansas – also home to the world's largest ball of twine – and was filled with stones that he had to pay to get unloaded out of it.
"It cost me more to truck it home than it did to buy it," he says.
The eight spring-mounted pneumatic tires are designed to knead the road surface, compacting at a width of 86 inches. The rigid steel drum, at 72 inches wide, is designed to smooth out the ridges left behind by the rubber tire compaction.
Attachments for the Duo-Pactor included a vibratory impact roller, rubber tires in place of the steel roller for tandem rubber rolling, cocoa mats and tire spray for rolling bituminous hot mix, according to a brochure Dahs found.
"Now, two compaction methods in only one machine … an advantage found only in the Seaman-Gunnison Duo-Pactor," reads the brochure. "Duo-Pactor slashes your equipment costs by doing all the work – fill and base compaction, sealcoating and surface rolling – formerly requiring two or more single-purpose units."
Dahs hasn't been able to find out much about the Duo-Pactor, other than what's in the old brochure. He's got a saved Google search for the machine, but nothing ever turns up.
"This is the only one I know of," Dahs says. He believes it was used more out West. "So there's probably some machines sitting around out there. I've never seen any around this part of the country."
1930 Galion Motor Roller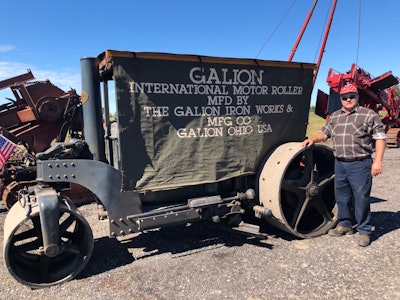 One of Dahs' favorite machines is also one of his most frustrating.
The sluggish-looking, heavy steel 1930 Galion International Motor Roller is difficult to start, thanks to its temperamental crank. "This one you've got to crank your butt off," he says.
It's also difficult to haul with its 6 tons of 8-inch channel steel for the frame and cast-iron rollers.
"But I do like this one because I never have a flat tire," he adds and laughs. "It's the only tractor I've ever bought with no flat tire."
Another thing it's got going for it – it's completely intact, which is rare.
Most of the old Galion rollers got scrapped for metal during World War II. Those that remain are usually missing the planer blade and scarifier. Dahs' even has the old canvas canopy that can be rolled up or folded down and the exhaust pipe with the Galion plaque on it.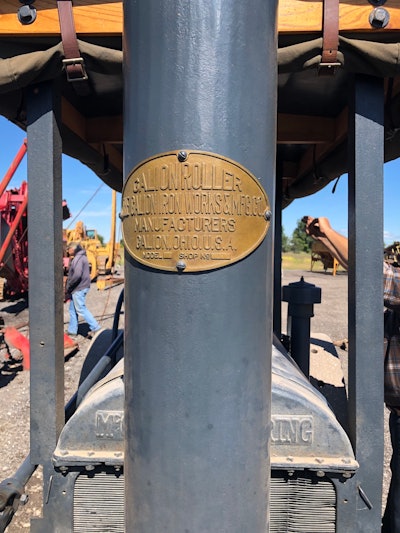 "None of them are as complete that I have found as this one," he says.
Dahs found it in the 1990s from an old tractor collector in Ohio who was ready to part with his collection that had been sitting in the weeds. Dahs learned it had been used on an estate since the 1930s for maintaining six miles of roads. "That's why it's so complete."
Like his other collectibles, he spent many hours restoring it.
He had to spread out the side canopies on the ground in his shop for a while before he could eventually decipher the faded words. He used dead ash trees on his property to fashion the wooden pieces that hold the side canopies.
"A lot of stuff was froze up," he says. "I could steer it. But that was about it."
The Galion runs on a McCormick-Deering 10-20 industrial tractor, which was modified with a special rear axle and large bearings at each end of the axle housing. The rollers also had special gearing that increased power 50% to 60%, and it had a Galion Side-Cranking Device. The roller was produced by the Galion Iron Works & Mfg. Co. in Galion, Ohio.
"A Machine of Four-Fold Usefulness," reads the brochure Dahs found from 1933. It serves as a "roller, scarifier, planer and tractor."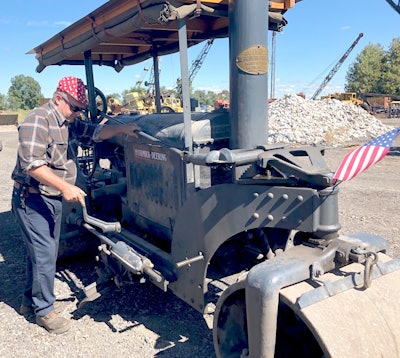 Dahs says the Galions weren't long on the market, having become replaced by better technology. Unfortunately, its replacement couldn't come soon enough for the poor guy who ran the old Galion that Dahs now owns. Dahs was able to track the old fellow down.
"He wanted to know where I live," Dahs recalls. "So he could come up with a set of torches and cut it up in pieces. Because every morning when he wakes up, he said, his back hurts so bad. And it's from operating this machine."
There's no sitting down on this machine, Dahs explains.
"You've got to stand up to turn it. And so now you're bent over, and it's just the oddest contraption to try to run."
Watch the Galion
To catch a glimpse of Dahs running the Galion at the HCEA show in September, check out the video below:
More Photos
Here are some more looks at Robert Dahs' rare machines and some views of how they looked back in their prime from their sales brochures:
1930 Mead Mighty Mouse Baby Dozer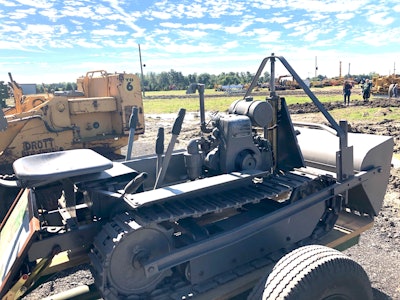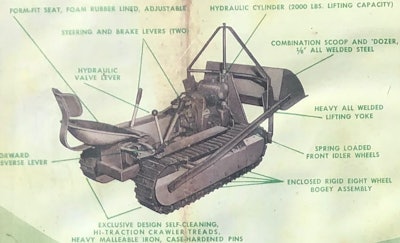 1955 Seamon-Gunnison Duo-Pactor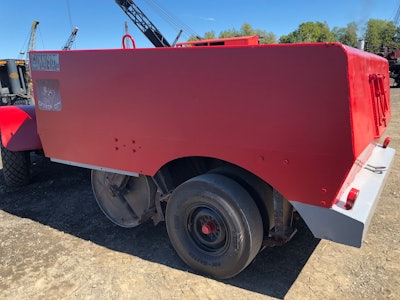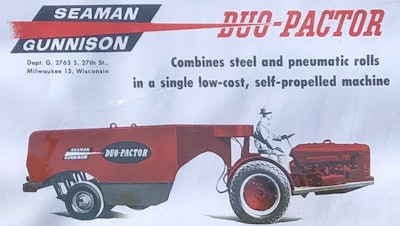 1930 Galion International Motor Roller