Nine finalists remain out of the 5,500 operators who signed up to compete in Caterpillar's Global Operator Challenge.
The final round of competition will take place inside the company's outdoor Festival Grounds exhibit F4455 at ConExpo-Con/Agg 2023 in Las Vegas and be live-streamed on cat.com.
You can see more of what other OEMs have in store for ConExpo 2023 on our show preview page by clicking here.
To find the world's best operator, the participants are put through various challenges to showcase their ability to operate Cat equipment safely and efficiently.
"This competition started with thousands of operators from different industries registering for the challenge," said Jessica Nunley, global marketing manager for Caterpillar. 
Ultimately, 84 semifinalists advanced to regional competitions held at Caterpillar sites in Europe, North America, South America and Asia. 
"We are excited to challenge the skills of the nine finalists left standing and crowning this year's Global Operator Challenge Champion," she said. "These nine finalists have proven to be among the top performing equipment operators, not only in their region but in the world."
The two finalists from the United States are Matt Ferris, a civil superintendent at Kincaid Civil Construction in San Tan Valley, Arizona, and John Schiedeck, owner and CEO of Schiedeck Construction Inc. in Bastrop, Texas. Both have plenty of history in operating heavy machinery.
An operator at 8 years old
While in the construction industry for 20 years, Ferris said, he's been "operating machines" since he was about 8 years old.
"I like to ride motorcycles, work on cars, hot rods, anything that makes a lot of noise or goes bang," Ferris said. His favorite Cat machine is an excavator.
"What motivates and inspires me for what I do is to see a blank piece of ground and go back to it once we're finished, and there'll be a building there and you can take your kids or your family back there and say, 'Hey, I built that,'" he said.
His motivation to participate in Cat's Global Operator Challenge was to see if he still had the skills from when he was younger. 
"I think that I have the skills to do it and the mindset and the mind control," he said.
Derek Borum, vice president of field operation for Kincaid Civil Construction is convinced that Ferris making the finals was well deserved.
"He's worked hard and has really tuned his craft," he said. "Honestly, he's one of the best operators I've ever seen."
"A natural operator"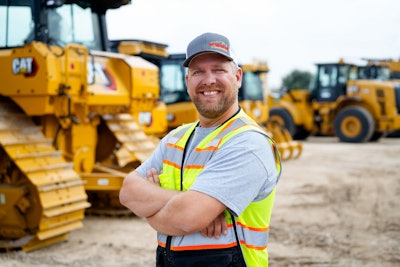 Like Ferris, Schiedeck feels as though he has been an operator his whole life, prompting him to aim for the challenge.
"Being a child and playing with tractors in the dirt, and it's just grown up into being an adult full-sized child," he said. "Every day I get to run something big, and I really enjoy what I do."
Holt Cat Senior Vice President for Sales J.K. Baxter described Schiedeck as being a natural operator.
"I think my greatest strength as an operator is being able to look three, four steps ahead of the task at hand and know what needs to be done before it gets to that time needing it done," Scheideck said.
Coincidentally, the day of the final competition marks his 14th wedding anniversary
Making it to the finals
The other finalists are as follows:
Europe – Pontus Ericksson, Sweden; Sebastian Behr, Germany (third-place finisher in 2020), Łukasz Mokrzyński, Poland
South America – Fernando Do Nascimento, Brazil.
Asia-Pacific – Patrick Doheny, Australia; Masato Imai, Japan; Nick Thompson, Australia.
To advance to the final round of competition, the finalists have executed a range of tasks using a variety of Cat equipment technology. Competitions have included digging trenches to targeted depths, hitting target material loads and hauling or maneuvering the equipment through a variety of obstacles.
Nunley noted that the final round will be the ultimate test of their ability to master any of the Cat machines and technology. Scoring is based on the operator's skills, efficiency and competence in using integrated technology to enhance the machine's performance.
To make the finals even more interesting, the three challenges and the machines involved will not be revealed to the finalists until just two days before the event. One of the challenges was designed by Jaus Neigum, the 2020 Global Operator Challenge champion. 
The winner of the competition will be crowned as 2023's Global Operator Challenge World Champion at 3 p.m. PDT during the live event on Tuesday, March 14, and will receive an all-expense-paid trip for two to one worldwide Caterpillar location.
See it live
"We want spectators from all over the world to watch the final competition during ConExpo in Las Vegas," Nunley said. "In addition to being able to attend in person, we will be live streaming the competition on our website from start to finish, as well as providing updates and sharing the operators' machine expertise on our social media platforms."
Spectators can follow the action during the competition on social media pages: North America: facebook.com/CatConstruction; Latin America: facebook.com/CatConstruccion; Europe: facebook.com/CatConstructionEMEA; and Australia: facebook.com/CatConstructionAU. 
 Live broadcast: www.cat.com/en_US/campaigns/event/conexpo-2023/live-broadcast.html.