A long-awaited project to ease traffic on one of Texas' most congested roadways has begun, with ground being broken for the $674 million Oak Hill Parkway project on U.S. 290 in Austin.
Plans for improving the intersection of U.S. 290 and SH 71 in the Oak Hill community have been in the works for more than 30 years, according to the Texas Department of Transportation. The area reached its congestion capacity in 1995, and traffic has continued to grow. TxDOT says the roadway has deteriorated and needs upgrading and expansion to handle current and future traffic.
The project consists of adding main lanes and frontage road lanes in each direction. New flyovers will be built between U.S. 290 and SH 71, as well as new intersections along U.S. 290. Along SH 71, flyover ramps will extend past Scenic Brook Drive where main lanes will transition to a five-lane highway with U-turns for local access, according to TxDOT.
Fourteen miles of walking and biking paths will be constructed, and landscaping will be added.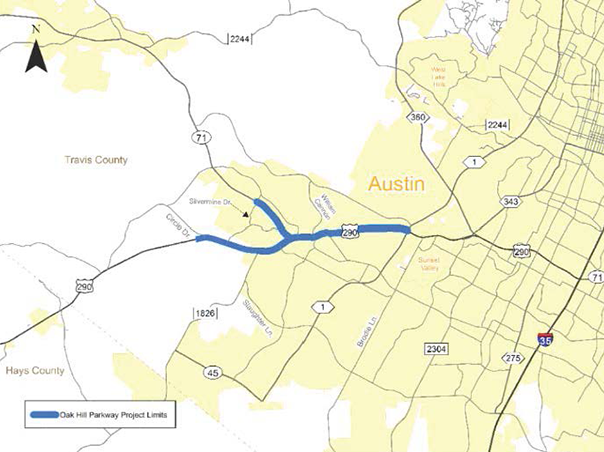 A map of the Oak Hill Parkway project.Texas Department of TransportationMajor construction is planned for later this year, with the project's completion scheduled for 2026. TxDOT says it is taking an "outside-in" approach to construction, in that frontage lanes will be built before the main lanes. The agency says its goal is to keep as many lanes open as possible during the project.
Colorado River Constructors, a partnership between Fluor Enterprises and Balfour Beatty Infrastructure, was chosen in August as the design-build contractor.
To watch a 3D animation of the future Oak Hill Parkway, see below: