Contractors responding to our buying intentions survey had some surprising answers when asked if they made any changes to their equipment buying and rental practices in 2020.
Even through the initial year of the pandemic almost 40% of respondents said they bought equipment, another 29% said they bought parts, and 17% said they rented more equipment last year. Another 15%, however, said they canceled equipment orders and 17% said they bought used equipment instead of new.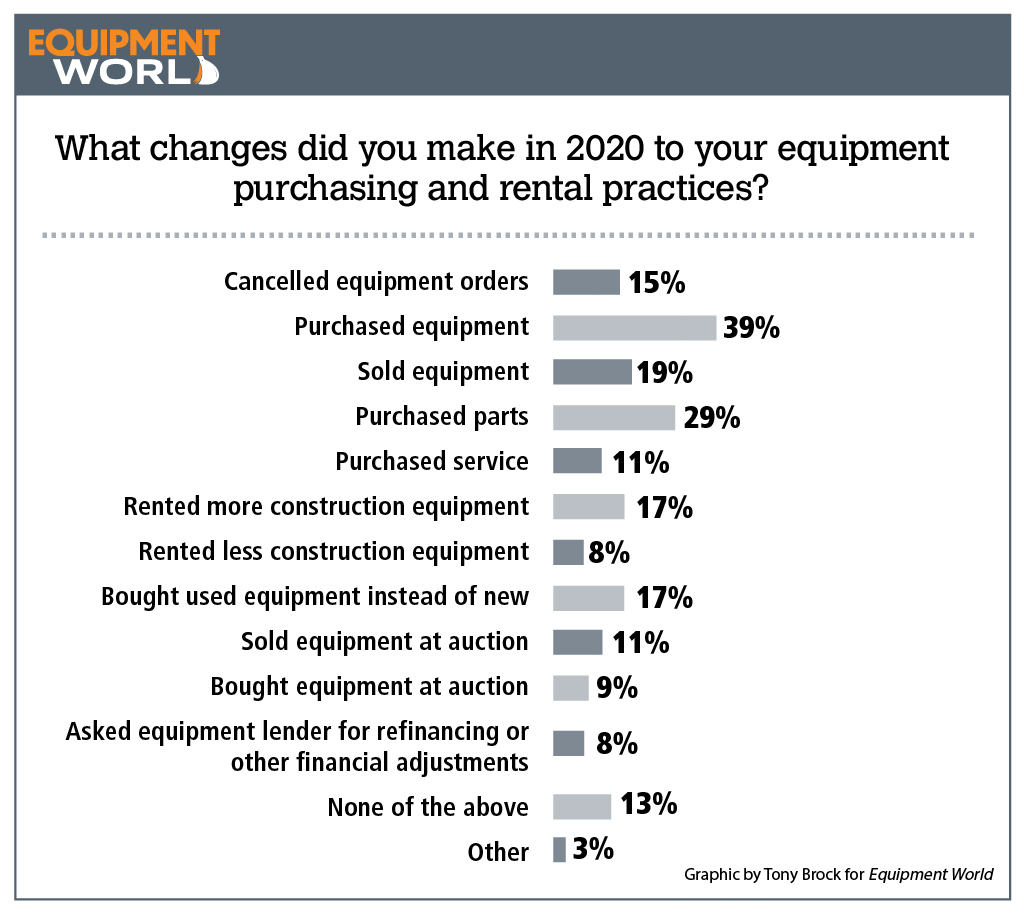 This survey reflects the responses of 150 contractors to an Equipment World online survey.
"A change in equipment opened up the opportunity to take on more work," says a Connecticut roadbuilder.  A Michigan specialty contractor told us, "Covid held up the commercial work but residential stayed strong."
Added a Pennsylvania excavating contractor: "Low interest rates made it possible to purchase several machines."
Anticipated backlogs
Sentiment is across the board as to what the next six months will bring in terms of backlog: 39 percent expect backlogs to either increase (28%) or increase significantly (11%).
While 33% said they expected backlogs to stay the same, another 28% said they would decrease (21%) or decrease significantly (7%).
But when we asked anticipated business conditions over the next six months, our respondents outlook was rather tepid. When we asked them to rate their outlook on a scale from 1 (significantly worse) to 10 (significantly better), the average was 5.26. Forty-seven percent of respondents said they rated their outlook as a 6 or above; 53% rated them at a 5 or below. 
"The economy is still strong but will slow when interest rates increase and fuel costs increase with current administration," says a Michigan roadbuilder.
"We had a material supply contract on the border wall and whatever gains were generated in 2000 will probably be lost due to the halt," says an excavating contractor from New Mexico. "This has also hit our community as the wall generated a lot of jobs for people within the community which in turn gave people additional money."   
Buying intentions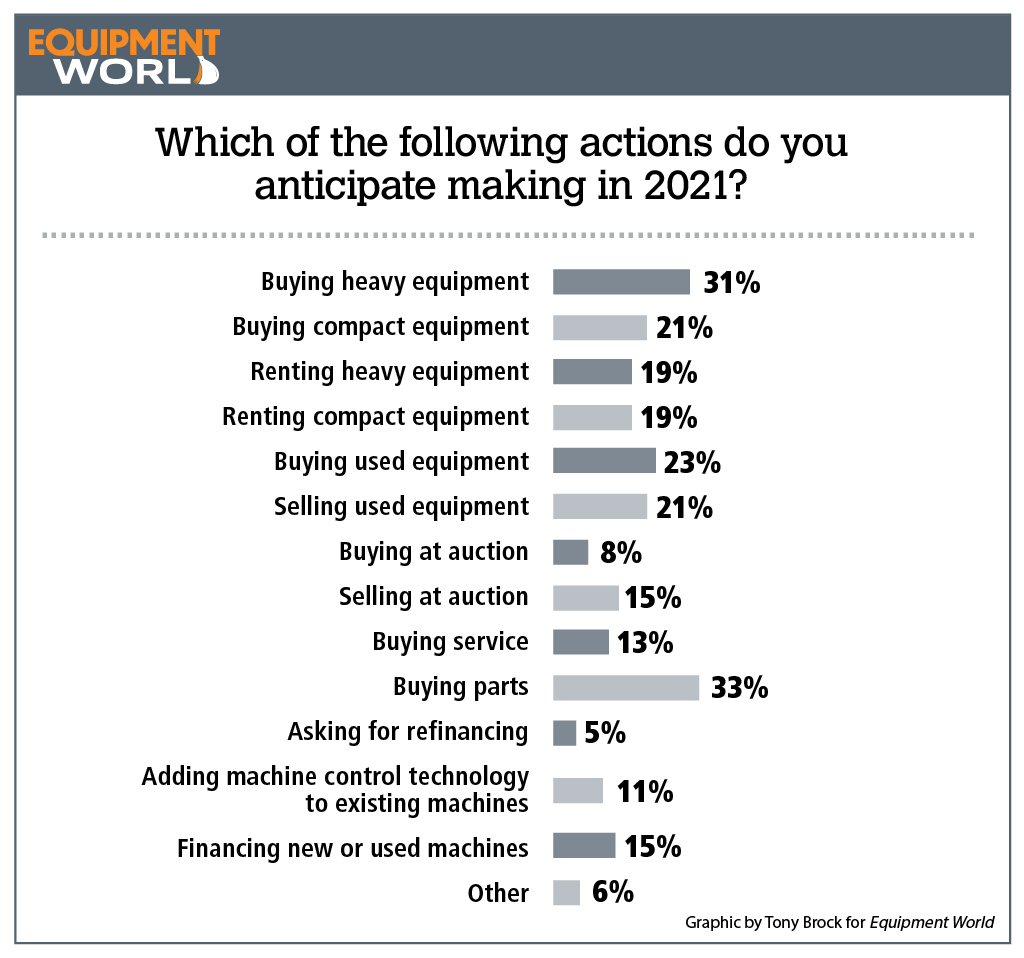 Looking at 2021, equipment buying intentions remain strong, with 31% saying they anticipate buying heavy equipment and  21% respondents indicating they would buy compact equipment. There were also strong used equipment buying and selling signals: 23% said they anticipate buying used equipment and 21% said they think they will sell used equipment this year.
And good news for dealers and parts suppliers: 33% anticipate buying parts.
One California specialty contractor was blunt, however: "I do not plan on buying anything else until Republicans have some control in California and Washington."
Material costs a concern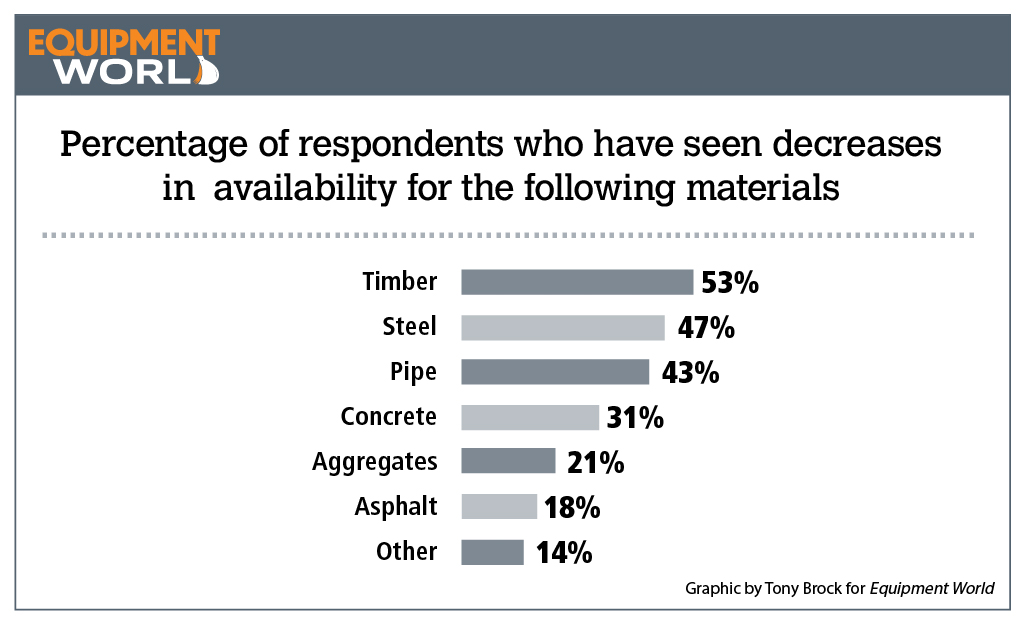 Pandemic-related material supply decreases and resulting price hikes are also being felt by our respondents. Materials seeing the biggest decreases in availability by our respondents are timber (53%), steel (47%), pipe (43%) and concrete (31%).
When asked what had happened to their material costs, 53% said they had increased significantly, with another 36% saying they had increased. 
Manufacturers weigh in
The Equipment World survey bears some interesting comparisons with the manufacturer survey just completed by the Association of Equipment Manufacturers. More than 55% of the 130 AEM survey respondents said they expect sales to increase or remain stable this year, generally reflecting the sentiment of Equipment World respondents.
Nineteen percent of AEM respondents said 2021 sales are up, with another 36% saying they were stable. Factors leading to this positive to stable outlook include a strong pipeline of orders, increased customer demand, a robust economic rebound, the fact that their customer bases were considered essential workers and, interestingly, "a level playing field due to no travel."
The 45% of AEM respondents who said sales were down this year cited the following reasons: supply chain disruptions, reduced demand for new products, limited international sales due to travel restrictions, the inability to meet with dealers and customers, and delayed or canceled projects.