Editor's note: This story, which originally ran March 16, 2021, has been updated April 26, 2022, with new products. 
As spring emerges so does the need for landscaping work. To help you gear up for the new season, these 18 attachments are designed to boost your construction equipment's performance in preparing the ground for new growth or mowing down the untamed brush.
Mulchers and cutters
Fecon has a new narrower version of its Blackhawk mulcher (shown at top of page) for skid steers and compact track loaders. The BK6218 has all of the features of the original Blackhawk on a more agile frame and is designed for precision mulching. It can fell standing trees and processes materials already on the ground. It can be used for right-of-way maintenance and lot clearing, among other tasks. It can mulch trees up to 8 inches in diameter and has a working width of 62 inches. It requires a hydraulic flow range of 30 to 50 gallons per minute. Its tools are reversible for additional life.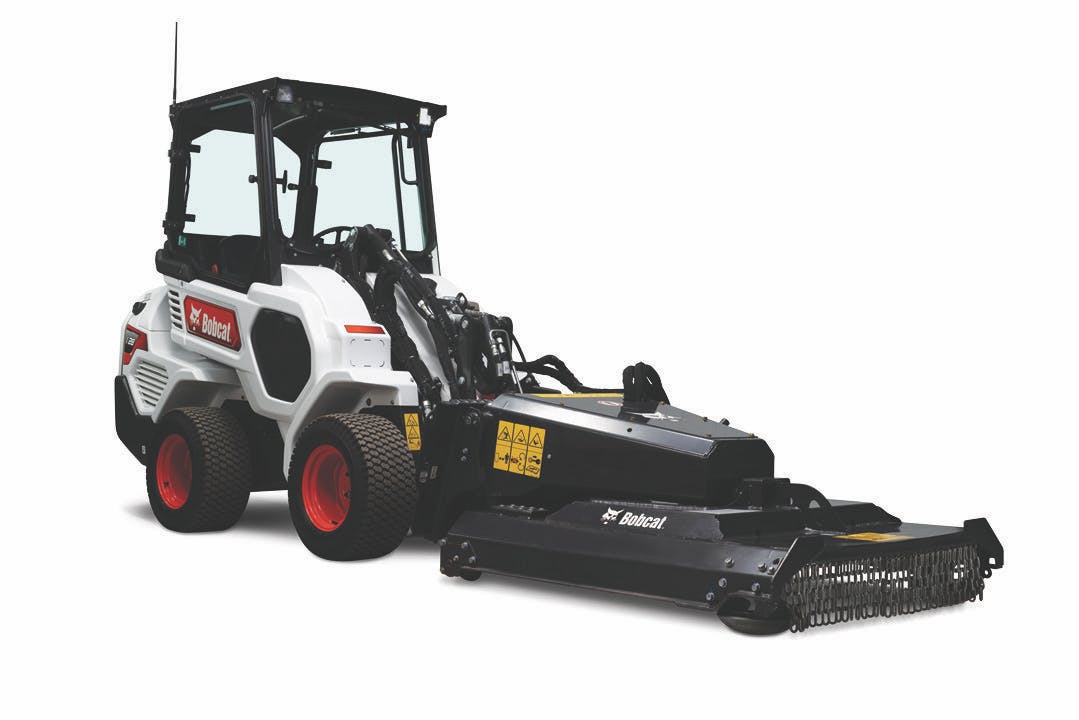 Bobcat's 44- and 54-inch Brushcat rotary cutters are designed for compact utility loaders, also known as mini skid steers or mini track loaders, and for small articulated loaders. Their small size allows access to hard-to-reach areas of heavy overgrowth. Bobcat says the models feature a high-efficiency, direct-drive motor that maximizes hydraulic horsepower for cutting and mulching tall, thick vegetation in one pass. The blades can cut and mulch vegetation up to 2 inches in diameter. The open front-deck provides visibility to the cutting path, and the oscillating deck can maintain a clean cut, even on slopes and uneven terrain, according to Bobcat.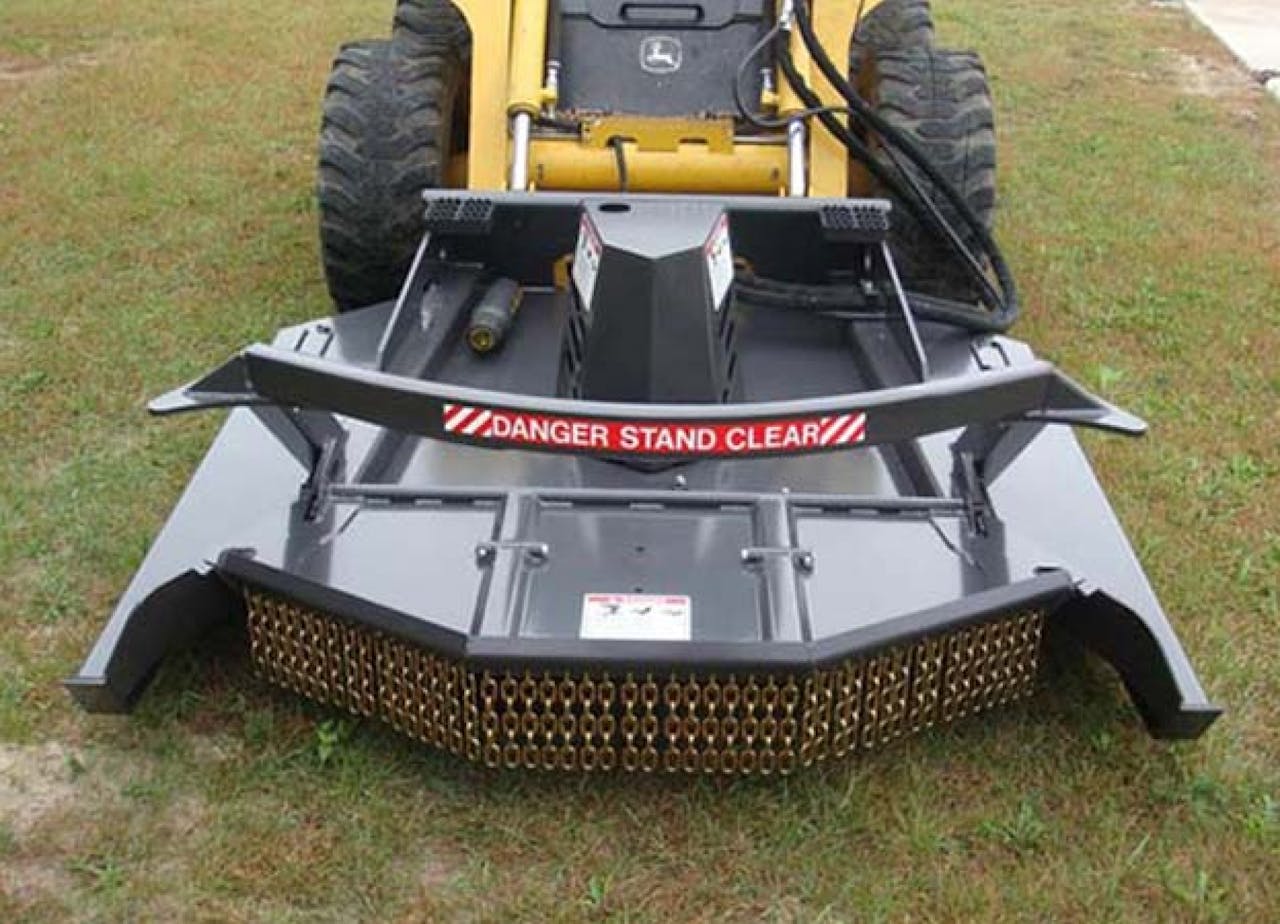 Bradco's Extreme-Duty Ground Shark Brush Cutter is designed to clear medium- to heavy-density brush and hardwoods up to 7 inches in diameter. When the patent-pending retractable forward shield comes in contact with a tree, it moves up and back to expose the entire cutting edge of each blade while protecting the operator from flying debris. It features a direct drive system for smoother, quieter operation. The quarter-inch steel deck design with powder coat is designed to be easier to clean and maintain. Blades are ¾-inch steel and reversible. Cutting width is 6 feet. Hydraulic flow requirements are 30 to 45 gallons per minute.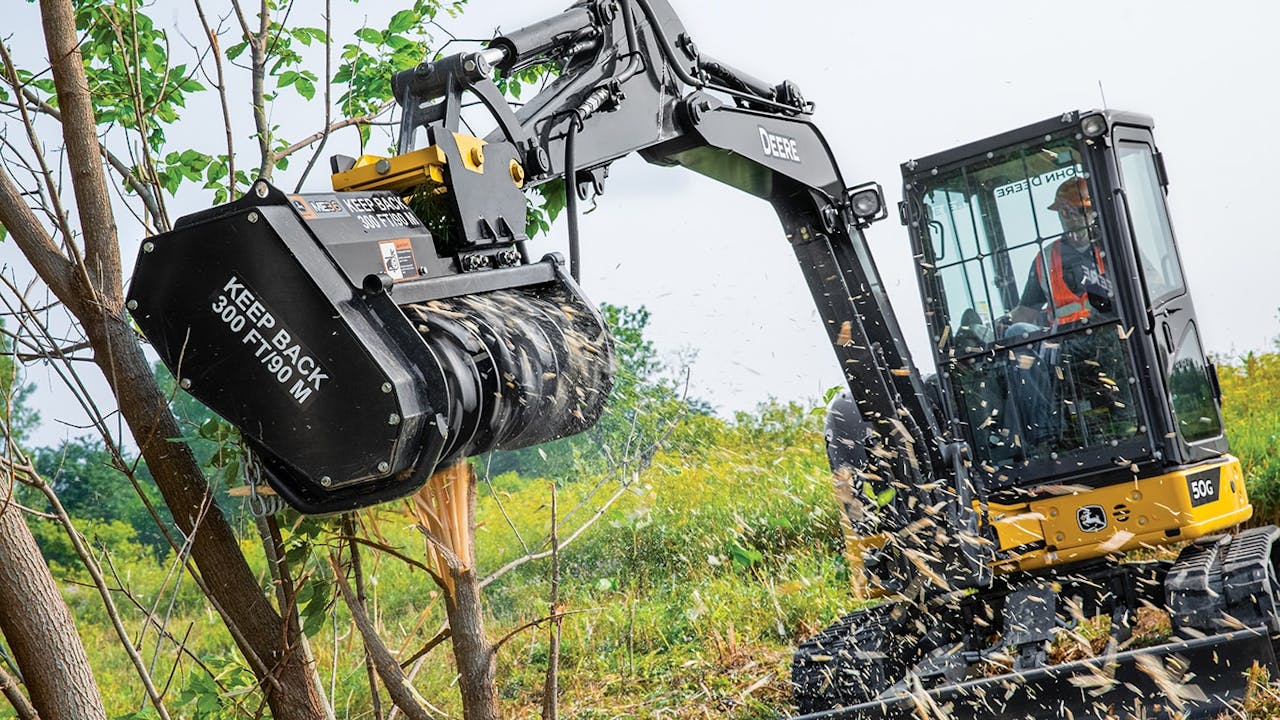 John Deere's new ME36 and ME50 mulchers for 5- to 10-ton excavators are equipped with knife-style cutting teeth on a split ring rotor. The spiral, double helix tool pattern and tool shape allow for fast, efficient cutting for mulching up to 5-inch material, the company says. A controlled and metered cutting depth allows the operator to maintain high rotor rpms and a productive mulching rate. The teeth can be sharpened and reversed for a fresh cutting edge. The attachments are designed for right-of-way maintenance, clearing standing or felled trees, and brush along fences, roads, waterways, and other hard-to-reach places.
Diamond Mowers has introduced the Brush Cutter Pro for less demanding tasks with a skid steer or compact track loader. At 1,250 pounds, the attachment is lighter than the company's Brush Cutter Pro X. It is designed to handle core land and vegetation management, such as cutting tall or thick grass, maintaining fence lines, clearing large-scale brush and small trees. It is compatible with both standard and high-flow machines. It features four hydraulic motor options. The exclusive oval blade carrier has two hardened steel blades. Cutting width is 6 feet and it can slice through trees up to 5 inches in diameter.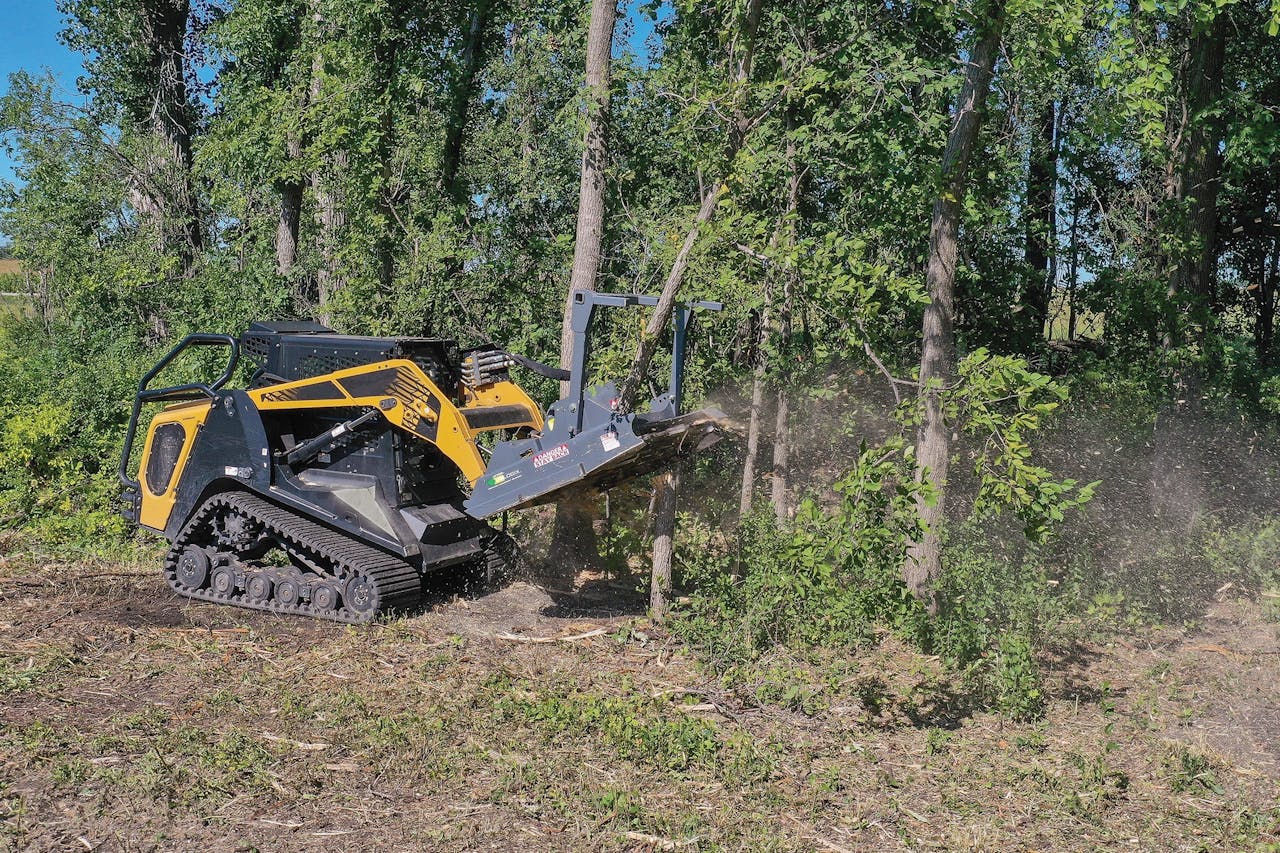 Loftness has updated its Bad Ax disc mulcher attachment for skid steers to be lighter and stronger. It weighs about 400 pounds less than the original model and is positioned about 5 inches closer to the power unit for improved balance, stability and flotation of the skid steer. For durability the steel housing has been upgraded and a larger diameter main shaft has been added. The new radial piston high-pressure motor delivers full torque capability at start-up for fast recovery time. It has a 60-inch-diameter disc for cutting trees up to 14 inches in diameter. The Bad Ax requires 70 to 120 hydraulic horsepower to operate.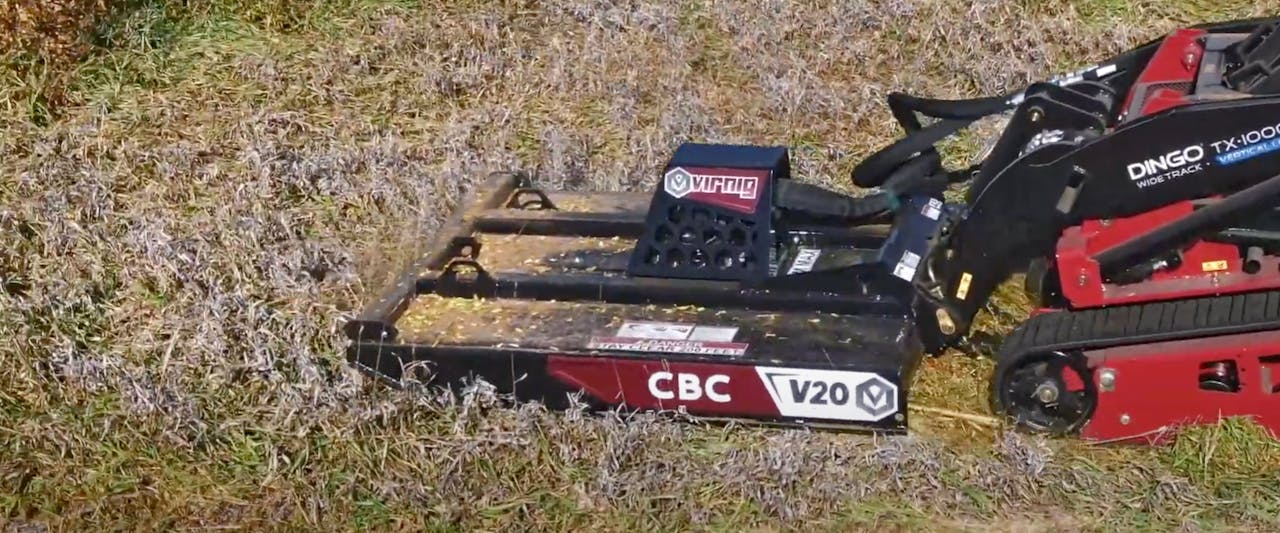 Virnig Attachments' new V20 rotary brush cutters for compact utility loaders, also known as mini skid steers, can slash through trees as thick as 3 inches in diameter. The V20s are available in open- and closed-front models for stand-on CULs. They come in cutting widths of 42 or 48 inches. They are designed for clearing undergrowth and cutting small trees. The closed-front cutters are better at cutting grass and mulching, and open-front cutters are better for brush and tree clearing. Recommended hydraulic-oil flow rate for the brush cutters is 11 to 18 gallons per minute. The CULs should have operating capacities of at least 590 pounds.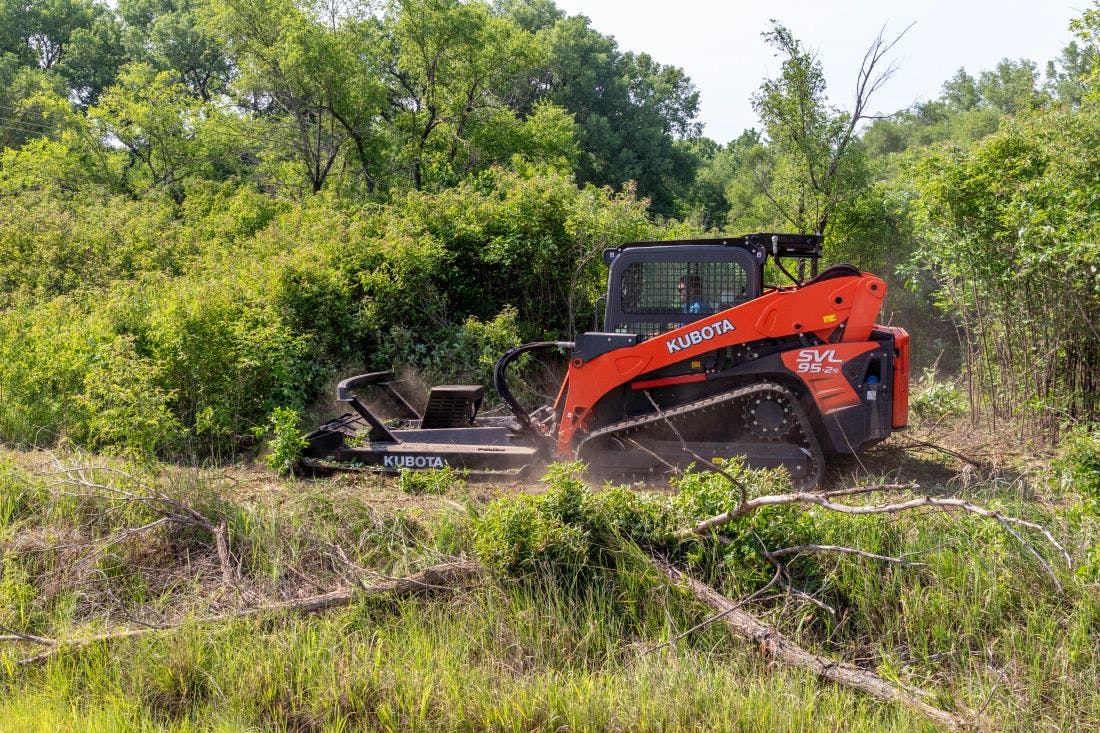 The Kubota by Land Pride SC70 Skid Cutter is a 6-foot-wide heavy-duty cutter that can mow through brush and trees up to 7 inches in diameter. The deck and side skirts are manufactured from quarter- inch steel. The three-piece deck design minimizes weld for added strength. The SC70 comes with an optional case drain and optional motor pressure gauge. Standard safety features include front and rear chains, a pusher bar and patent-pending bi-fold door that covers the cutting chamber when not operating in heavy brush. It is designed for clearing land or small trees, shrubs, bushes and grass.
Rake and prepare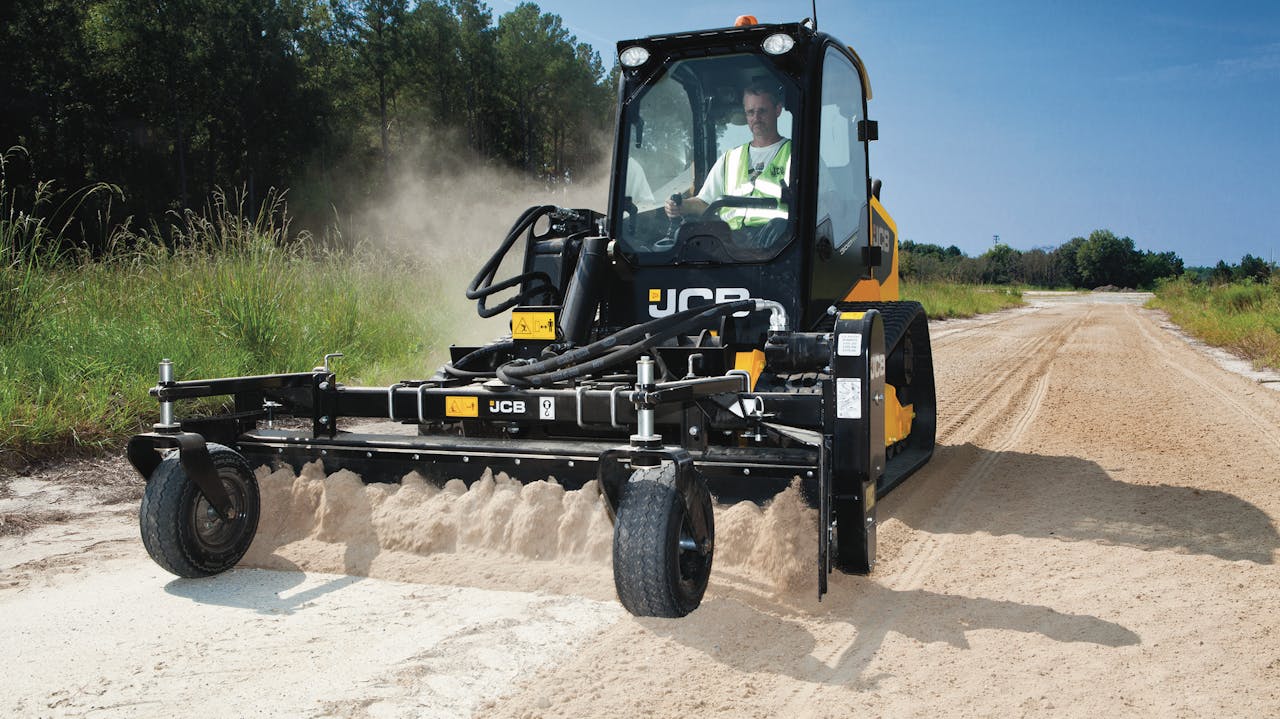 JCB Landscape Power RakeThe JCB Landscape Power Rake can be used for a variety of tasks, including preparing ground for seeding and turfing. It can be operated in forward and reverse. It features a quick hitch, and it can be angled 20 degrees left or right for windrowing debris and clearing obstacles. It comes in raking widths of 60, 70, 84 and 90 inches. It can also be used for grading, shaping, reconditioning hard soil, drying out muddy sites and trench restoration. JCB also offers replacement wear parts for the rake.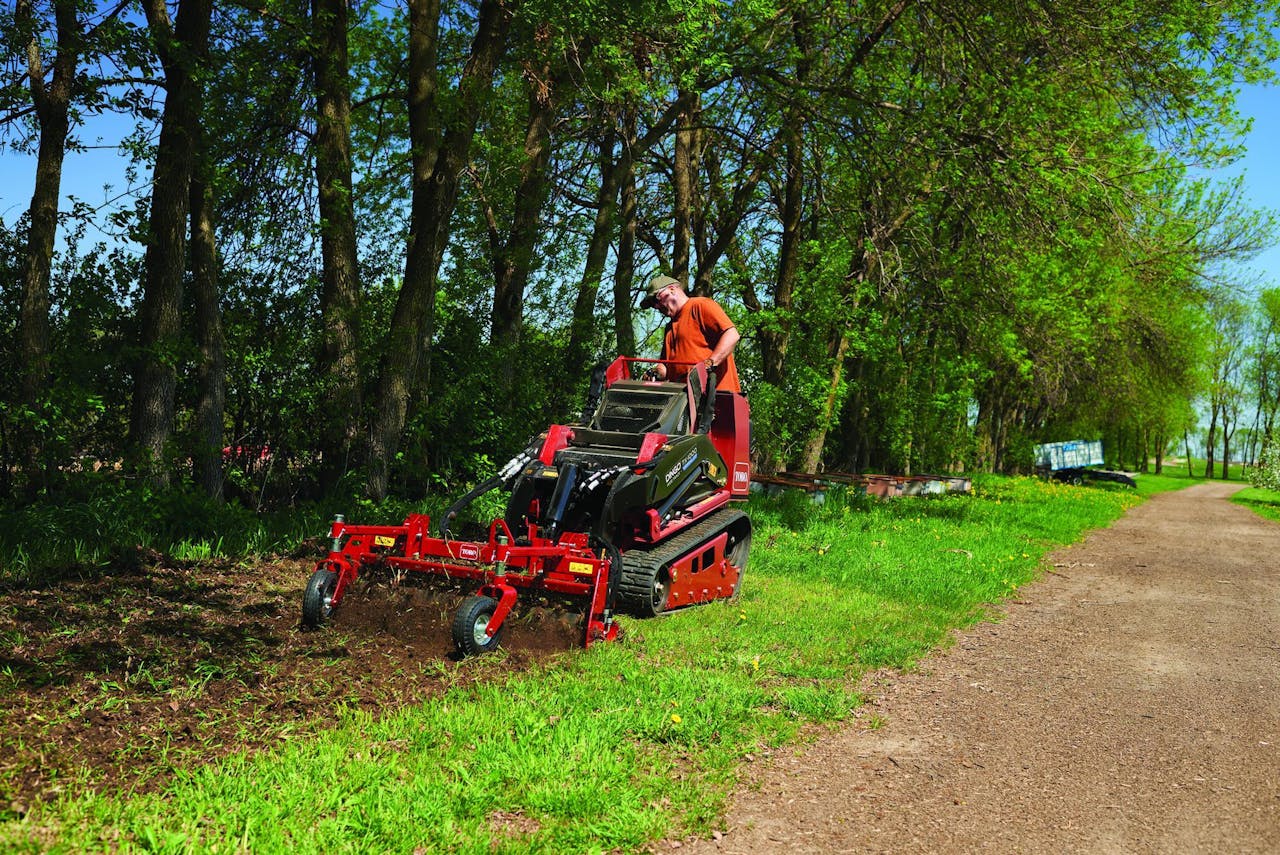 The Toro Power Box Rake for the company's Dingo compact utility loader is designed to transform rough terrain into seed bed. The 4-foot-wide rake can also be used for sod preparation and rock removal. Features include triple-sealed, shielded roller bearings and proprietary carbide teeth. An adjustable Rhino-Hide barrier allows the operator to choose the size of material to be left on the seed bed. Raising the barrier enables faster soil drying. The end plates can be removed for windrowing or attached to the back side of the rake for reverse box raking and spreading fill piles. It also has dual independently adjustable gauge wheels.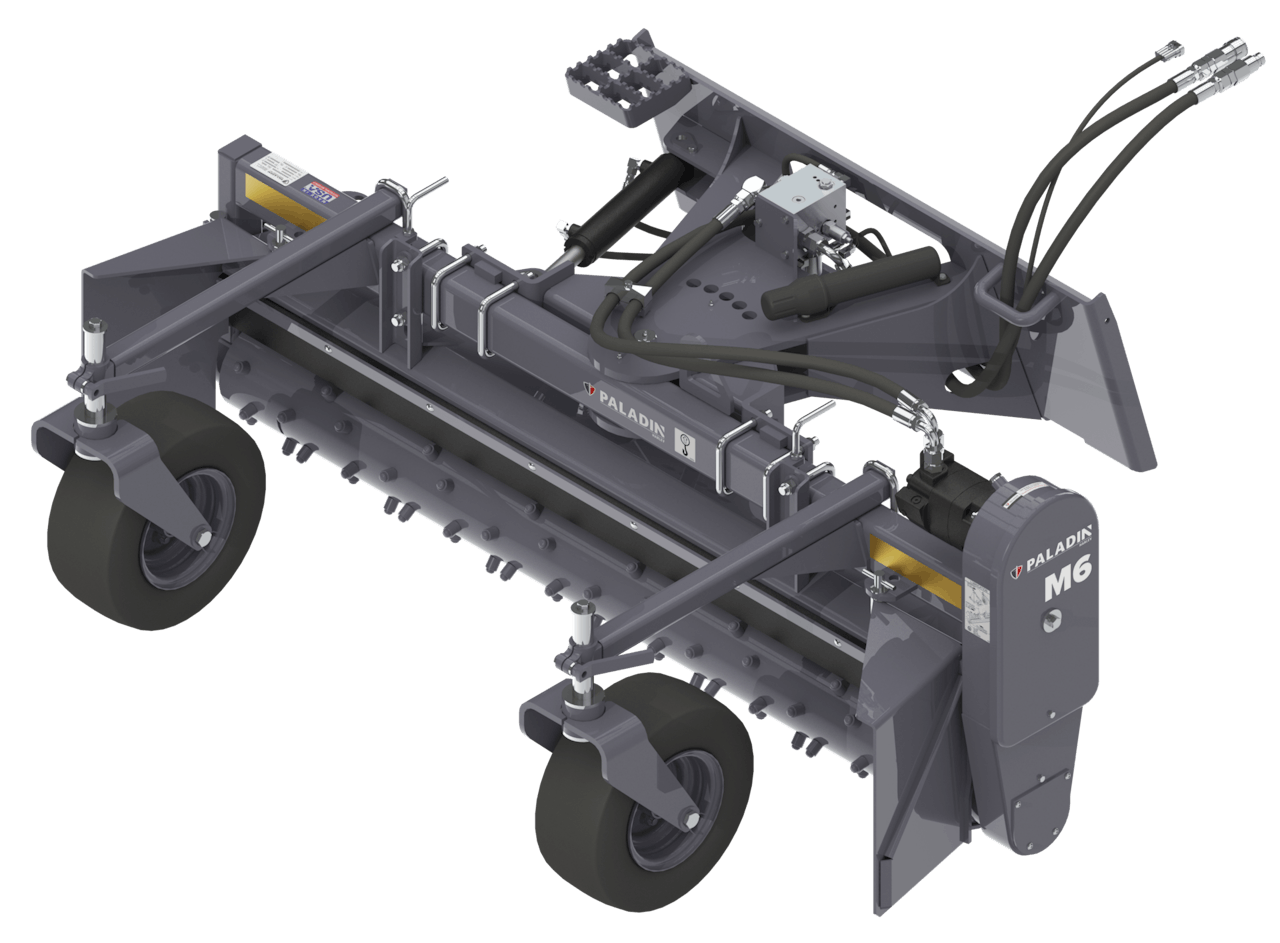 Paladin's Harley Rakes come in a variety of sizes, able to be attached to compact utility loaders, skid steers, compact track loaders and tractors. They come in widths of 48 to 90 inches. Features include an adjustable barrier to handle various soil moisture conditions and to leave behind the material size desired. The barrier is stiff enough for pushing material but flexible enough to let damaging debris pass. A bidirectional motor allows forward and reverse drum rotation. Teeth are pure carbide, and box plates are removable.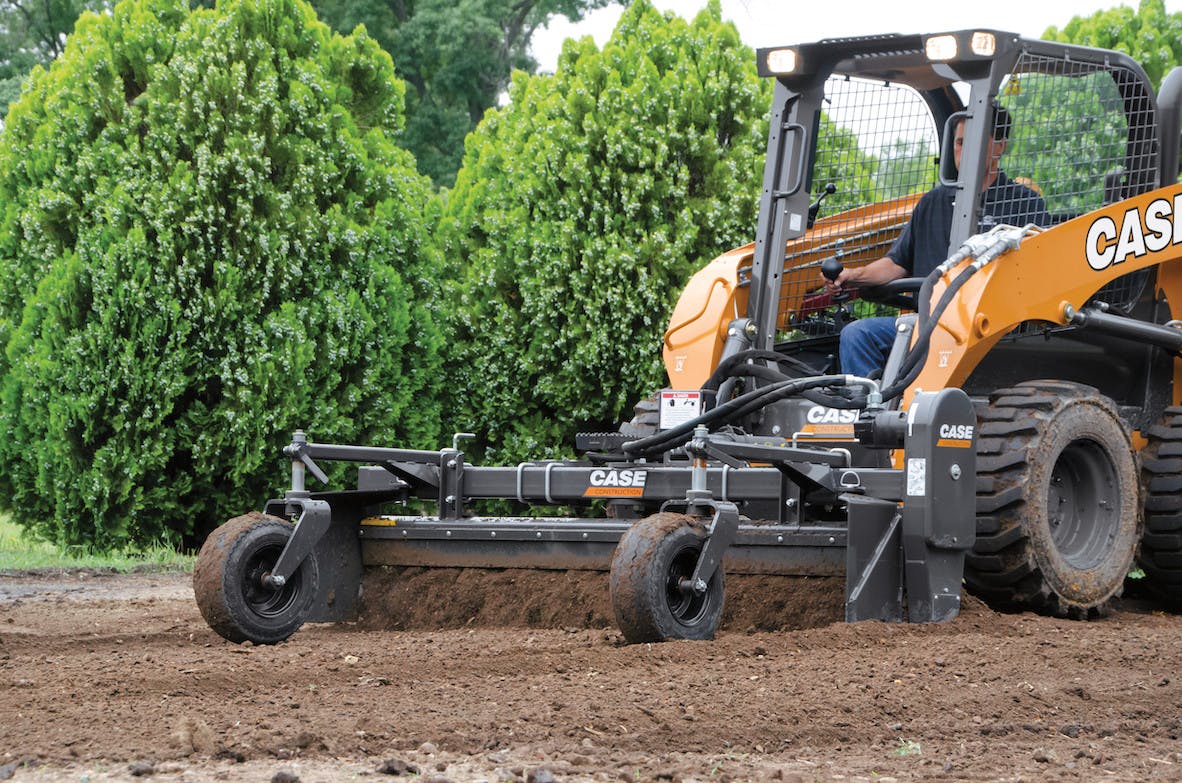 The Case Harley Power Box Rake is designed for fine-grading, seedbed prep and other landscaping applications with a skid steer or compact track loader. Powered by standard auxiliary hydraulics, the rake features a hydraulic chain reduction motor and a drum equipped with durable carbide-tipped teeth. It can operate in both forward and reverse, has easily reversible end plates and has independently adjustable dual-gauge wheels. The rake is available in both manual and hydraulic angle configurations and widths of 72, 84 and 90 inches. Flat-face hydraulic quick disconnects and hoses are included
Removing stump and all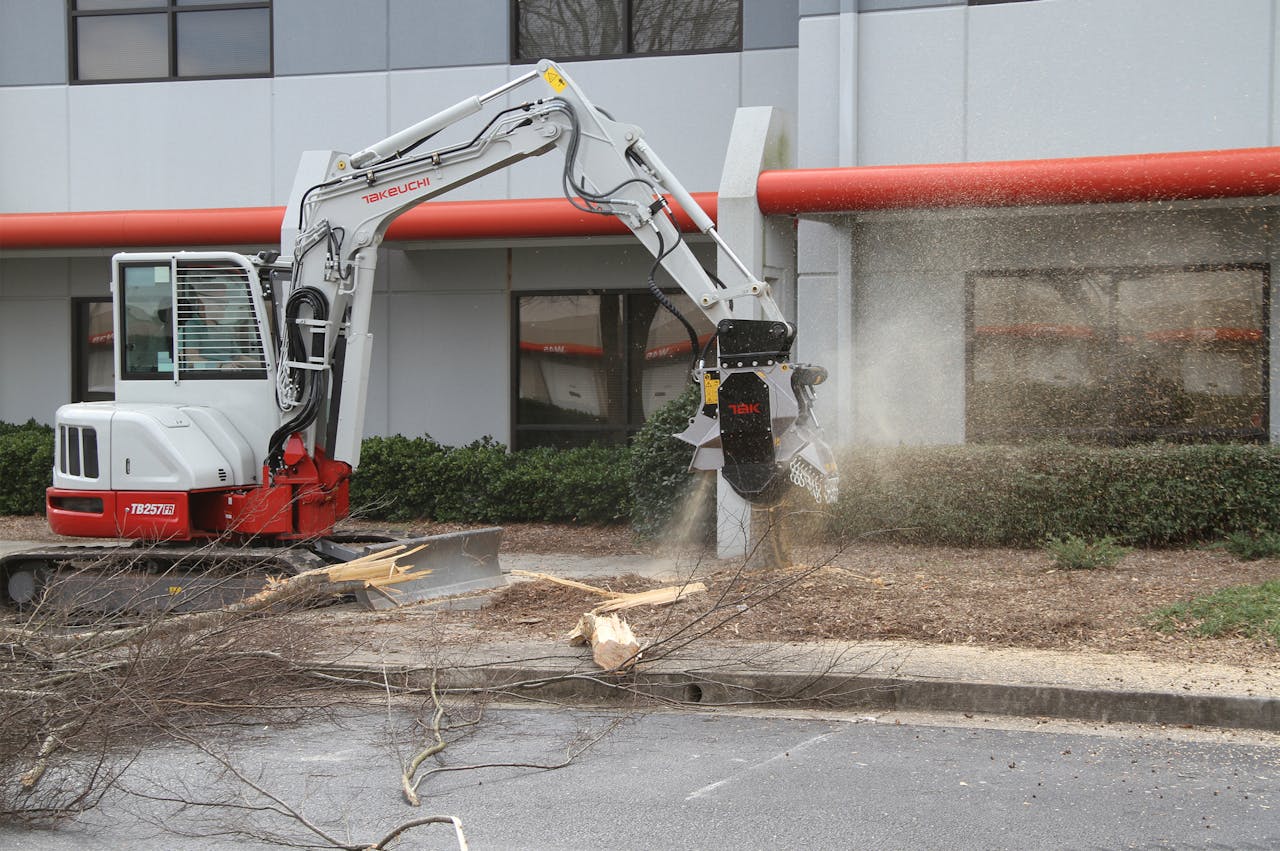 Remove stumps in forests and parks or on roadsides and riverbanks with the Takeuchi TSCLHY compact stump cutter. Designed for excavators of 5 to 6 metric tons and a flow rate of 13 to 26 gallons per minute, the cutter runs on a piston engine with manually controlled variable displacement for adjusting to the host machine's hydraulic oil flow rate. The Type L fixed teeth cut only by lateral movement of the head for easier maneuvering of the excavator. The hydraulically adjustable front hood comes with a 12-volt diverter valve for easy plug-in. The stump cutter also comes equipped with a belt transmission and has various replaceable components.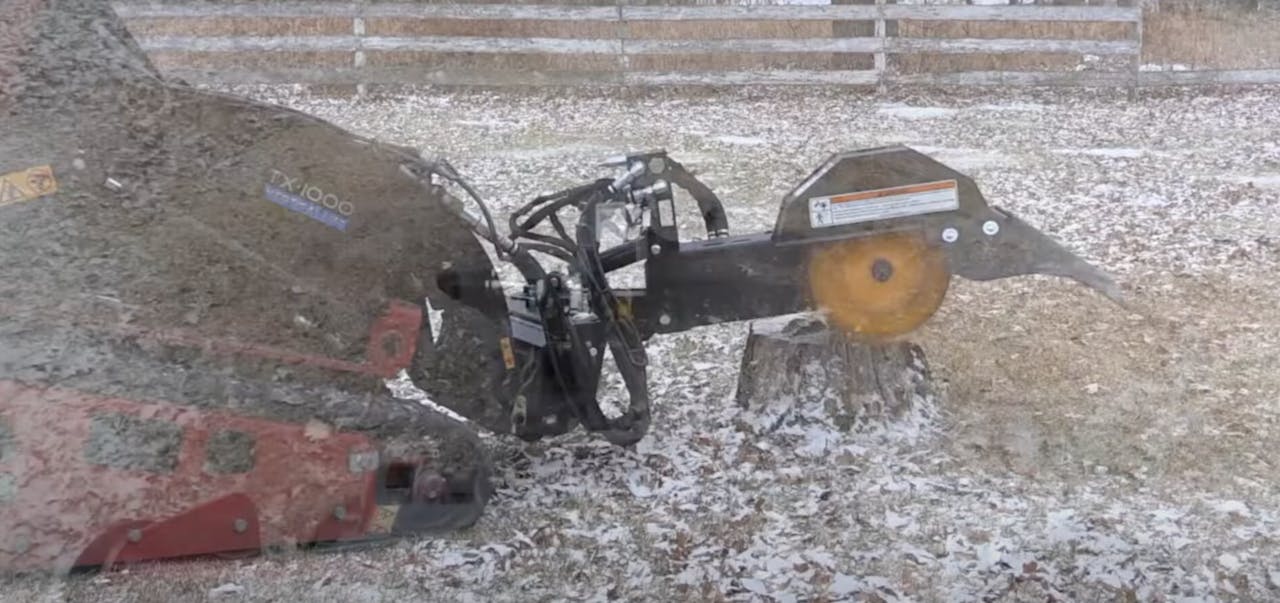 Spartan Equipment's Mini Skid Steer Hydraulic Stump Grinder Attachment is designed for removing difficult stumps. Hydraulic motor options are 7 to 14 gallons per minute. The grinder for compact utility loaders comes with hydraulics hoses and couplers and Pistol Grip Control Harness Kit. The wheel cutting angle can be adjusted to accommodate different loader hitches. The motors have a hydraulic brake for fast shutdown. A variety of tooth options are available. Max cutting diameter is 36 inches, and max cutting depth is 6 inches below ground. The hydraulic motor includes a high-pressure seal for extended life.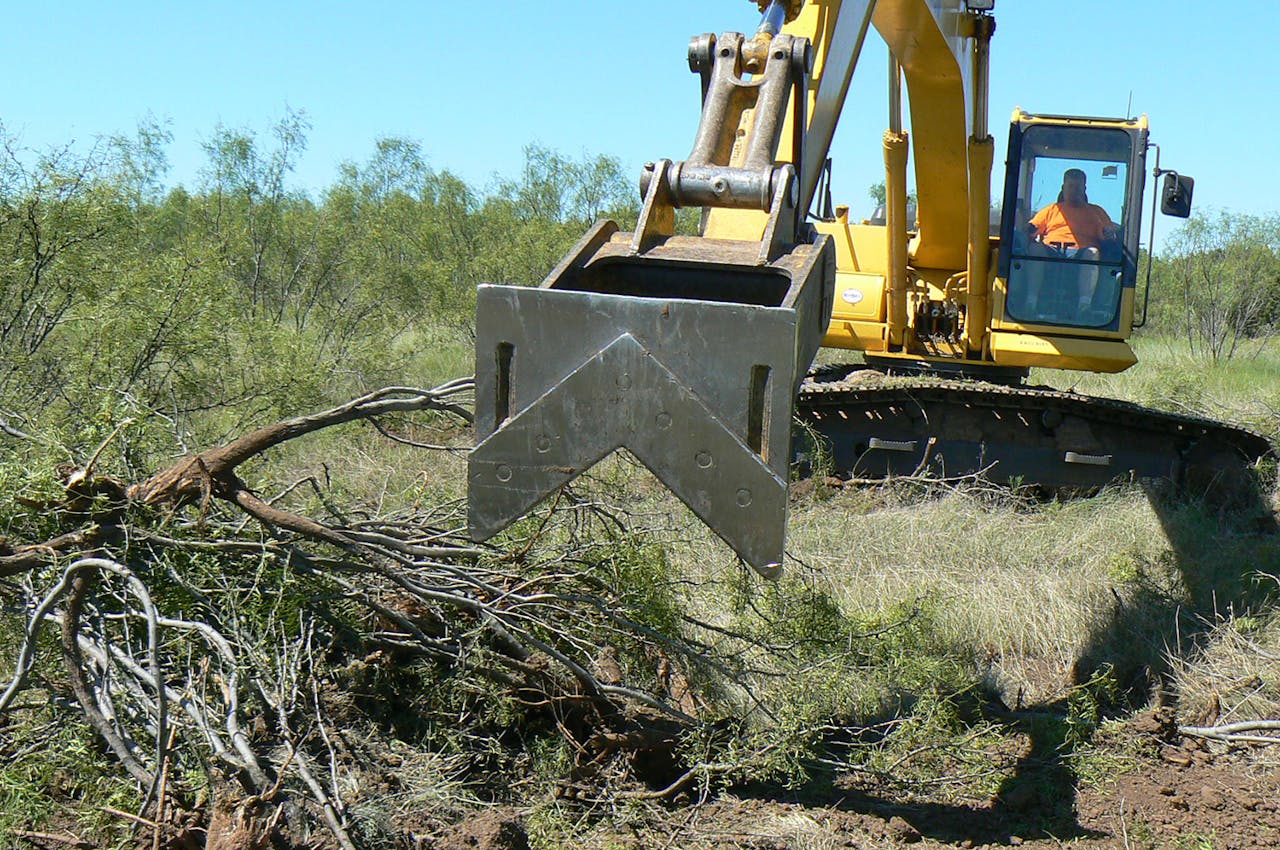 The Werk-Brau Grubber slices roots and extracts brush in one motion. The attachments fit most excavator sizes and classes, including minis. They are constructed with a heavy-duty upper channel, AR400 steel cutting edges and triple pass welds on the high stress areas. A replaceable bolt-on edge V-edge or straight edge are options. They are designed for the select extraction of brush and nuisance vegetation causing less ground disturbance and erosion, while promoting grass growth, the company says. It can eradicate infestations of mesquite and salt cedar by removing the root ball.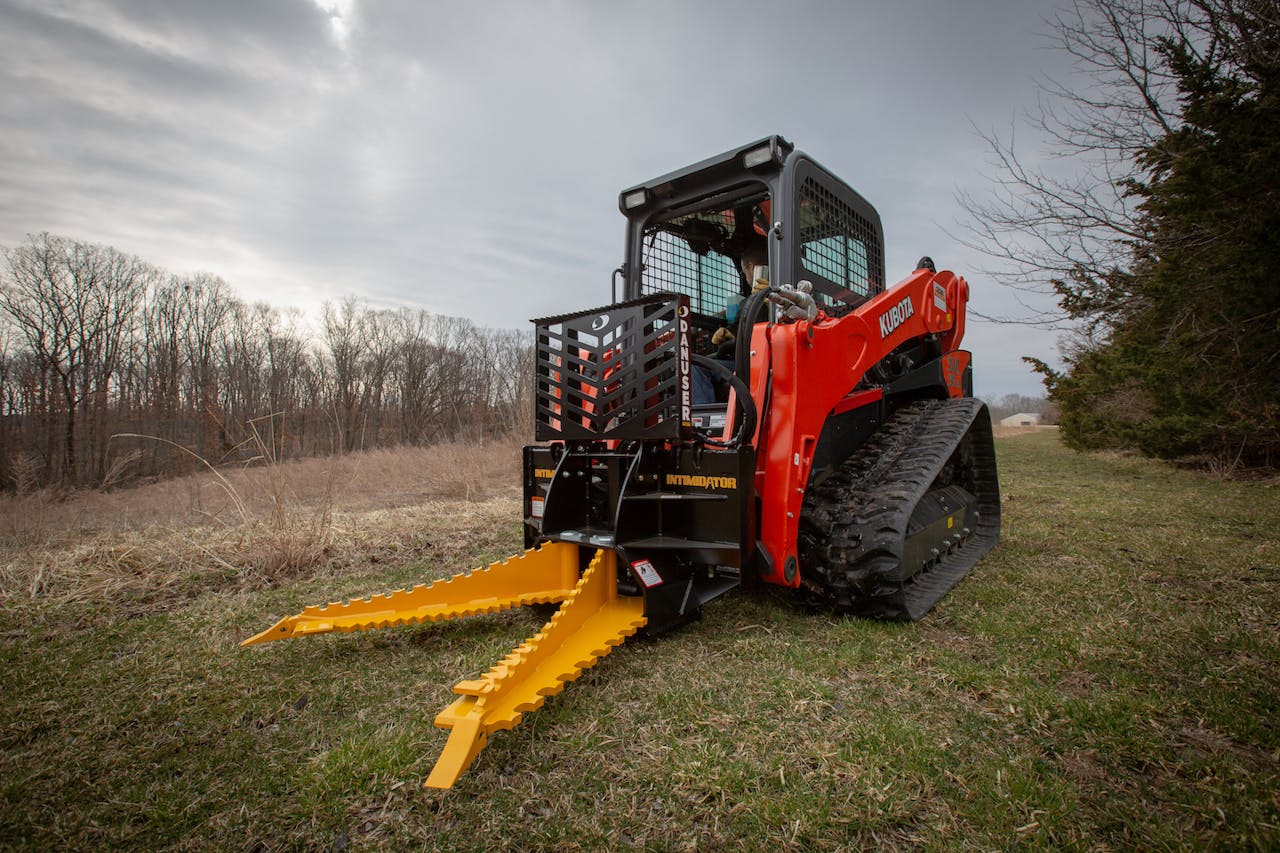 The Danuser Intimidator is designed for eliminating trees, saplings, shrubs, bushes and other obstructions. The attachment is compatible with skid steers, compact track loaders and tractors. Its synchronized jaws can handle stumps, posts, rocks and fence rows. Its replaceable excavator bucket teeth and vertical jaw saw teeth work together to remove the complete tree stump by digging and cutting roots. The Intimidator can maneuver in tight spaces. The company says it has lower operating costs than a dozer and requires less work than a chain saw.
Moving it out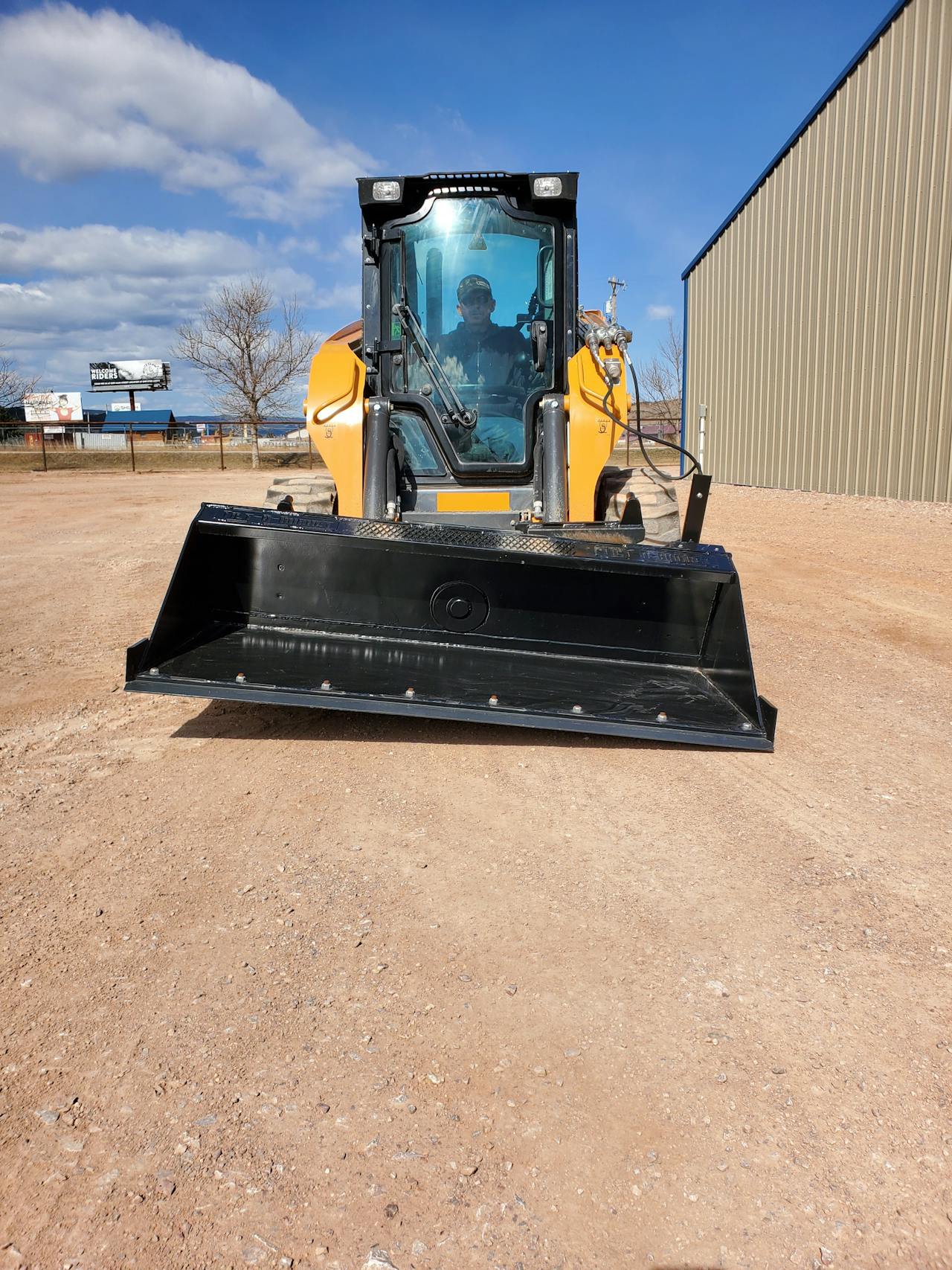 The Tilt-A-Bucket from Babl Industries has a patented design that enables the bucket to tilt from side to side, as well as perform all of the normal bucket functions. The tilt ability can help save time on a project, the company says. It is available in 74- and 84-inch widths. The Tilt-A-Bucket performs and functions like a traditional skid-steer bucket with no effect on the skid steer load tipping point, carrying capacity or back drag force, the company says. Babl's manufacturing plant is based in Huron, South Dakota.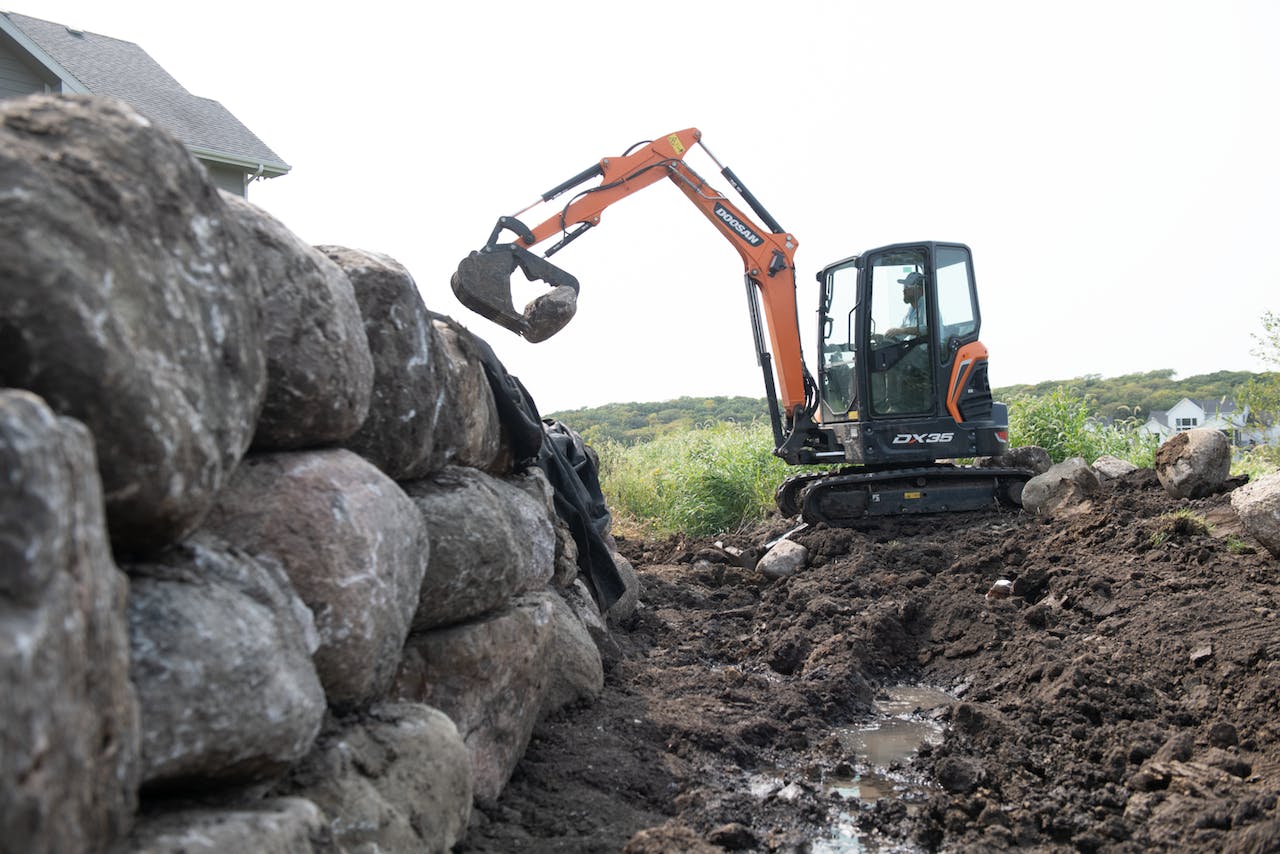 Doosan designed its thumb for use with a compact excavator bucket for grabbing, lifting and placing items, such as debris in site preparation or hardscape materials for a landscaping project. The thumb can be opened and closed hydraulically. Serrated edges hold material secure to the bucket for loading and material handling.